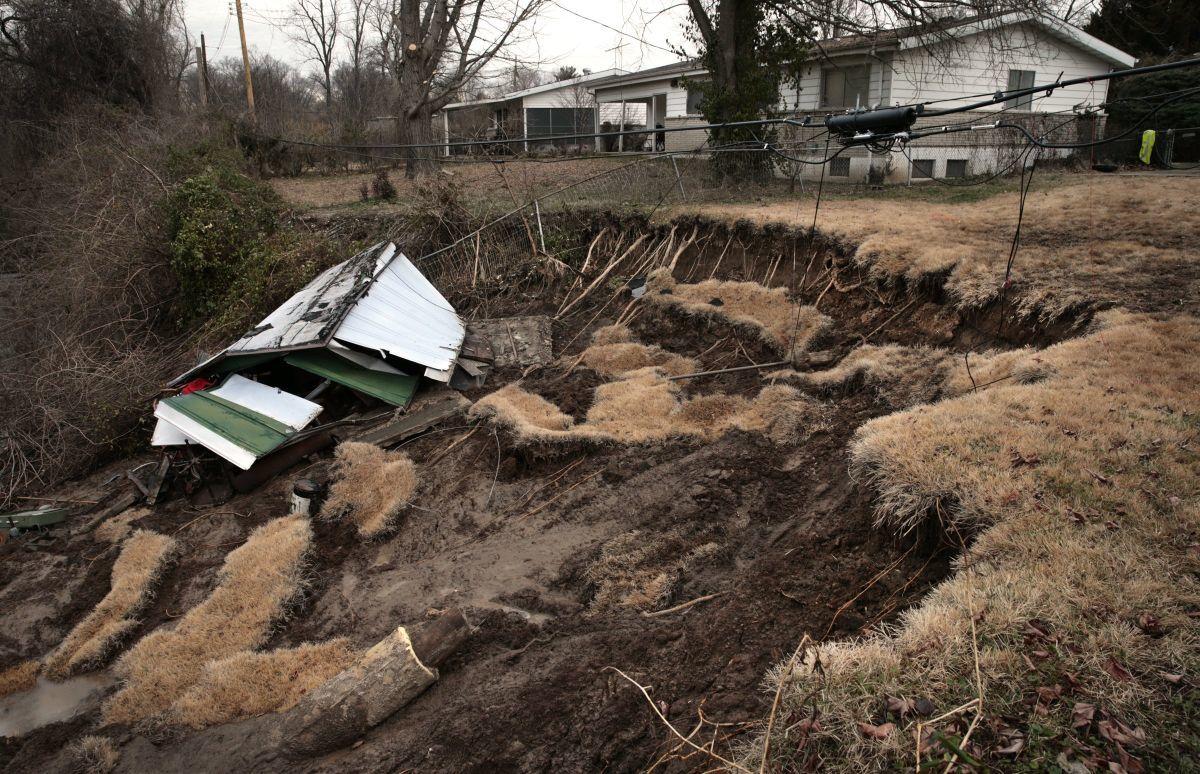 Shortages of public awareness and campaign funding, and what some onetime allies saw as a lack of urgency, may have sunk a ballot measure Tuesday that would have given the Metropolitan St. Louis Sewer District new ratepayer funding to tackle flooding and erosion issues outside of its traditional domain.
If approved by voters, the proposal known as Proposition S would have charged residential and commercial customers a fee based on their property's amount of impervious surfaces — such as rooftops and paved areas that don't absorb water and that generate stormwater runoff. The charge would have kicked in next year and would have amounted to a couple of dollars a month for an average customer.
After the vote failed Tuesday, questions arise about what might come next — and how, or whether, those same stormwater-related issues could be addressed locally.
Assessing the immediate aftermath of the vote, it was not clear if the matter would be dropped from MSD's agenda entirely, or if some alternative approach might emerge as a potential next step.
"Voters decided that they do not want the service, so we will not provide the service," said Sean Hadley, MSD's manager of public affairs. He said it's "really too soon to know" what could come next.
"There's some municipalities that have real stormwater issues that want us to step in and help, but now we have to look at how we can do that," Hadley added. "We're a publicly funded utility. We go off of what the ratepayers pay. If there's no money to fund a service like this, there's nothing we can do."
Ever since introducing its plan to charge for impervious surfaces more than a year ago, MSD has said it believes it is the entity best positioned to address flood and erosion issues that have otherwise fallen through the cracks, with local governments often dodging responsibility for fixes and some affected property owners unsure of where they can turn for help.
The stormwater and wastewater utility had identified a list of about 500 projects that would address flooding or erosion problems in its service area, and would take $562 million and 30 years to complete. A similar stormwater fee had gone into effect about a decade ago before being lifted by a court decision that ruled that ratepayers must first vote to approve such a measure.
After the idea was reintroduced last year, MSD officials said surveys indicated that a proportional charge based on the amount of impervious surfaces on a property was identified as "the fairest way to distribute the costs," according to CEO Brian Hoelscher.
Similar charges exist in cities such as Washington, D.C., and have recently been under consideration in other places, including Hannibal, Mo., the heavily developed shoreline of New Jersey, and in Houston, where devastating floods from Hurricane Harvey have sparked a more critical look at the city's runaway sprawl. Meanwhile, the flood-affected communities of Appleton, Wis., and Roanoke, Va., are considering raising similar fees that are already in place.
MSD's ballot measure was rejected 53.1 percent to 46.9 percent. Although it passed in the city of St. Louis, it did not muster support among MSD customers in St. Louis County. Those following the proposal said there was not strong public awareness surrounding stormwater issues and the utility's role in addressing them.
"There's a lack of understanding of what MSD does," Hadley said. "I think that confusion there possibly is what led to the result that we have."
Public disconnect
"Hardly anyone knew what it was," said Patrick Lynn, a political strategist at Show Me Victories, a St. Louis-based organization that handles ballot initiatives and public communications and managed the campaign for Proposition S.
He said that the public disconnect was perhaps reflected in the St. Louis County vote totals, where the measure was shot down, but where "greater needs" exist along the larger number of flood- and erosion-prone creeks in the area.
"It's my understanding that the majority of the funds from this fee would've gone to the county," Lynn said. "That's why it's sort of ironic that the city passes it and the county doesn't."
With other recent ballots headlined by a flurry of new taxes, Lynn said it was simply a "hard political environment" for additional expenses to gain traction.
"It makes it harder to get to voters and make them understand why another one is important," Lynn said.
The situation also wasn't helped, he said, by "limited resources" for the campaign, which raised $20,700. In comparison, he said previous bonding campaigns from MSD attracted $300,000 to $500,000, noting that they were for bigger projects that affected more people and businesses.
Even when people were aware of the proposal, the concept of an impervious surface charge was met with some skepticism and resistance in public meetings. Some attendees disapproved of it outright, while others said it was unfair for MSD ratepayers to shoulder costs associated with issues like the legacy of problematic flood plain development.
But as the vote approached, support even dwindled among some residents who track stormwater issues closely and had backed the concept initially. That was the case with Michael Carmody, a retiree who is involved with Save Sugar Creek, a volunteer group in Kirkwood that monitors local flood issues.
After a public hearing on the proposal nearly a year ago, Carmody told the Post-Dispatch he was "very supportive on one condition: They have to hold municipalities accountable for what they're doing," he said. "Why hand out a free pass if they're going to abuse it?"
He still feels that local governments need to adopt smarter policies about flood-conscious development. But he said his attitude toward Proposition S cooled when he learned that, if passed, it would still take close to a decade for work to address flooding issues along Sugar Creek — a suburban waterway he describes as an "open sewer" with E. coli issues tied to episodes of flooding that overwhelm the system's sanitary drainage capacity.
"I felt that there is no sense of urgency about this particular situation," Carmody said. "As such, I was no longer crusading for folks to pass it. I wasn't crusading for it or against it. I took a neutral position. … I'm a little surprised with their loss, but I can understand some of the voter resentment about if this passed, how long it would take for them to get caught up."