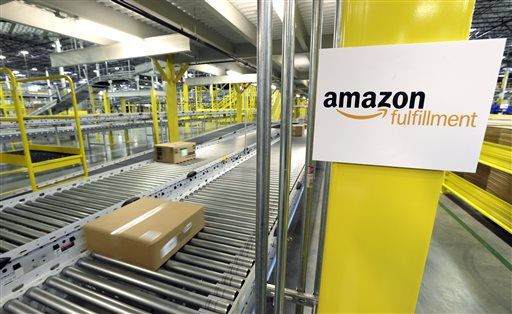 Online retail giant Amazon announced Thursday that it would build two distribution centers in Edwardsville, bringing 1,000 new jobs and adding a big name to a growing distribution and logistics hub in the Metro East.
Known as "fulfillment centers," the Amazon warehouse and distribution facilities service a growing cadre of online shoppers by storing and shipping goods to consumers who want them fast. One center will handle large items — big screen TVs, sports equipment or kayaks — while another will handle smaller items such as books and electronics.
Amazon has about 50 of the centers, and as online retail competition grows, the company is looking to meet the fast delivery times promised by its premium service, Amazon Prime.
"We look at a variety of factors when deciding where to place a new fulfillment center, the most important of which is being as close to our customers as possible so we can offer super-fast shipping speeds and a great Prime service," Amazon spokeswoman Nina Lindsey wrote in an email.
Lindsey said she had no information on whether the retail giant planned to offer same-day deliveries in the St. Louis area once the warehouses are in operation.
Amazon says the two warehouses, each in excess of 700,000 square feet, will serve the surrounding region, but are capable of shipping to 185 countries.
The Seattle-based retailer is already looking for managers, but Lindsey said the company didn't yet have estimates for when the new facilities would be operating and fully staffed.
About 90 percent of the jobs are expected to pay more than $30,000 annually, said Walter Williams, Edwardsville's economic development director. Amazon says they will offer a benefits package, including retirement, stock awards and "generous" maternity and parental leave benefits.
Williams said officials anticipated one of the facilities to be open by October but didn't have a date for the second one.
The new Amazon warehouses are expected to draw workers from throughout the region. And for Madison County, the new jobs couldn't come at a better time. They could help soften the blow from the layoffs of 2,000 workers at United States Steel's Granite City mill, which idled earlier this year and will remain closed for an unknown amount of time because of low steel demand.
"When you can add 1,000 permanent jobs to the region, that of course is a big plus," Madison County Chairman Alan Dunstan said, adding later: "I can't tell you how pleased we are about having a company like Amazon locating here."
The two warehouses Amazon is retrofitting for its new centers were both developed in the last year as part of a growing distribution hub in Edwardsville made up of two business parks. Other companies such as World Wide Technologies, Procter & Gamble and Dial Corp. operate nearby distribution facilities.
It was completed this winter, and Amazon is expected to occupy it this fall.
The other warehouse was developed by Panattoni Development Co., which also said it built the project speculatively. The 770,000-square-foot warehouse at the adjacent Lakeview Commerce Center was completed earlier this year.
"The developers deserve a lot of credit because, basically, those buildings were built on spec," said John Herzog of the Madison County Community Development Department. "That seems to be the new model, to have a building like that underway so when something comes along, you're ready to roll."
The developers received 10 years of full property tax abatement from an Enterprise Zone local officials set up covering the two distribution business parks. Building materials were also exempt from sales tax. Herzog said a dollar estimate for the benefits won't be available until the buildings, with improvements, are fully assessed.
It doesn't appear any incentives were offered directly to Amazon, although officials pledged to help them fill workforce needs. An Illinois Department of Commerce and Economic Opportunity spokeswoman said the state did not offer any incentives to Amazon for the Edwardsville projects.
The Edwardsville announcement comes on the heels of Amazon's decision last week to build another distribution facility in the Chicago area, adding 2,000 jobs. Amazon opened its first Illinois warehouse last year in Joliet.
That first warehouse meant Amazon had to relinquish its Illinois sales tax exemption, a big benefit it enjoys in states such as Missouri where it doesn't maintain a physical presence.
But Illinois was already trying to craft rules to require the company to collect sales tax from online shoppers in the state, a move many states and eventually Congress are expected to follow, said Josh Olson, an analyst who follows the company for Edward Jones.
"Amazon's been very selective about where they build out their distribution centers as they try to navigate the most optimal sales tax environment throughout the country," Olson said.
As changing laws take away its pricing advantage, Olson said Amazon would focus on convenience and selection. To boost its selection, it's partnering with more vendors who agree to rent space at its Fulfillment Centers and let Amazon handle logistics.
"And convenience is simply getting product to the customers faster," he said. "The main way you do that is with distribution centers."
While the company wants to be close to as many customers as possible, and transportation infrastructure probably played a part in Thursday's announcement, Olson said workforce considerations had in the past driven the company's siting decisions.
The analyst suspects the company looked at unemployment levels and the availability of labor willing to work in Amazon's distribution centers, which have been criticized in the past for tough working conditions.
"They're looking for a big potential employee base that really is willing to do that kind of work," Olson said. "They look for those types of markets. ... My guess is it's around a certain wage level."
Lisa Brown of the Post-Dispatch contributed to this report.