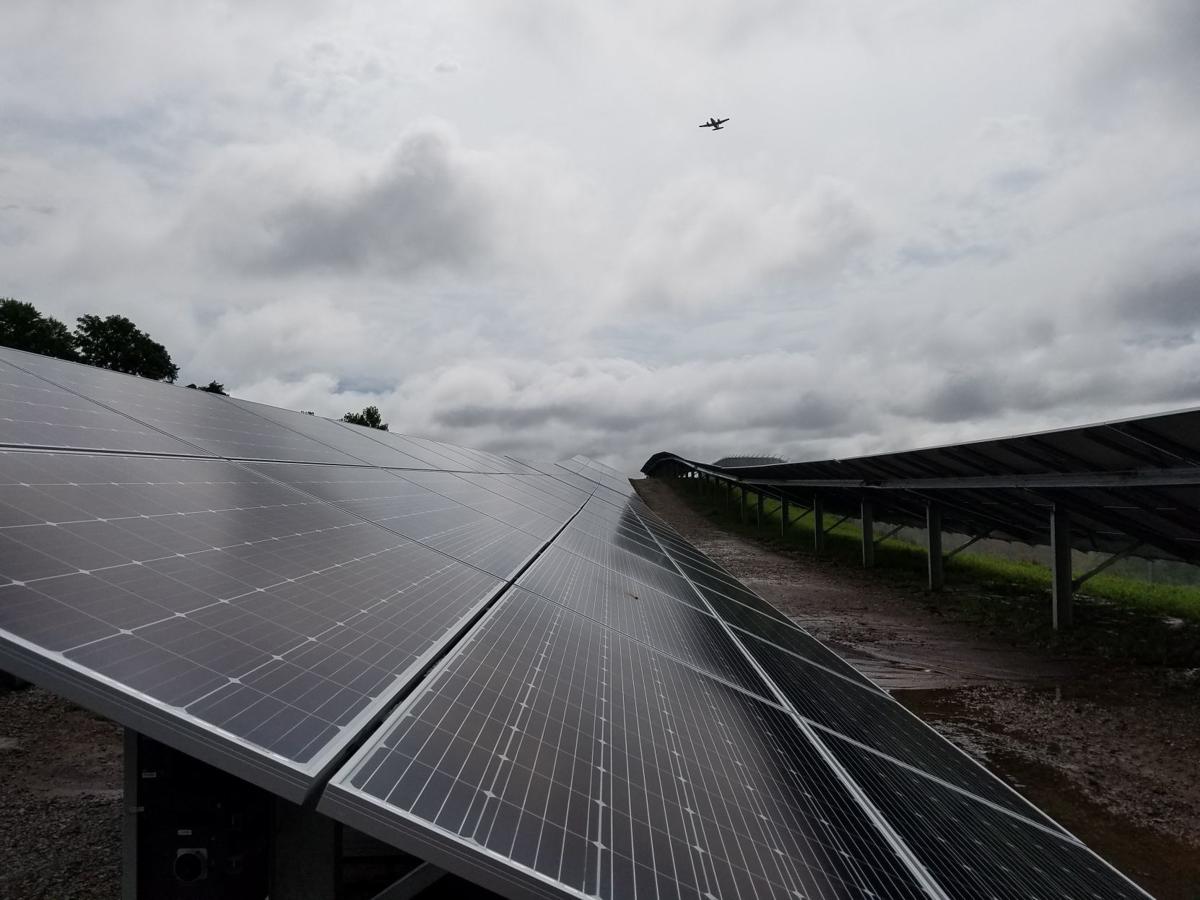 ST. LOUIS — Solar power has secured some fresh momentum in the St. Louis area.
Ameren, the St. Louis-based electric monopoly, submitted plans to build its largest solar energy project to date — an installation that will serve customers willing to pay extra for renewable power. Meanwhile, St. Louis officials announced a new job training initiative to bolster and diversify the solar workforce.
Ameren's proposed solar project in Montgomery County, about halfway between St. Louis and Columbia, Missouri, marks the second chapter of the company's Community Solar Program.
Subscribers pay a $25 startup fee plus about $4 extra per month for "blocks" of solar energy that offset an equivalent portion of their own electricity use. Enrolled customers can buy multiple blocks that add up to half of their average energy usage, based on their consumption over the past year.
The newly proposed six-megawatt array, targeted for completion in late 2021, will be several times larger than the program's existing solar installation near St. Louis Lambert International Airport, which began operation in 2019 and provides one megawatt of capacity — enough to fully power about 100 homes.
The energy from that initial project sold out in just 55 days, leaving a waitlist of about 2,000 additional customers seeking to join the program — some of whom have been on the list since 2018. Ameren says that the new project will absorb that excess demand, and that the Montgomery County site also offers room for further expansion.
But solar energy is becoming cheaper to produce, and factors heavily into the company's future generation plans for all of its customers — not just those enrolled in the Community Solar program.
That means that the new project isn't likely to be Ameren's largest solar installation for long. In a long-term generation plan unveiled in September, the company outlined intentions to invest $8 billion in renewable energy over the next two decades, with projects split between wind and solar. The utility aims to bring 30 megawatts of solar into its generation mix in 2022 alone, for instance. By the end of 2025, it aims to have added 300 megawatts of solar capacity.
Even with more widespread solar power on the horizon, interest in Community Solar could persist.
Matt Forck, Ameren's vice president of community economic development and energy solutions, said the company has seen "a steady drumbeat" of solar subscribers, and will continue to build out additional projects "as long as we're getting signals" to do so from the public.
New green jobs
But the technology's growth is propelled by far more than industrial-scale solar projects. Commercial and residential rooftop installations represent hot frontiers of their own.
St. Louis is taking steps to ensure that an inclusive workforce is prepared to help usher in the steady expansion of solar power, and take advantage of the rising tide of renewable energy jobs. The office of Mayor Lyda Krewson announced last week that "recruitment is now underway for a new green jobs development effort," set to be piloted this fall.
The pilot looks to place 10 to 20 participants in an environment with supervised field training and mentoring from solar installation experts, who will consider hiring the trainees. The initiative will include an emphasis on boosting diversity in the field while addressing barriers faced by unemployed and underemployed city residents.
"This paid training program will introduce minorities and people of color to opportunities in the career fields of green technology and the electrical trades," said a statement from Sal Martinez, CEO of Employment Connection, a local nonprofit that is one of a host of organizations partnering with the city on the initiative.
The effort is supported by money from the Bloomberg Philanthropies, which has worked with the city on other energy-related initiatives through its American Cities Climate Challenge.