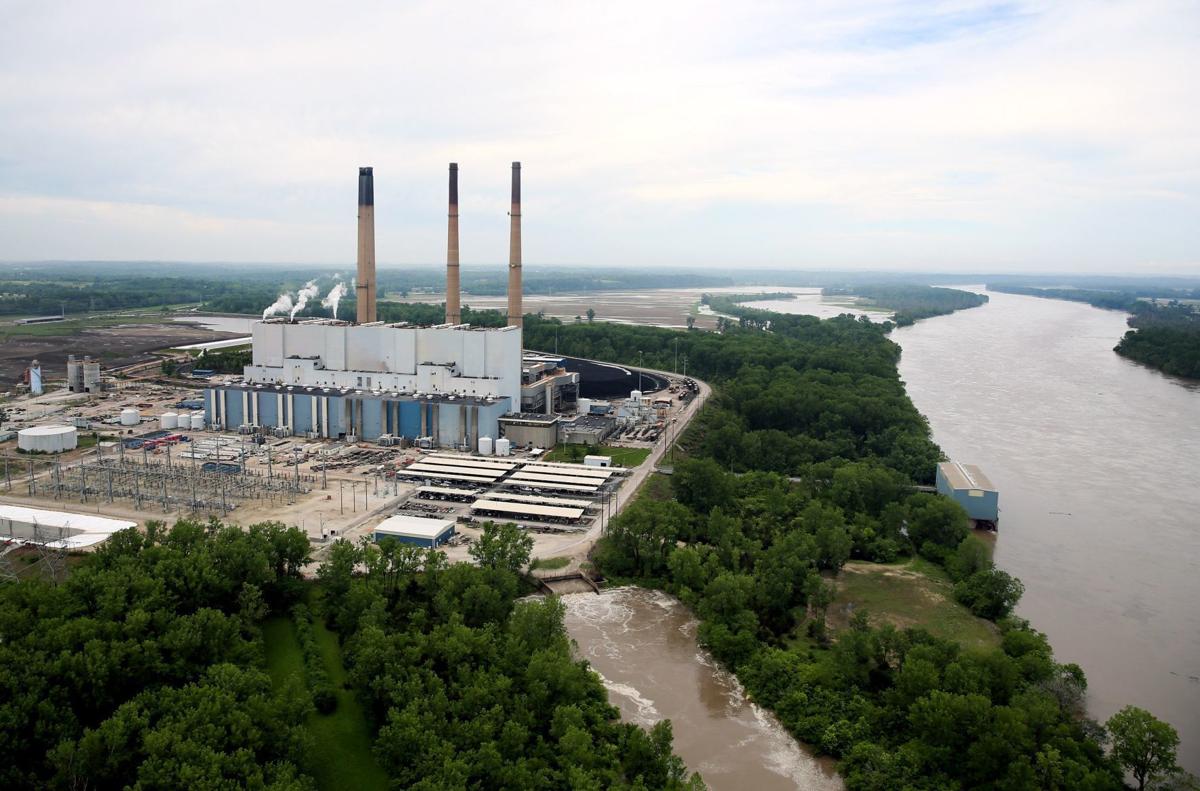 When utilities burn coal for power, they're left with coal ash — a byproduct that contains arsenic, mercury, and other contaminants. But where, and how, should the material be stored?
That question has been the source of fierce debate in recent years, both nationally and around St. Louis.
At Ameren's coal-fired power plants in the region, decades of leftover ash fills massive storage ponds acres in size and dug up to 100 feet deep into the floodplains along major rivers — leak-prone sites that critics say pollute groundwater and adjacent waterways.
But despite concerns and objections, that's where Ameren's legacy coal ash will remain, the St. Louis-based utility announced Friday, outlining a plan to cover its ash ponds while leaving the material in the ground and continuing to monitor groundwater. The decision is an outcome opponents fought hard — arguing instead for excavation of the coal ash — but feared was inevitable.
Company officials framed the decision as the best overall move for the environment, neighboring communities, and for the utility's customer base in terms of cost.
"Some people suggested we're walking away, and that's absolutely not the case," said Warren Wood, Ameren's vice president of legislative and regulatory affairs. "This is a continued-monitoring approach."
Wood said that the four sites in the region — Labadie, Rush Island, Sioux and Meramec — will be outfitted with low-permeability cover systems that will prevent water from washing through coal ash from above.
"The objective of this is to prevent rainwater infiltration," Wood said, adding that the "localized, limited plume (of pollution) in the basin will shrink and go away over time" — a process that he said would happen decades faster than if the sites were opened up for lengthy excavation projects.
The company also said that, thanks to factors like compaction, little groundwater infiltrates the unlined pits of coal ash from the sides. It says that its basins "do not impact drinking water sources, including residential wells that rely on groundwater."
"The groundwater wants the path of least resistance, and that is around the ash — not through it," said Brad Brown, an Ameren spokesman.
But critics are not convinced, and say that Ameren has chosen the path of least resistance and cost.
"It seems to be the worst of the options that they had on the table," said Peter Goode, an environmental engineer focused mostly on water issues for Washington University's Interdisciplinary Environmental Clinic — a pro bono legal practice that commonly tracks pollution disputes involving Ameren. "It's disappointing but not surprising. They seem to be taking the easiest and least costly way to close their ash ponds."
Goode echoed long-standing concerns about the sites' existing and long-term potential for groundwater contamination.
"That ash is in continuous contact with groundwater right now because there's no liners and the ponds were dug so deeply," he said. "As long as water is in contact with the ash, it will leach…. Because these are in floodplains, the contaminants that are leaching leach out into the Missouri and Mississippi rivers."
The plan will cost approximately $50 million spread over several years, compared to $2 billion over three decades for removal to dry landfills, the company said. Critics have said that the latter is an exorbitant cost estimate, and note that similar "clean closure" plans have been pursued in Springfield, Missouri, and Columbia, Missouri, as well as by several utilities across the southeast U.S.
Ameren has already covered some of its ash ponds, and is in the process of switching to dry ash handling at its coal plants, instead of continued use of wet storage. Some coal ash can be recycled — going toward things like concrete, roofing shingles, and blasting grit — and Ameren said it aims to ramp up those uses from 55% to 85% of its waste stream.
Company officials said they will start construction of the cover system for its Labadie power plant in September, and at other sites over the following months.
Although Ameren aims to act quickly to implement its plan, it could face legal challenges. The utility said that its strategy complies with existing coal ash regulations and would continue to do so, despite a national trajectory toward more stringent rules. But opponents see things differently.
"The question I have is, who's there to stop them from doing it?" said Goode, adding that no enforcement or oversight is set to come from the state level or from the "self-implementing" federal program that governs coal ash disposal. "The only path to stop them may be a citizen's suit."
Daily updates on the latest news in the St. Louis business community.