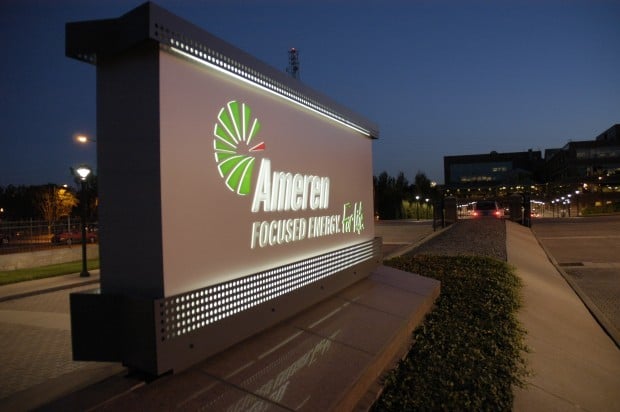 Ameren Missouri is making more deep cuts to energy efficiency programs, arguing that they hurt electricity sales and cost shareholders millions of dollars.
Ameren, based in St. Louis, indicated earlier this year that it planned to cut the programs to $20 million in 2012 from $33 million this year. On Wednesday, the utility said it would reduce spending by another 50 percent next year, to $10 million.
Consumer and energy efficiency advocates sharply criticized the decision, which comes as many utilities across the country, including Ameren's affiliate in Illinois, are ramping up such programs to promote reduced energy use. Ameren Missouri's energy efficiency program for residential customers — which ended Sept. 30 — included discounts on compact fluorescent light bulbs and rebates for Energy Star-qualified appliances.
The decision also underscores a report issued last week that ranked Missouri No. 44 for energy efficiency.
"Ameren's previous plan to spend $20 million was woefully inadequate," said Lewis Mills Jr., the state's public counsel. The additional cuts "an abrogation of their responsibility as a public utility."
Mills called the decision the equivalent of increasing rates to pay for gold-plated turbines at power plants — boosting profits at the expense of consumers.
Ameren's own analysis filed with the Public Service Commission earlier this year shows that energy efficiency — not nuclear power or natural gas — is the cheapest way to meet growing demand for energy.
"What they're really saying here is, 'We can provide service to our customers cheaper, but we're not as profitable as we need to be,'" Mills said.
Utility officials declined an interview request. In a statement, Ameren spokeswoman Rita Holmes-Bobo said that the company planned to seek approval of a new energy efficiency program in early 2012 and that it might boost spending depending on whether the commission embraced the plan.
The scaled-down budget submitted to the PSC was meant as a "bridge" between the existing efficiency program, which expired last month, and the implementation of a program it has yet to propose.
Utilities, regulators and policymakers embrace energy efficiency as a way to shrink utility bills and contribute to cleaner air and water. But prodding utilities to invest in efficiency has historically been a thorny issue, akin to asking General Motors to spend millions of dollars to persuade customers to buy fewer cars.
That's why many states, including Missouri, passed laws to give utilities incentive to encourage energy savings.
The Legislature passed the Missouri Energy Efficiency Investment Act in 2009. And the PSC this spring adopted rules to implement the law. Specifically, the rules outline how utilities can recover lost revenue from declining electricity sales and earn a return on efficiency investments the same way they do on power plants, poles and wires.
The commission approved the rules 4-1, a compromise that followed months of debate among utilities, energy efficiency advocates and consumer groups, none of which was entirely happy with the outcome. Only Commissioner Robert Kenney, a Democrat from St. Louis, voted against the rules. He did so only because he thought they favored utilities too heavily.
Ameren said the rule didn't provide adequate recovery of lost revenue and penalized shareholders. This summer, utility executives threatened to slash efficiency spending unless the commission approved a cost-recovery plan that was submitted as part of a broader rate case.
The PSC granted Ameren a $172 million, 7 percent, electric rate increase in July, but it denied the efficiency plan, which it called "hastily proposed and ill-conceived."
That denial prompted Ameren to follow through on its threat to cut efficiency spending, stating in its filing that it "cannot subject its investors to the increasing ongoing financial penalty."
Rebecca Stanfield, a Chicago-based senior energy advocate with the Natural Resources Defense Council, disagrees that the rules penalize Ameren.
"There is certainly a process there where they can make efficiency work for their bottom line," she said.
PSC Chairman Kevin Gunn went further. He called the rules for helping encourage energy efficiency among the most generous in the country.
But he said the commission didn't have the power under the 2009 law to require Ameren to spend a certain amount on efficiency or save a certain amount of energy. It would be up to the Legislature to give the PSC that power.
"Right now, we have an all-carrot, no-stick approach," Gunn said.
Mills says the commission has the authority to require energy efficiency spending under its obligation to ensure that utilities provide reliable service at the lowest cost. He said the commission did so earlier this year when it ordered the state's second-largest electric utility, KCP&L, to maintain funding for energy efficiency programs at existing levels.
Ameren's cuts in Missouri stand in contrast to Illinois, where the company has ramped up spending on electric efficiency programs to $58.8 million for the current year.
Unlike Missouri, which merely encourages utilities to invest in energy efficiency, Illinois requires them to meet energy saving targets.