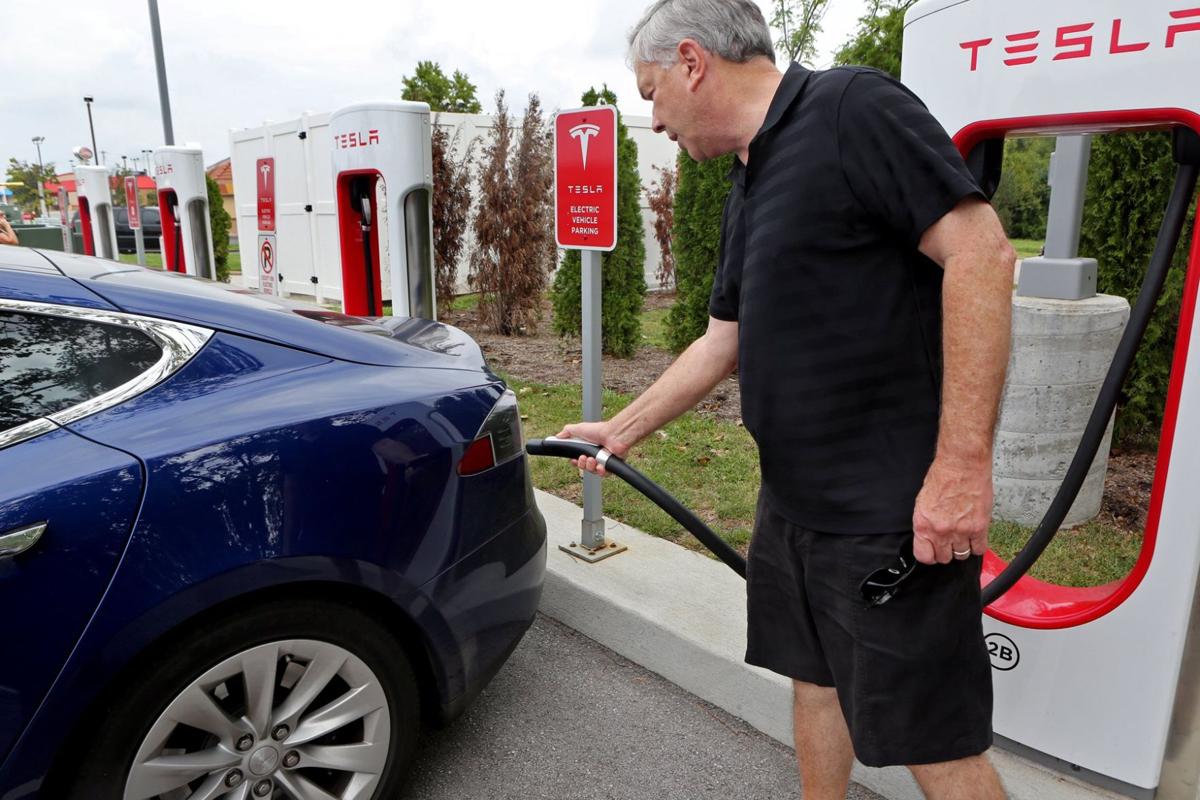 Should construction of electric vehicle charging stations be left to utilities and state regulators, or the free market?
That is one issue at the heart of a debate facing the Missouri Public Service Commission, which, on Wednesday, suspended a ruling on prices that Ameren Missouri could charge at proposed charging stations between St. Louis and Jefferson City. The commission may first need to explore the broader question of whether it even has jurisdiction to regulate the new technological frontier.
"I'm not persuaded by all of the filings that we in fact have statutory authority over electric vehicle charging stations," said PSC Chairman Daniel Hall in Wednesday's proceeding. "I think it's unclear whether or not it should be a regulated industry or whether it should be an open, unregulated, competitive market. As we all know, the commission exists to set prices where there is monopoly service provided. Where there is a competitive market, I'm not sure that that is a role for the commission."
Mark Nealon, Ameren Missouri's director of engineering design and project management, said the decision to suspend the utility's proposed tariff was understandable.
"The commission just wants a little more clarity," Nealon said. "This is a brand new asset, the likes of which we've never installed before."
The move postpones Ameren's plan to launch its pilot project of building six electric vehicle charging stations in communities along the I-70 corridor. Before Wednesday's ruling disrupted the utility's proposed timeline, Ameren hoped to install its first station before the end of the year.
Ameren filed for state approval of the project in August, citing the rising popularity and driving ranges of electric vehicles and the "range anxiety" that electric vehicle owners can experience between charges. The project would aim to monitor its effect on adoption rates of electric vehicles in counties along its path.
"We're feeling the urgency," said Nealon, arguing that impending releases of electric vehicle models able to go more than 200 miles on a single charge means that "someone needs to begin to deploy" charging stations that facilitate longer-range travel.
But the utility's proposed foray into the world of charging stations has raised interesting questions about whether it's something that the PSC should even be tasked with regulating. The commission's statutory oversight formally extends to "electric plants," but charging stations fall into an undetermined gray area. Historically, the commission has also regulated pay phones, leaving some to wonder whether Ameren's charging stations would be given the same treatment as remote outposts operated by a regulated monopoly.
James Owen, director of the state Office of Public Counsel, does not believe that charging stations should fall into the PSC's domain. He says that not only do the stations fail to satisfy the technical definition of an electric plant, but that utility involvement with charging stations is unnecessary since third parties and competitive businesses are already providing the service.
"This is not something that these more affluent customers are necessarily hurting for," said Owen, adding that about 70 percent of electric vehicle owners charge their cars at home and also have the option to charge at electric vehicle dealerships and other venues. Like gas stations, Owen says charging stations should be left to competition in the free marketplace.
Nealon says Ameren is not opposed to competition, either.
"I would actually envision a day where we would step aside and let the free market take over from there," said Nealon, expressing confidence that the utility could coexist with unregulated competitors who he notes would be much more nimble in determining prices.
More broadly, though, Owen says the decision facing the PSC could set an important precedent for determining whether future technologies fall into a category that requires regulation.
"I think it's complicated — this is very new stuff for Missouri," Owen said. "They want to make sure they get this right, because they may need to look at this detail again ... when we look at innovations and technology that comes down the pipeline."
Utility regulators in other states do retain oversight. In Kentucky, for example, the state PSC in April approved a proposal by two utilities to establish company-operated public electric vehicle charging stations and allow nonresidential customers to host charging stations. Kentucky regulators also approved the utilities' proposed rates of $2.85-$2.88 an hour.
Nealon says those similar cases in other states are generally rare and, when they do exist, are often other pilot or limited-scale projects exploring the same question of "whether it's appropriate for a regulated entity to get deeply involved with charging stations."
If the Missouri PSC decides to retain authority over the matter, it will also need to address whether Ameren is allowed to recover the costs of the project through its rate base. Installation of the pilot project's six charging stations will cost under $600,000, according to Nealon.
Owen says his office questions whether all Ameren customers should foot the bill for stations that, at least for now, serve what are largely luxury purchases.
"This one little thing right now isn't (a lot of money), but it will open the door," says Owen. "We're talking about, in time, millions of dollars and that does have an impact."