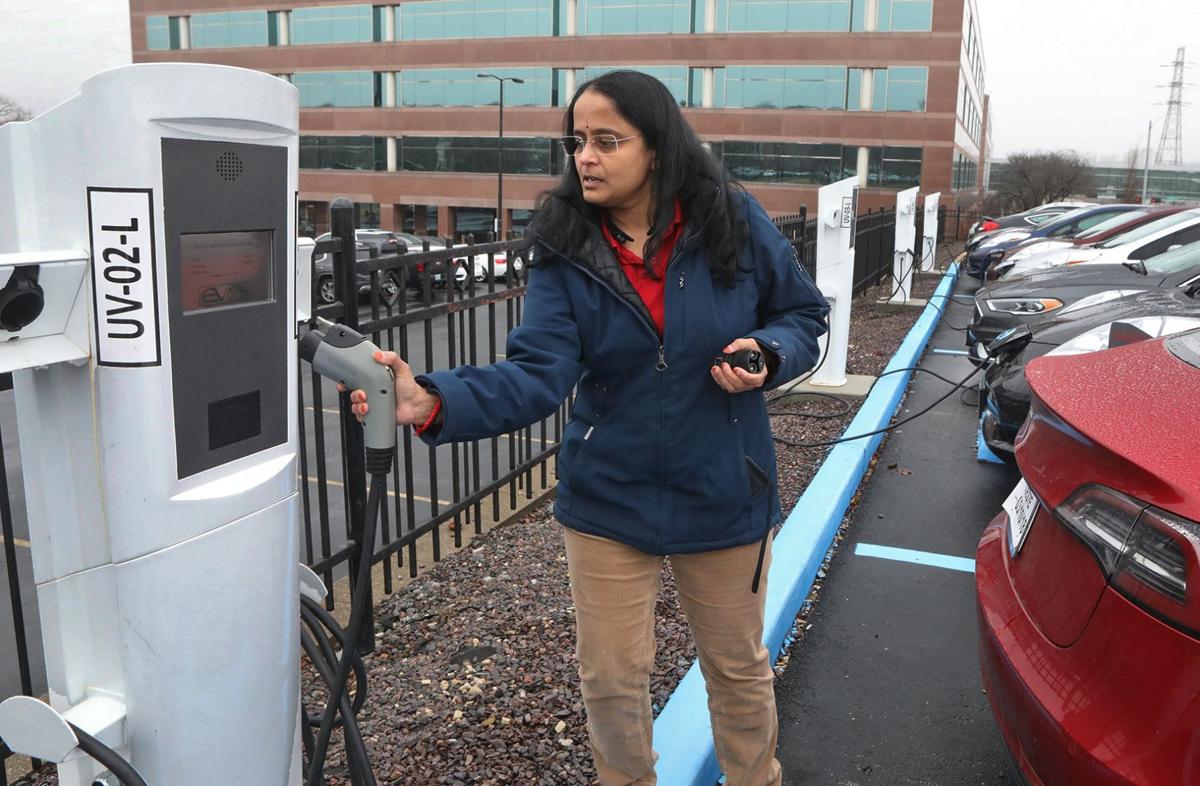 After Ameren proposed taking a stab at installing electric vehicle charging stations through a pilot program in 2016, state utility regulators declined oversight of the technology — leaving the company with no assurances about recovering investments in charging stations and leaving its future involvement in the arena in doubt.
But through a Public Service Commission filing announced Thursday, Ameren says it is back in the game of promoting electric vehicles. Unveiling an approximately $18 million program called "Charge Ahead," the St. Louis-based utility proposes incentivizing the installation of about 1,200 charging plugs in its service territory as well as the adoption of electrified vehicles, such as forklifts, in commercial settings.
If the plan is approved by the PSC, Ameren would partner with third-party companies to install the charging stations — which officials clarified would amount to about 1,200 individual "plugs" for customer use, rather than 1,200 separate facilities. The company intends for the stations to be concentrated near interstate highway corridors, workplaces, multifamily housing and other public spaces, and to offer a combination of fast- and slow-charging services.
Ameren said typical charging stations — with plugs for two cars — cost about $20,000 apiece, with commercial fast-charging units for single cars carrying a price tag of $50,000.
Prices at the "pump" would be determined by the third-party operators of each charging station. Ameren officials expressed hope that by partnering with a variety of companies, competitive prices would be established by the market.
The utility also hopes to promote the conversion of commercial fleets to electrified vehicles through additional incentives intended to replace machinery and equipment commonly powered by diesel engines, such as forklifts and airport ground support vehicles.
Ameren, meanwhile, stands to benefit from accelerated electric vehicle adoption through increased electricity sales.
Although total electricity usage in Ameren's service territory — and around the country — has tapered off in recent years, the company said its foray into electric vehicles is not seen as a way to reverse that trend.
"It will basically make it so that demand is not declining as fast as it has been," said Steve Wills, Ameren's director of rates and analysis.
He suggested that, ultimately, benefits from electricity usage through the Charge Ahead program are a "win-win" and would be passed through to customers in the form of lower rates.
"Our rates will be lower over time," Wills said. "This expansion of customer usage helps spread out our costs."
One commonly echoed criticism of electric vehicles in Missouri is that their carbon footprint is not as low as it is elsewhere, thanks to the large amount of coal power used in the state. Missouri burns the third-most coal of any state, according to the latest government data.
But Ameren says electric vehicles already offer environmental benefits that will continue to grow as the utility incorporates more renewable energy, as planned.
"The renewables we do build will continue to play out in lower emissions from the transportation sector in our area," Wills said.
---
EDITOR'S NOTE: An earlier version of this story listed the program's budget for electric vehicle charging stations, instead of its overall total.
Daily updates on the latest news in the St. Louis business community.