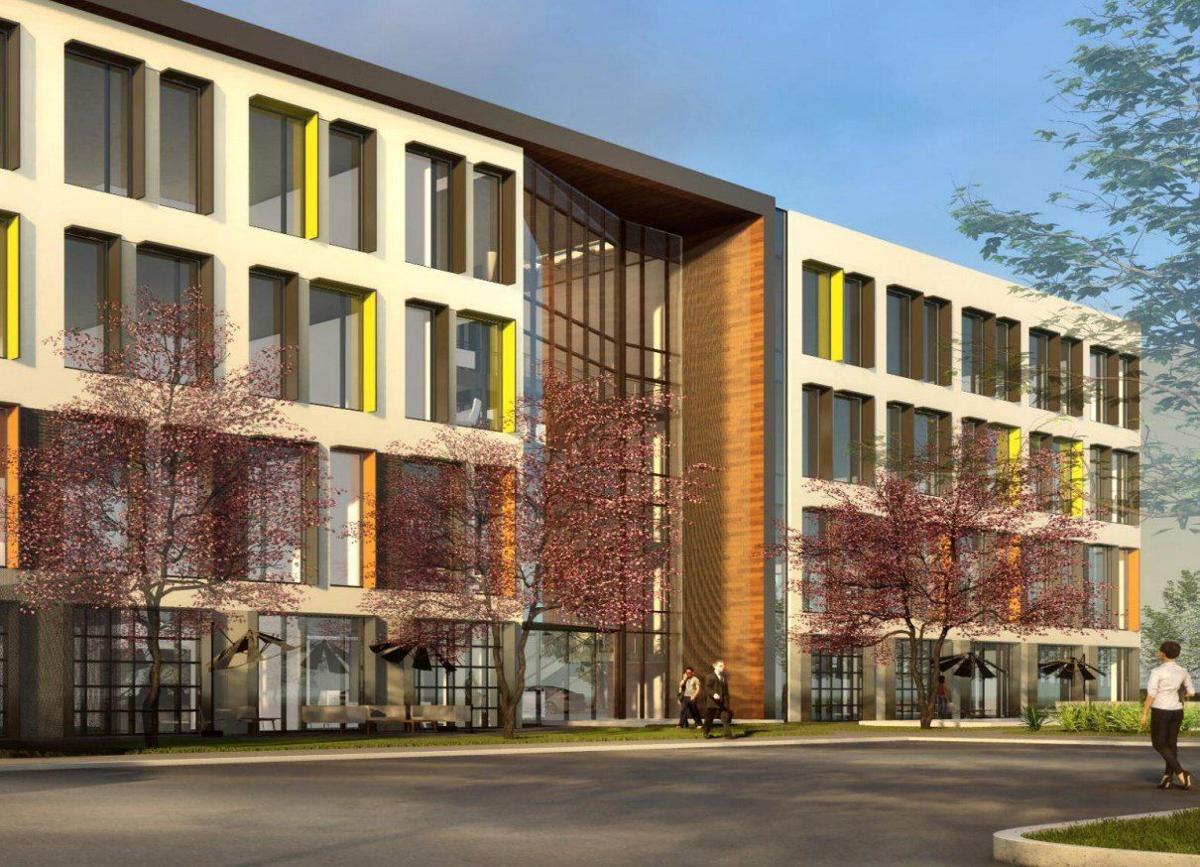 CREVE COEUR — When it opens this winter, developer Larry Chapman's 110,000-square-foot EDGE@West is likely to be the first speculative office building to hit the market since the COVID-19 crisis sent the white collar workforce to basements and spare bedrooms everywhere.
But Chapman, who heads Seneca Commercial Real Estate, remains upbeat about the office market, even amid historic uncertainty over when — and how much — demand will return after months of working from home.
"I've watched us predict the end of office buildings and everyone working from home forever and ever and ever," said the 40-year veteran developer.
The $38 million, four-story suburban office building, at 12645 Olive Boulevard, started construction just before the pandemic hit. It already has one tenant signed up for about 25% of the space, the St. Louis office of multi-national insurance company FM Global. Chapman suspects many companies, while waiting to see where things go both economically and with the health crisis, won't be abandoning the office.
"People sat back and are reassessing," he said. But "as soon as people figure out how much it's costing them to have people work remotely, they're gonna get back as fast as they can. ... All of the synergies you get from people working together don't occur."
Many companies are indeed finding they can get by remotely, but how much they pull back on leases going forward remains to be seen. With most firms locked into multi-year, staggered leases, the data, at least here, has yet to show any dramatic swings. They may not be using the space, and when they'll return is an open question, but users do plan to return when it's safe, said Tom Ray, an office broker and vice president at commercial real estate firm CBRE.
In 2008, companies were going out of business, Ray said. And while the hospitality industry is certainly struggling now, white-collar companies are "by and large faring fine in terms of revenues," Ray said.
Clayton aldermen also approved a special sales tax district to help with renovations at the former Sheraton Plaza, a project a hotel representative said was still moving ahead. 
Only Clayton-based Barry-Wehmiller has publicly committed to about 50,000 square feet of space at Forsythe Pointe, but a brochure from commercial real estate firm JLL advertises a little less than 100,000 square feet of available space remains. And US Capital Development Managing Director Scott Haley said pre-leasing activity has been strong, especially once construction actually began. The project's location, at the high-profile corner of Brentwood and Forsyth boulevards, likely helps generate interest, he said.
The 320,000 square foot development at 4210 Duncan will be completed by the end of 2021.
But Ray, the CBRE broker, said banks and developers are likely going to wait to see how the under-construction projects do before financing any new buildings.
"St. Louis is a conservative development market to start with," he said.
One warning sign that the market is softening: Office building tenants were looking to sublease tens of thousands more square feet of office space last quarter. CBRE estimated it at 63,000 square feet. Commercial broker JLL put it at 100,000.
"If large blocks of space continue to hit the market, then expectations for the year will need to be tempered," JLL wrote in a research note on the St. Louis market.
Until the outlook becomes more certain, developers like Chapman are focusing on what they can control, adding amenities to entice tenants in a COVID-19 world. The EDGE@West building will have automatic door openers and antimicrobial film on surfaces. The heating and cooling systems include bacterial and microbial filters. The lower level has garage doors that open up to an outside common area for extra space and fresh air. More open common areas are meant to give employees plenty of space to work.