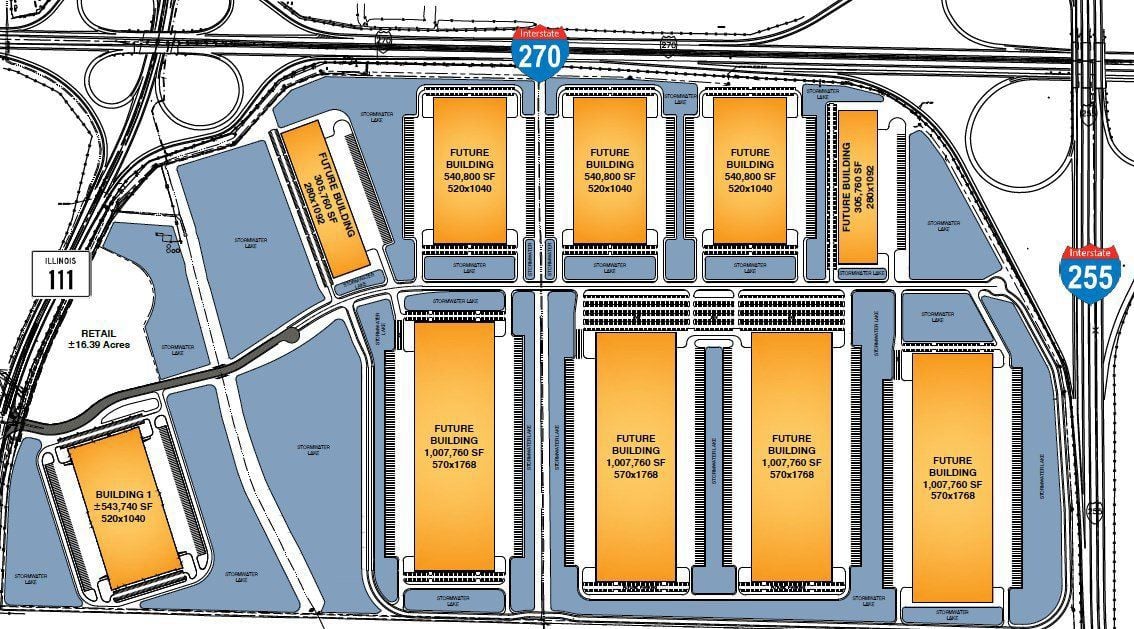 A Kansas City firm plans to begin construction on a new 600-acre industrial park in Pontoon Beach, the latest indication that a hot market for new warehouse space isn't cooling down here yet.
The new park in the Metro East, planned by NorthPoint Development along the south side of Interstates 270 between Interstate 255 and Illinois Route 111, could add as much as 7 million square feet of logistics space to the market even as NorthPoint and other companies continue to build huge new warehouses elsewhere.
NorthPoint Development closed on the purchase of the real estate last week, buying it from Landmark Development LLC, a company registered to Michele Kahni of trucking company Dynamic Transit in Granite City. Pontoon Beach documents indicate NorthPoint planned to pay $19.5 million for acquisition of the real estate.
"This park will complement our offerings on the Missouri side using our formula for success: great location, continuous spec program with flexible building layouts, along with market leading tax abatement for bulk users in the Metro East submarket," NorthPoint's vice president of development Johan Henriksen said in a statement.
NorthPoint plans to begin building a 540,000-square-foot speculative warehouse at the end of the first quarter, with construction expected to be complete by the end of the year. In all, the site could eventually house 10 warehouses totaling 7 million square feet of space. Plans also show 16 acres of land would be used for retail development along Illinois Route 111.
The new park is right across Interstate 270 from two other big industrial parks, Gateway Commerce Center and Lakeview Commerce Center, that have had several large new buildings added in recent years as companies seek large, modern warehouse space to accommodate consumers who increasingly shop online.
St. Louis, like other markets, is responding to the demand for space to store and ship finished goods as e-commerce continues growing. 
"That's allowed the industrial warehouse segment to really have the wind at their back," Henriksen said in an interview.
Pontoon Beach approved this month a tax increment financing (TIF) district to defray over 20 years up to $116.3 million in development costs, including new utilities, professional services and site preparation, according to the development plan. TIF allows increases in property taxes from development to be used to repay some of those development costs.
The TIF will give NorthPoint "the most competitive" incentive program in the Metro East, Henriksen said.
At the Gateway and Lakeview Commerce Centers to the north, for example, an Enterprise Zone offers only seven years of full property tax abatement, with the amount decreasing after that until the incentive goes away after the 10th year.
'Competitive business'
Meanwhile, two warehouses opened in those parks last year, pushing the Metro East's industrial vacancy rate to 7.4 percent at the end of 2018, higher than other submarkets and above the region's overall industrial vacancy rate of 5.6 percent, according to research from Cushman & Wakefield.
St. Louis County Port Authority signs off on state economic development incentive. 
Another developer, Exeter, has started the first of two Gateway Commerce buildings after purchasing part of the park for $10.6 million last year, according to Cushman and Wakefield. When the two buildings are completed, it will add another 1.7 million square feet to the park.
Even with all the construction, lease rates in the region rose to $4.88 per square foot at the end of last year, up from $4.47 a year prior, according to Cushman's research. In Metro East's two big logistics parks, lease rates ranged from $3.75 to $4.95 per square foot.
NorthPoint's Henriksen said that the industrial real estate space right now was "a competitive business" but that "there's a lot of activity, especially on the smaller tenant sizes."
Tech giant signs lease for 2 million-square-feet of industrial space at the Gateway Commerce Center in Edwardsville, plans to add 500 jobs.  
David Branding of commercial real estate firm JLL will market NorthPoint's new Gateway TradePort. Henriksen said lease rates could be about $3.75 per square foot.
One 275,000-square-foot building completed at the end of last year is about 75 percent leased, and the other, a 495,000-square-foot building completed last month, is about 25 percent leased, Henriksen said. Another six buildings could be developed in the area around the old Mills Mall.
Jamestown Mall redevelopment?
The Metro East isn't the only new project NorthPoint is eyeing. It's still interested in redeveloping the Jamestown Mall site that St. Louis County's economic development arms have acquired in recent years.
St. Louis County officials said in May that NorthPoint planned to acquire the dead mall from the St. Louis County Port Authority for $2.5 million and abate any hazardous waste and demolish the mall at its own expense.
However, the property has yet to change hands. The Port Authority is also in legal limbo, with the St. Louis County Council and St. Louis County Executive Steve Stenger fighting in court over which branch of government controls the powerful economic development body.
Henriksen said Tuesday that NorthPoint was still interested in Jamestown Mall but that it had to wait until after the August primary election because members of the county council — who have long been at odds with Stenger — were hesitant to participate in the project.
NorthPoint Logistics, which also has several warehouses in Hazelwood, was the only bidder for the project
"We would like to move forward, but we have been sitting, waiting to find out what the county is doing," Henriksen said.
He said he planned to meet with Councilwoman Rochelle Walton Gray, who represents the area, soon to "see if we can get a project that can work."
It will be expensive to demolish the mall, Henriksen said, and it is situated in an "unproven location" for logistics parks. But he said NorthPoint was still interested if the county is.
"It could be a really nice opportunity for a job-creation project," Henriksen said.
Walton Gray had initially said she wasn't happy with the plan for warehouse space, but she said Tuesday she was meeting with NorthPoint soon and was "open to a compromise" that wouldn't be entirely a warehouse development.
Rodney Crim, the interim CEO of the St. Louis Economic Development Partnership, said Tuesday that he and his staff were examining the status of the Jamestown Mall deal and "trying to understand what that situation was."