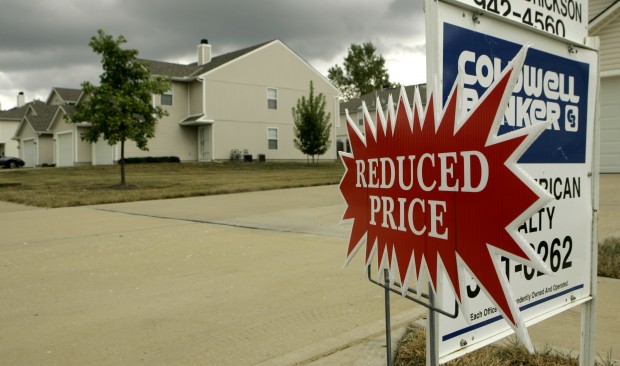 The housing market continues to scuff along the bottom, and with the economy flagging and the typically slow winter season coming, it may not get a bounce any time soon.
Sales of previously owned homes in metro St. Louis in September climbed 15 percent compared with the same month last year, according to real estate data compiled by the Post-Dispatch. But they're still running well behind historical rates, and through the first nine months of the year were 5 percent behind even 2010's weak pace. Meanwhile prices continue to sag.
Nationwide, sales fell 3 percent from August to September — though they, too, grew compared with last year. This despite near-record-low interest rates and prices that are now at levels not seen since 2003.
Local real estate agents say the fall market is shaping up to be weaker than they'd hoped, but they also point to the bump in the number of sales and say that at least things aren't still getting worse.
"We're not really losing ground anymore," said Nate Johnson, president of the St. Louis Association of Realtors. "We're maybe treading water a bit. We might be hitting that leveling-off point where we'll start to see an uptick."
But other experts say that may take a few months.
"Going forward, we are not expecting better (housing) numbers this year," said Patrick Newport, an economist with IHS Global Insight.
Even the seemingly positive numbers have some caveats.
The 15 percent year-over-year jump in September sales, for instance, owes in part to artificially low sales that month last year, which came after an $8,000 tax credit that boosted sales last spring. Many experts believe the credit robbed sales from future months.
It also appears that bargain-hunting investors are driving much of the sales activity. More than one-third of all purchases in St. Louis and St. Louis County were paid with cash, not a mortgage — frequently a sign of investor activity. And there were more homes sold for less than $50,000 than for more than $200,000.
Even at low prices, these sales have some benefit for the market at large, clearing off distressed inventory. That may be reflected in a 44 percent drop in the total number of homes for sale compared with last September, according to Re/Max. It would now take less than eight months to sell every home on the market.
The sales of cheap properties contributed to a sharp decline in median prices — the point at which half of all sales are higher, and half are lower — across much of the region. In the city of St. Louis, that figure fell 13.3 percent from September of last year, to $85,000. It dropped 13.8 percent in St. Charles County, to $154,000, even as sales in that county jumped 42 percent.
That doesn't necessarily mean that your house lost more than one-eighth of its value in the last year; those numbers are heavily influenced by the mix of homes being sold, and cheaper houses pull it down. Still, most homeowners are taking a hit. Several estimates of home values say they've fallen in St. Louis by 5 percent to 10 percent since this time last year. A new report from data firm FNC pegs the year-over-year decline here at 7.2 percent in August, though FNC does say prices have been essentially flat since January.
Halting that slide, and turning prices around, is the key to any hope for a housing rebound, said Newport. And that will likely require a much broader economic recovery.
"We've got to create jobs. That's the big thing," said Johnson. "We've got to get consumer confidence up again, to get people thinking about buying a house."
Exactly how that happens remains anybody's guess.
Daily updates on the latest news in the St. Louis business community.