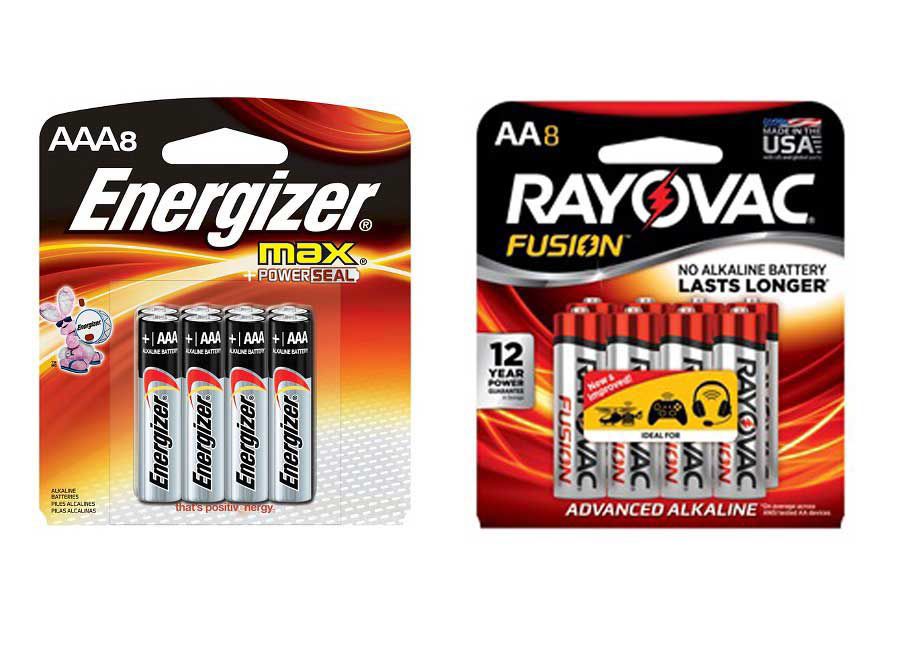 Investors cheered Town and Country-based Energizer's Holdings Tuesday announcement of a $2 billion deal to gobble up smaller battery rival Rayovac, a purchase that would leave just Energizer and Duracell as the dominant consumer battery brands.
Energizer's purchase of Spectrum Brands' global battery and portable lighting business, which includes Rayovac and the Europe-heavy Varta consumer battery brand, is slated to close by the end of the year, pending regulatory approvals. Rayovac is the No. 3 consumer battery brand in the U.S., and Energizer is the second largest.
The announcement sent Energizer stock soaring 14 percent Tuesday, closing at $59.11.
Middleton, Wis.-based Spectrum said the sale allows it to focus on higher margin products.
"Through this transaction, we are making progress towards repositioning ourselves with an increased focus on our remaining businesses of Hardware & Home Improvement, Global Auto Care and Pet, Home & Garden," CEO Andreas Rouvé said in a statement.
United Industries, Spectrum's pest control and home and garden subsidiary, has its operational headquarters in St. Louis County. United's brands include Spectracide, Hot Shot and Black Flag.
Energizer had been considered the leading candidate to acquire Spectrum's global battery business since the Jan. 3 announcement that Spectrum was looking for a buyer. The sale includes Rayovac and Varta brands of alkaline, hearing aid and nickel metal rechargeable batteries. The unit had $866 million in revenue in 2017.
The acquisition, to be funded with existing cash and new debt, expands Energizer's presence in international markets, broadens its product portfolio and manufacturing capabilities, and increases capacity for research and development, Energizer said in a statement.
"It's going to really allow us to expand our international presence," Energizer CEO Alan Hoskins told analysts on a conference call Tuesday morning. "We're going to have greater opportunities in both Europe and Latin America as a result of the combination. We're currently very strong in the U.S. and in Asia, so this really rounds out our breadth globally across markets."
If the deal does not go through, Energizer has agreed to pay a $100 million termination fee.
In the U.S., the deal would boost Energizer's market share for consumer batteries to near levels held by its primary rival and the domestic market leader, Duracell. Duracell brands held about 46.4 percent of U.S. market share in 2016, according to research firm IRI. Energizer brands made up 28.5 percent of the domestic battery market.
Rayovac had almost 10 percent domestic market share, while private label batteries accounted for about 12.5 percent of sales.
Energizer executives were confident antitrust concerns in the U.S. and other jurisdictions wouldn't hold up the deal.
"Given the complementary nature of our markets and the complementary nature of the products in both companies, we don't expect any major hurdles in getting through any regulatory approval for this," Energizer Chief Operating Officer Mark LaVigne told analysts on the conference call. "We do expect to be able to close the transaction by the end of the calendar year."
Deutsche Bank, in a Jan. 4 research note pegging Energizer as the likely buyer for Spectrum's battery business, noted the battery market is considered highly concentrated by regulators. But the analysts said easy retailer access to excess battery capacity in Asia should help overcome any concerns.
Regulators will focus on a merger's impact to consumer prices, said John Drobak, a law professor at Washington University with expertise in antitrust issues. If there are overseas suppliers that can enter the U.S. market, "that's a factor that's going to help support a merger," he said.
Another factor regulators could consider is the viability of new competitors. Some analysts had worried Amazon's entry into the battery market several years ago could be the latest industry the online giant would disrupt.
But the Deutsche Bank report noted Amazon still has less than 2 percent market share. "We also believe that there have been supply chain interruptions of late, which makes us question Amazon's ability to 'take over the world,' and leads us to be more sanguine of Energizer's prospects of executing online," the Deutsche analysts wrote.
Energizer's stock price surge suggests investors aren't too worried about the risks facing the deal and Energizer's future prospects.
"The market thinks there is a very high chance this merger will go through," said Radhakrishnan Gopalan, a professor at Washington University's Olin School of Business who follows corporate mergers.
Reuters contributed to this report.