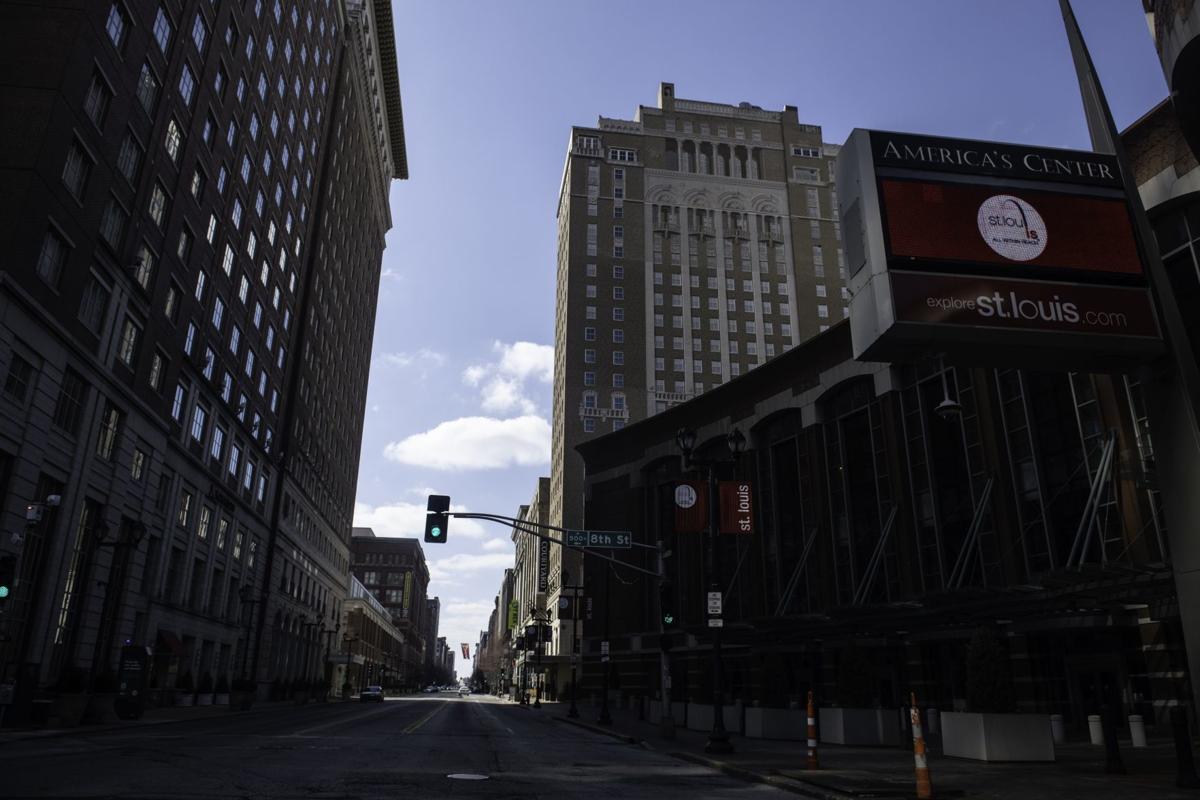 ST. LOUIS — A key city board on Monday approved issuing $105 million in bonds for a major expansion of the downtown convention center, ending a nearly four-month delay while leaders gauged the pandemic's impact on city finances.
The vote at the city's Municipal Finance Corp. — made up of representatives of St. Louis Mayor Lyda Krewson, Comptroller Darlene Green and Board of Aldermen President Lewis Reed — is a major victory for the St. Louis Convention and Visitors Commission as well as the region's hotel and hospitality industry.
"We'll get to work," said CVC President Kitty Ratcliffe, who has lobbied area government leaders for years to put together the deal.
The $210 million project is an extensive expansion and reconfiguration of the America's Center convention complex along Washington Avenue. Plans call for adding 92,000 square feet of exhibit space along Cole Street and a 65,000-square-foot ballroom along Ninth Street, as well as a new pavilion and public plaza on a surface parking lot behind the T-Rex business incubator.
Officials are dedicating hotel taxes to pay down the debt. St. Louis and St. Louis County now pay about $6 million each toward the Dome at America's Center, where the NFL Rams used to play. Officials are diverting those payments to the convention expansion when dome debt is retired next year.
The $175 million project, unveiled Tuesday, would add 92,000 square-feet of new exhibit space and a 65,000-square-foot ballroom.
Monday's vote is a bet by top city leaders that tourism and hotel stays will rebound in the next 18 months, before the first payments on the new 40-year bonds are due in 2022.
Philadelphia-based financial consultant PFM said in a report to Green's office it could only find five similar bond issues across the U.S., worth a combined $217 million, that have closed since March. PFM also noted that the St. Louis bonds, which will be backed by city general revenue should hotel taxes fall short, could get a better interest rate than "bonds secured solely by hotel and other tourism-related tax revenues."
Reed's chief of staff Tom Shepard, who chairs the Municipal Finance board and stalled the bonds back in April, said the convention industry is important, but "if the hospitality industry doesn't pick up, that's $6 million we don't have to fill the gap for our residents."
Then the coronavirus struck, decimating hotel occupancy and the associated taxes that will service the convention center debt. A recent memo from the city budget director found hotel taxes in the second quarter had dropped about 50%.
The council's action also funds what could be a significant recreation complex for bill sponsor Hazel Erby's district in the center of north St. Louis County.
At the beginning of April, the Municipal Finance board delayed a final vote to take the bonds to market. Convention leaders, plus hotel interests with big investments in the city, lobbied officials not to abandon the expansion. Twice, board meetings were scheduled and then hastily cancelled.
But last week, the city adopted a budget with a rosier outlook, and the credit rating agency Moody's reaffirmed the city's finances.
On Monday, the Municipal Finance board voted 5-0 to move ahead with the bond issue. Green's office has been unwavering in its support of the project, even pushing in April, when coronavirus uncertainty was at its highest.
Green was bullish after the vote on Monday. "Businesses will rebound, and tourism jobs and conventions will come back," she said in a statement. "We must plan for a positive future for the working families in our region, and America's Center is part of that future."
Leaders at the St. Louis Convention and Visitors Commission warned that more delay would exacerbate a cash crunch at the tourism office.
St. Louis Budget Director Paul Payne, who sits on the board and had been hesitant to move ahead in April and May, endorsed the move.
"Obviously there's still a lot of uncertainty out there, that's for sure, but I do think we're in a better place than we were several months ago," Payne said.