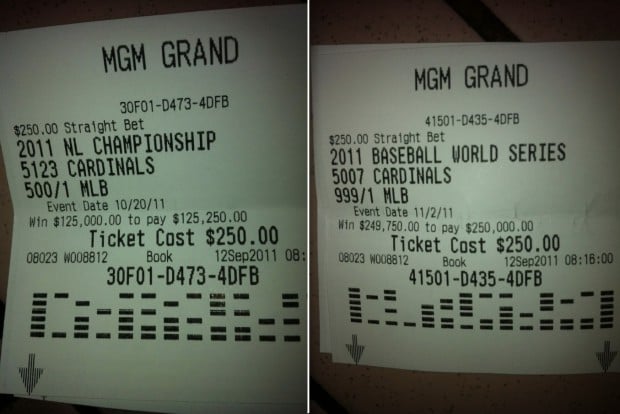 Back on Sept. 12, when the Cardinals were still several games out of even a Wild Card spot, a bettor walked up to a window at the MGM Grand in Las Vegas.
He placed two bets. One was $250 on the Cardinals winning the National League title. That was at 500/1 odds. The other was $250 on the Cardinals winning the World Series. That was at 999/1.
The first bet already paid out: $125,000.
The second bet, with the Cardinals and Rangers tied at 2-2 in the World Series, hangs in the balance, along with another $250,000.
That would be $375,000 if the Cardinals win it all.
Photos of what seem to be the unidentified man's betting slips surfaced online and have been flying across the web, with people marveling at the bettor's good fortune.
MGM International confirmed Monday the bets were real. 
Such long-shot bets are not unusual, said Jay Rood, an MGM vice president who sets odds at 12 Nevada-based sports books.
But bettors typically put $10 or $20 down at 500/1. What set apart these Cardinals bets were the size. This bettor showed "stronger confidence" by laying out $500.
In fact, this bettor wanted to bet even more money on the Cardinals, but "we scaled it back" to limit potential losses, Rood said.
Rood said he did not know the identity of the bettor. Some websites claim he is a Cardinals fan.
The betting slip for the Cardinals winning the National League has already been claimed, Rood said. Several commenters online questioned the wisdom of posting full pictures of the betting slips, since it opened the door to potential fraud. "It's not the smartest thing to put a photo of a ticket on the web," Rood said. Any disputes about tickets are passed on to the Nevada Gaming Control Board. But since the first ticket has been cashed, it is assumed the same person would claim the second ticket.
In placing his bets, this bettor had "perfect timing," Rood said. One more day and the odds would have been substantially lower.
Such long-shot bets do hit -- but rarely. When the Minnesota Twins won the 1987 World Series, the team had been at least 500/1 during the season, Rood said.
When the St. Louis Rams won the 2000 Super Bowl, the team had been 300/1 early in the season.
Rood said he has re-evaluated his decision to put the Cardinals at 999/1 odds to win the World Series. He said he probably had too much faith in the Braves not collapsing and too much faith in the Phillies playing well in the playoffs.