As communities across the region plan when and how to lift coronavirus lockdowns, a range of health experts are bracing for the likelihood that loosening current restrictions could lead to a second wave of infections.
One scenario, among many, portrays a drastic increase in local coronavirus cases, with a peak far higher than the initial round of transmission.
But experts say the second wave could come in many forms, from peaks that exceed the first crest of the virus, to smaller curves that taper off more quickly than the initial round of cases. Others say recurring waves of the disease could be contained or altogether avoided if widespread testing and contact tracing capabilities are in place.
"We're going to see some increased transmission," said Dr. Alex Garza, chief medical officer for SSM Health and the incident commander heading the St. Louis Metropolitan Pandemic Task Force. "Hopefully we can get that identified soon and get it tamped down."
Gov. Mike Parson is urging businesses in Missouri to reopen, with some restrictions, on Monday. Franklin County already has. Jefferson and St. Charles counties plan to follow on Monday, as well. At least one area city, Eureka, openly toyed with the idea of breaking St. Louis County's ongoing stay-at-home order, and opening up on its own.
But as area politicians debate public health versus economic impact, disease experts and health officials here are cautioning not to reopen too fast. Preventing a sizable rebound, they say, will require caution, careful planning, and preparation. Other cities across the world have reopened, and seen a new spike in infections.
Reopening increases the probability of transmission, the experts all agree. "The key," said Garza, "is to keep that transmission rate low."
Data scientists involved with Garza's task force have mapped out at least one scenario that shows a potential second wave of infections growing considerably larger than the first. Such an event could play out, the group explains, if the virus' transmission rate — the number of new people to whom each host spreads the disease — were to increase after communitywide social distancing measures are lifted.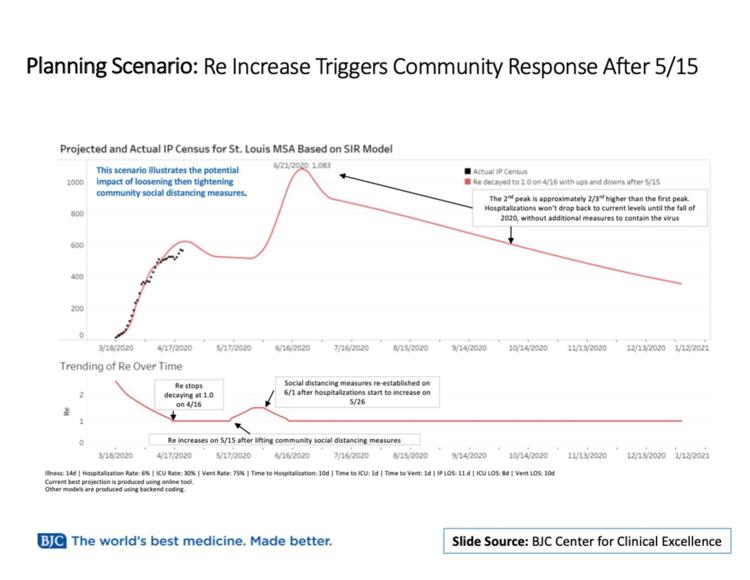 Even if those protections were reestablished within about two weeks, the community could be stuck with a much larger and longer-lasting public health crisis.
"The second peak is approximately two-thirds higher than the first peak," reads a caption for the simulation. "Hospitalizations won't drop back to current levels until the fall of 2020, without additional measures to contain the virus."
Of course, that scenario is only one of a range of possible outcomes. Some experts said that the future trajectory of coronavirus cases is not guaranteed to rebound, though they warn that many precautions and public-health capabilities — like robust capacity for testing and contact tracing — will need to be in place.
If those are absent, it could be like loosening controls too soon on a "smoldering fire," says Dr. Steven Lawrence, a Washington University infectious disease specialist at Barnes-Jewish Hospital.
Just because the St. Louis region is at, or even slightly beyond, its initial peak in cases, that does not mean that people should act as though danger from the virus has subsided, Lawrence said. To the contrary, the proximity to the peak signals that there is still an elevated risk of contagion circulating.
"Past peak in no way means we're past the threat," said Lawrence. "There's still a lot of transmission. If there's a relaxation … while you're still near the peak, the risk is much higher that our efforts will fail."
'Sitting on a plateau'
He and other experts say the situation is precarious, and that, if managed improperly, could trigger an even worse bump in infections, followed by even worse lockdowns.
That means continuing to prevent or minimize large gatherings or conditions that allow people to come in close contact with others. While officials can wield lots of influence and responsibility in helping to safely navigate the challenges of reopening, the everyday choices and actions of individuals can also shape the curve, experts said.
"Every single person has a role in this and can play a role in making this successful," Lawrence said. "We do have some control over our destiny."
Garza said counties can reopen, correctly, and still control the spread. "The community has to be invested in that process of doing it well," Garza said. "It's really incumbent upon everybody."
With Missouri set to begin lifting statewide restrictions on Monday, and the St. Louis region aiming to do so in mid-May, some worry that it could be too early to make such a transition.
"I think it's too soon to act on it. It's not too soon to have that conversation. There's lots of planning that needs to happen," said Enbal Shacham, a professor at St. Louis University's College for Public Health and Social Justice. "We're really sitting on a plateau and we want to see a decrease (in cases) before we open up."
Testing is not widely available, she said. And contact tracing must improve.
"You could open up the economy right now if you could do those things really well," he said. "You can pick whatever date you want, but unless you have those other pieces in place, it doesn't matter."
While some experts think transmission may be kept in check, others predict that there will be some turbulence going forward, with the virus mounting intermittent rebounds in the time before a vaccine is developed.
Even Dr. Anthony Fauci, the director of the National Institute of Allergy and Infectious Diseases, said this week that a second round of the virus is "inevitable."
Tim Wiemken, a professor and infectious disease expert at St. Louis University, described it as a roller coaster, or a cycle of "peaks and lulls," until herd immunity builds up. "We're going to see more peaks, but they're not going to be as severe."
Digging in
Some examples dotting the globe show that another spike in coronavirus cases could await, even in areas that initially gained control of the virus. Multiple experts pointed to Singapore as a valuable case study — where the first wave of the virus had been powerfully blunted, before flare-ups were fueled by crowded communities of migrant workers, packed into the outskirts of the city.
Garza said the situation offers a lesson highlighting the importance of tracking the disease through widespread testing, particularly among vulnerable groups in high-risk areas.
"There's some areas in the community that are more at risk," Garza said. "If we have good data that says, 'This is where it's occurring,' we can react faster and try to drive transmission down."
More than anecdotal evidence stokes fears of a second wave of infections. Federal officials with the U.S. Department of Health and Human Services estimated in early April that the coronavirus could kill more than 300,000 Americans if all social distancing measures were discontinued — a number that was later revised even higher, according to documents obtained through investigative reporting by the Center for Public Integrity.
Lockdowns and social distancing practices are unlikely to be suddenly abandoned altogether. Life as it existed a few months ago — with crowds filling restaurants, sports arenas and other public spaces — will not resume soon.
Missouri Gov. Mike Parson said this week that reopening the state would be a gradual "turning of a dial, not the flip of the switch." He later said the state would monitor progress against the virus and revise its strategy if needed, after businesses begin to reopen this week.
"If we see a trend — all of a sudden we're escalating back up — we're gonna reevaluate the situation. It's that simple," Parson said.
Local leaders, like Garza, said the state's push to reopen is not seen as a development that potentially jeopardizes the St. Louis region's own fight against the disease. Experts like Wiemken believe the dynamic playing out in Missouri will happen in many other states, as well.
"We're going to have a statewide relaxing and you're going to have the localities take charge," he said.
And when things reopen, the fight is far from done.
"It's a long way from being over," he said. "This first wave is one battle of many in this long war."
Daily updates on the latest news in the St. Louis business community.