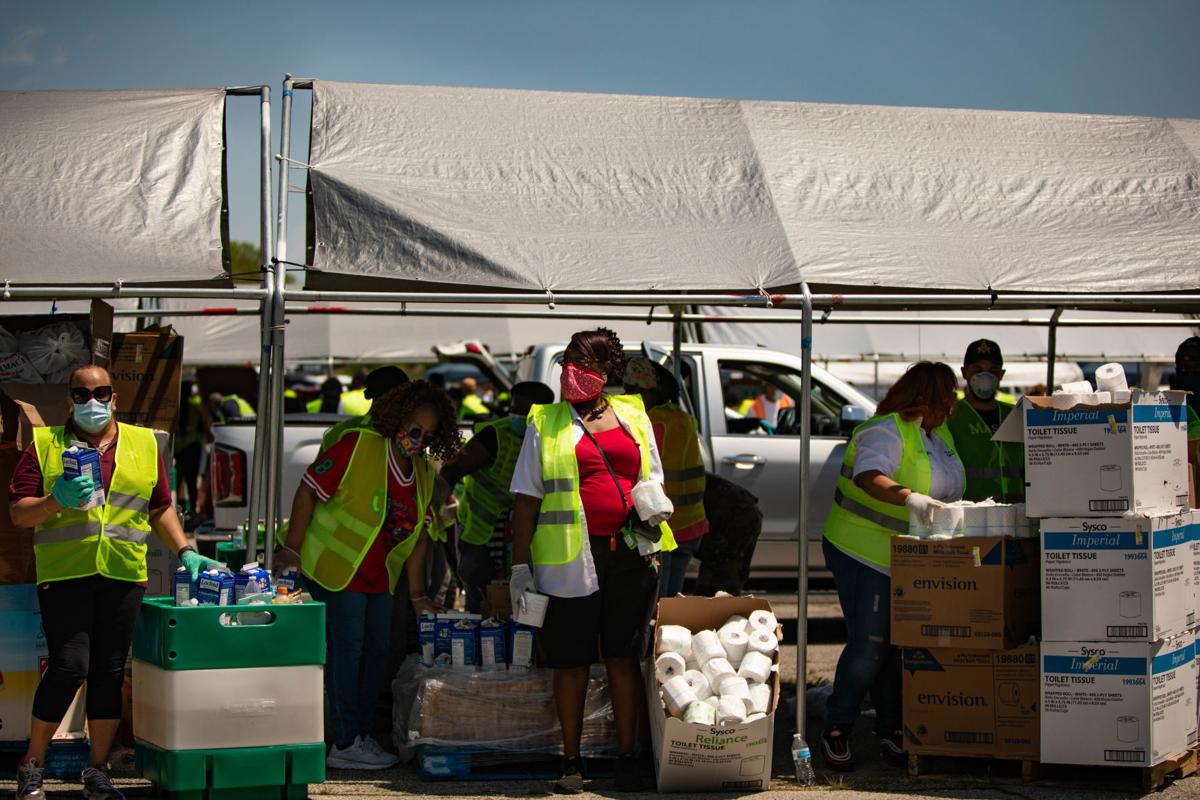 ST. LOUIS — When the city's stay-home order eases on Monday, Basso, the restaurant in the basement of the Cheshire Inn on the edge of Forest Park, plans to reopen, albeit with limited seating capacity and requirements for staff to wear masks, among other precautions.
Server Devlin Downs is among the employees being called back to work. She, like many others, will face a choice: return to work in a restaurant interacting with the public, or refuse and give up not only a paycheck but unemployment benefits, which she would lose if she refuses the job.
"Everyone's kind of facing the decision now, do we go back and risk the safety of our loved ones or do we stay home and lose our unemployment?" she said.
As jurisdictions reopen around the country, millions of employees have been or are being called back to work, making them ineligible to continue receiving full unemployment benefits fortified by Congress — unemployed workers in Missouri, for instance, receive every week up to $320 from the state plus another $600 from the federal aid package.
State unemployment figures released Thursday suggest workers are returning to their jobs. Almost 31,000 Missourians filed for unemployment insurance last week, the lowest weekly total since the economic shutdown began in mid-March. In Illinois, initial unemployment claims also dipped again, with 73,000 filing initial claims last week.
Yet the unemployment rolls, at least in Missouri, are still well below the initial claims filed. According to numbers released Thursday, 263,000 Missourians, in total, had filed continuing claims as of May 2, about 60% of the total initial claims filed through the week prior.
There are many reasons for the difference: Not all claimants are eligible. Some may have filed but then regained their jobs. "The continuous claims numbers will likely never be as high as the total number of initial claims," said Missouri Department of Labor spokeswoman Delores Rose.
But researchers have noted that numbers have fallen in other states, like Ohio.
"There does seem to be a trend of reducing covered employment, both last week and this week," said Amanda Novello, a researcher who tracks unemployment for the New York-based Century Foundation. "Likely because a number of states that are reopening are making it exceedingly difficult to get unemployment benefits."
The reopenings, then, could put workers at odds with bosses, who must report to the state if employees refuse offers to return to work.
Businesses that received loans under the emergency federal Paycheck Protection Program have an added incentive to call back workers or report those who don't return: The loans are forgivable only if business owners bring payrolls back to pre-crisis levels. But the U.S. Small Business Administration will allow employers to avoid such penalties if they can document that workers refused to come back.
Basso did receive a paycheck protection loan, but Stephen O'Loughlin, president and chief operating officer of Basso parent company Lodging Hospitality Management, said he doesn't expect the loan to be forgiven entirely. He said LHM's restaurants and hotels are taking precautions including spacing out tables, keeping occupancy lower, extra cleaning and requiring employees to wear masks. The company was actually part of a working group that helped craft guidelines for reopening hotels in St. Louis and St. Louis County.
Reopening, he said, is "going to naturally cause some anxiety both for team members and guests, and its our job to make them as comfortable as possible."
Several servers at Basso, worried about lower occupancy and the potential decrease in tips as a result, asked the company for higher base pay to make up for it. The company declined. O'Loughlin said they could make similar tips because fewer servers will be scheduled. And, he said, Basso's curbside service over the last two months has collected some $6,000 in tips that will be distributed among returning servers.
"We're all in this together," he said. "It's hard on the business. It's hard on the servers, and I think we just have to make the best of it."
'We had to report that'
Missouri announced last week it has developed a portal where businesses can report employees who refuse to return to work.
The state pays its share of unemployment benefits out of a trust fund that, during the Great Recession, was exhausted by claims and forced to borrow from the federal government. The Missouri Department of Labor and Industrial Relations, which administers the state's unemployment program, said last week that employers are "strongly encouraged" to report work refusals "as soon as possible."
"As Missouri re-opens, workers should expect to be recalled to work by employers in the coming weeks," the Department said. "Missourians who have been placed on a temporary layoff related to COVID-19 but refuse to return to work when recalled by their employer will lose unemployment benefits and have to repay any benefits received after the work refusal."
Matt Ricketts, who owns Shrewsbury-based Better Life Maids, is preparing to start cleaning houses again next week. He's called back his staff of 42 people. But several have already declined to return, citing concerns about the coronavirus.
"What I would have loved to have done is just left it alone and let them be and let them figure things out, but we were put in a position where we had to report that," he said.
He has had more luck using Missouri's Shared Work program, which allows workers with reduced hours to still collect a portion of their state unemployment benefits. And that, in turn, triggers the $600 federal payment. That has made the company's workers, who made around or sometimes less than what the new unemployment benefits offered, more willing to return to work.
"So I haven't had that pushback of, 'Well, I'd just be better off sitting at home making $900 a week,'" Ricketts said.
Daily updates on the latest news in the St. Louis business community.