People who meet Duke James McDonald at the office will tell you that he smiles a lot.
At GL Group, a children's book wholesaler on Macklind Avenue, Duke lies down on the job. He does that in a little bed next to the desk of his mother, Jaci McDonald, the firm's inside sales manager.
People who call GL sometimes hear giggling, crying and cooing in the background.
"Is that a baby?" they ask.
For the past two decades, GL has allowed mothers and fathers to bring their babies to work. The little ones, who get to stay until they turn 6 months old, lie right next to their moms and dads. There's usually one or two at the company, which has four St. Louis area sites.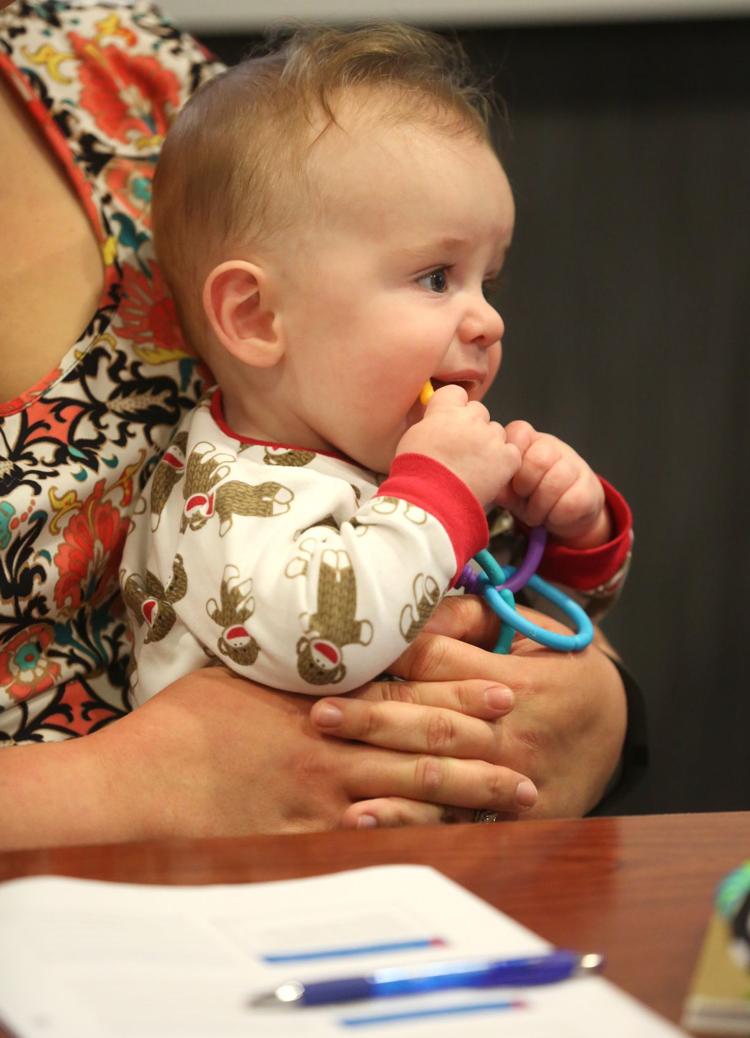 Some big firms have in-house day care centers for employees' children. But a babies-in-the-office policy is rare. The Parenting in the Workplace Institute counts about 200 American companies nationwide that let parents bring babies to work.
The policy delights mothers and fathers.
"It's wonderful. It allows me to watch him develop," said McDonald, who lives in O'Fallon, Ill. For instance, she was watching the first time Duke touched his feet.
"He was looking at his feet, and then he grabbed it. It was, 'Oh my God, he's grabbing his feet!'" said his mother. "In day care, I'd just be picking him up and dropping him off."
The perk is also worth a lot of money. Starting next month, Duke will age out of the program. He will be in day care at a cost of $250 a week. "And we didn't pick an expensive program," his mother said. GL Group pays $50 a week of that cost for the first year.
GL Group is in the children's literature business. Its main customers are schools, supplying books, along with games, stickers and educational supplies, for school libraries.
Sandy Jaffe founded the company when he bought out a failing book firm in the 1970s. His children now run the business, with its 220 employees and $100 million in annual sales. About 60 percent of its workers are women.
Jaffe remembers the day, more than 20 years ago, when a pregnant employee asked if she could bring her baby to work.
"No," said Jaffe. "I'm an old-school guy. Who needs this? I didn't want to do it," he said.
But he discussed it with his management committee, which split over the issue. "So, I said, 'Yeah, go ahead and do it,' " he said. "What's the worst that can happen?"
That's how baby programs usually get started, said Carla Moquin, president of the Parenting in the Workplace Institute, a group based in Salt Lake City that encourages baby-friendly policies. "There is usually one valuable employee that they don't want to lose," she said.
Like any other businessman, Jaffe worried about disruption and productivity. An employee cuddling a baby is not producing for the bottom line.
"We know that when Mom or Dad has a baby, they won't be working 40 hours," said Lisa Whealon, GL's "chief people officer," who kept her own two children at work when they were babies.
But executives found that the productivity cost was slight, and the policy boosted morale and cut employee turnover. Moquin says it also cuts maternity leave. Mothers come back in six to eight weeks instead of the 12 allowed by law.
Parents appreciate the perk. So they may work longer at the end of the day, or come in on a Saturday to catch up, even though the company doesn't require it, Whealon said.
Not everyone gets the perk. Warehouse workers, for instance, can't bring babies, for safety reasons.
There is a lot of baby-cuddling at GL Group. "They say it takes a village, and that's so true here," McDonald said. "He'll start fussing and somebody will pick him up. They say, 'Oh, you're busy. Let me hold him.' "
McDonald sits in a cubicle with Meredith Murray, who doesn't mind gibberish. "It's fun to pick him up and get some cuddles," she says.
As a result, Duke James McDonald has close acquaintances all around the office.
Some workers consider him stress relief.
"I had a bad customer call," said one woman. "Can I hold your baby?"
Men also get the perk. "I'd be holding the baby and typing with one hand on the computer," said Ryan Metz, who had his son in the office. "I don't think a lot of fathers get the experience of watching him grow."
Baby-in-the-office programs don't always work out, Moquin said. Other employees have to buy into it.
"There have been incidents when the baby was crying too long, or they changed the diaper on the conference room table," Moquin said. GL has a separate room for diaper changing and breast feeding.
The key, Moquin said, is to get a written policy. The first principle is that babies cannot be disruptive. If that's the rule, then parents become very quick to tend to crying babies.
Also important: Parents must find at least two co-workers willing to care for the baby when the parent is busy. Parents aren't allowed to ask for help from anyone not on the volunteer list, Moquin said. That heads off resentment from workers who aren't baby lovers.
At GL, babies have to go at six months. That's pretty standard, although some employers extend it to eight months, Moquin said. The idea is to remove the babies before they learn to crawl and become little safety hazards.
It would be hard to get a truly scientific read on whether babies in the office have a life advantage over babies in day care, noted Dr. Matthew Bloom, medical director of the Danis Pediatric Center at Cardinal Glennon Children's Medical Center.
But it sounds like a good idea. "There's definitely a benefit in bonding," he said.
It might also reduce worry, especially for first-time mothers, he said. They'd know their baby was well cared for, and they wouldn't have to rush off to the day care center.
The list of baby-friendly companies includes the National Association of Insurance Commissioners in Kansas City; state agencies in Washington state, Arizona and Kansas; credit unions; manufacturing companies; accounting firms; design agencies; and others.
It takes leaders willing to do the unusual.
"I'm not a normal CEO," said Gary Jaffe, Sandy's son and the man now in charge at GL.
His family owns the business, so he doesn't have to satisfy shareholders, or leaders of a private equity fund out purely for profit.
That lets him take a longer, and kinder, view.
"Everything is about the employees, and nothing about the bottom line," he says. "The bottom line is only going to grow if employees are well-treated."
So employees enjoy other odd perks. A therapy dog visits once a week to relieve employees' stress. A massage therapist rubs their shoulders. Each year, 10 percent of the staff get a free "Sandy vacation" to places such as Las Vegas or Jamaica.
They also get four weeks' paid maternity leave.