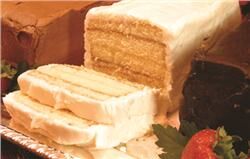 Miss Hulling's cakes are so beloved in St. Louis that they've been produced and sold for years after the last Miss Hulling's restaurant closed.
But the fate of the baked goods line, including popular split layer cakes, now rests in bankruptcy court.
At issue is a licensing agreement to use Miss Hulling's recipes.
Theodoro Baking Co., a commercial bakery in Hazelwood founded in 1917, filed for bankruptcy in August. Apted-Hulling Inc., the owner of Miss Hulling's recipes and other intellectual property, has a licensing agreement with Theodoro for the bakery to produce the cakes and other goods for sale at retailers, including Straub's Markets.
Based on that oral agreement made with Theodoro more than a decade ago, the bakery pays Apted-Hulling a royalty fee for the exclusive use of between 30 and 40 recipes and other trade secrets, according to Dan Kazanas, Apted-Hulling's attorney.
Theodoro is the only company that has a licensing agreement to make Miss Hulling's baked goods, which are marketed under the Miss Hulling's brand name, Kazanas said.
With Theodoro's bankruptcy, the licensing agreement for Miss Hulling's goods is in question. Nature's Bakery, a Reno, Nev.-based maker of fig bars, has made a $4.1 million "stalking horse" bid to buy Theodoro's assets. The bid sets the minimum price in an auction for Theodoro's assets, which is set for Tuesday.
If the sale proceeds with Nature's Bakery, the new owner plans to add jobs at the Hazelwood facility, which will produce fig bars for Sam's Club.
On Wednesday, Apted-Hulling, one of Theodoro's creditors, filed an objection to the auction, based on the uncertainty of whether the proposed sale agreement includes its license agreement. Apted-Hulling, which is led by Dan Apted, asked the bankruptcy court to enter an order specifying that its trade secrets are excluded from the sale. Apted is a grandson of Florence Hulling Apted, founder of Miss Hulling's restaurants.
"We just want to make sure that the integrity of the trade secrets and ingredients are going to be protected," Apted-Hulling's attorney Kazanas said. "We are of the belief that Miss Hulling's recipes are revered in the St. Louis community."
The court has not yet ruled on Apted-Hulling's request. If the court decides the licensing agreement is not part of a Theodoro sale, Apted-Hulling may pursue an agreement with another company to produce the baked goods, Kazanas said.
"We have other options to make sure Miss Hulling's desserts and other products will be available in St. Louis," he said.
Acknowledging the licensing deal, Theodoro's president and owner Mike Daniels said he doesn't believe the asset sale would hinder Apted-Hulling and Straub's from selling Miss Hullings products in the future.
At one time, there were five Miss Hulling's restaurants in the St. Louis area. The first, at 725 Olive Street, opened in 1929. Miss Hulling's Cafeteria, which occupied the northwest corner of 11th and Locust streets for nearly 60 years, closed in 1993.