BEL-NOR — The pandemic muted all the milestones of Ash'ia Phillips' last two years at Ritenour High School. So for prom, she went big and bright.
She bought a fuchsia gown with rhinestone straps and jeweled appliques. And she wanted her photo backdrop to be just as lavish and elegant.
So Ash'ia's mother ordered balloons.
Once relegated to children's birthday parties and Winnie the Pooh cartoons, balloons have gone high-end. The social media darlings create one-of-a-kind photo opportunities for school dances, baby showers and banquets. Customers spend hundreds — and sometimes thousands — of dollars for custom-made attractions.
St. Louis-area balloon artists have never been busier, designing bulbous walls and flowing garlands, 16-foot octopuses and turreted castles. On prom night in April, Ash'ia, 18, posed in front of a cascade of pink orbs, with strands of flowers and butterflies dangling around her.
"She loved them," said her mom, Natasha Phillips. "Everyone loved them."
Phillips ordered the arrangement from Joy Hill of north St. Louis County. The fifth grade teacher, inspired by a do-it-yourself balloon kit she purchased online, started Balloon Joi in August. Hill has picked up so much business, she's had to turn down potential clients.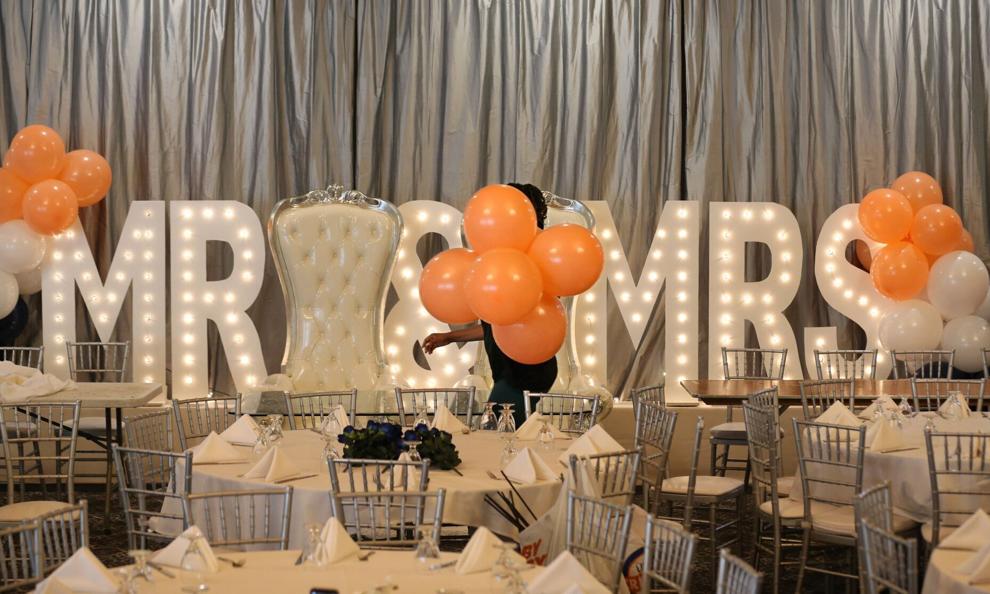 "Balloons are so fun," she said. "I never thought I'd be doing this as a side job."
Tony Volkman of Wentzville is also leaning on latex for extra income on top of his full-time position at an audiovisual company. A friend asked him to set up a background for a Zoom call last fall, and soon after, Balloony Toons was born.
Volkman collected a menagerie of air pumps and built a stockpile of fishing line, curtain rods, PVC pipes and disassembled floor lamps to support ethereal archways, frames and pillars for his customers.
"The most magical part is when they come in the room and see their vision has come to life," Volkman said.
The least magical part? Cleaning up. Volkman puts in ear plugs and takes out his "super sharp" scissors.
"I have to destroy what I've created," he said. "Popping balloons is a stab in the heart."
Inflated importance
Balloons haven't had the best reputation among environmentalists. They're not really biodegradable. And when released, they can be mistaken by wildlife for food, a deadly error.
But the balloon industry has come out against balloon releases. Properly disposed of, the latex scraps are nothing more than a compact pile in the trash bin. In fact, the industry argues, they take up a lot less space in landfills than other party paraphernalia: Think plastic utensils, paper plates, cake tins and the like.
Regardless, the debate hasn't slowed down business here: Photos of over-the-top balloon builds now litter Facebook, TikTok and Instagram.
Elise Rhoades of Hanley Hills has a portfolio of those herself: She has constructed pony-packed carousels and backyard-sized pirate ships. Last month, she used more than a thousand balloons to fashion a genie floating on a magic carpet for Hazelwood Central's prom.
A college job at a balloon store outside Chicago introduced her to the trade more than a quarter century ago. Rhoades earned her certification as a balloon artist — which requires passing three written exams and a four-hour hands-on skills assessment — and became the head of the balloon department at American Carnival Mart in Creve Coeur, where she teaches a monthly "balloon school."
At Carnival Mart, demand is "through the roof," she said. "We would sell more but we can't get the product. They can't make them fast enough."
Maryland Heights-based balloon manufacturer Betallic sold through its stock early in the pandemic and is finally getting caught up, said brand manager Julie Conner.
"It's been difficult to provide all the colors and sizes when everyone needs them," she said.
Betallic sells latex sizes from 5-inch bantams to 3-foot-diameter behemoths. Foil shapes can stretch 5 feet high.
"Balloons have become elevated from what they once were," said Conner. Their newest line comes in shades like champagne and truffle.
The Midwest is a step behind on the balloon mania, said Julia Perkovic, founder of Party Perks in south St. Louis County. She saw their promise at a face-painting convention six years ago.
The former globe-trotting magician's assistant — a "Jane of all trades," she says — had already mastered juggling, stilt-walking and balloon-twisting, a skill distinct from balloon décor. But at the convention, she was tapped to construct an archway of dueling balloon dragons, with balloon fireballs billowing out of their balloon fangs.
When COVID hit, Perkovic narrowed her focus — and expanded her territory. She has been to 21 states in 18 months, hiring herself out as a "balloon freelancer." She maintains a stash of 20,000 balloons, stacked floor-to-ceiling at her home office. Last year, Amazon commissioned her to make "Game of Thrones"-themed displays at a couple dozen of its warehouses, for $10,000 each.
Teaming up
Balloon artists often partner on jobs too unwieldy to tackle alone. In April, Perkovic and three others teamed up on a 150-foot garland for a shop's grand opening in St. Charles. Two thousand tangerine, canary and cream-colored balloons bubbled around the two-story brick café.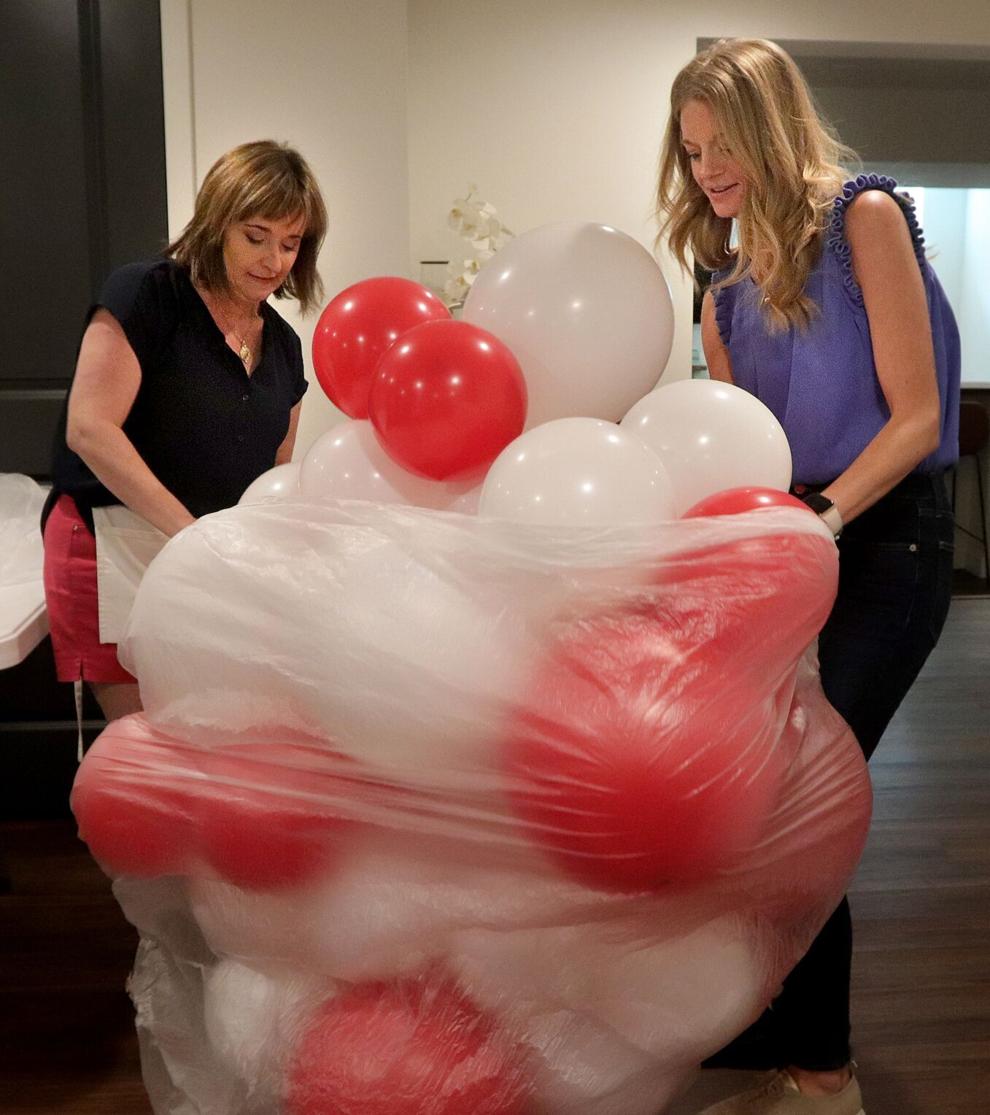 Melissa Fox of Frontenac collaborated with Perkovic on the installation. Before the pandemic, Fox had never blown up a balloon. But in spring 2020, she needed something to make her daughter's lockdown birthday special, so she turned to YouTube.
Fox spent the following year learning the math behind a rainbow's bend and a column's taper. She trimmed her prep time down by three-fourths, inflating and knotting like she'd been doing it all her life.
"It took a lot of bloody cuticles to get there," she said.
Since Balloon Theory St. Louis opened last summer, Fox has added two part-time employees, including a calligrapher to paint names and well wishes on jumbo balloons that run about $100 apiece.
The hardest part, Fox said, is managing expectations of customers who ask for exact Pinterest replicas. Sometimes she makes house calls, fanning her balloons out like paint chips, so they can pick just the right hue.
Heather Baldanza of Town and Country tapped Fox to make twisting stands for a Super Bowl party: orange and black for the Bengals, blue and yellow for the Rams. She has become a regular customer, ordering centerpieces for her son's lacrosse banquet and a towering 16 for her daughter's birthday.
"I think they're perfect for photos," said Baldanza. "I had tried to do it myself but it never turned out as good."
The challenge of wrangling dozens of finicky pockets of air into cheerful spectacles is what keeps Fox going through hours of finger-cramping work.
"It's so much fun to look at a giant job and think, 'I can't do this,'" she said. "And then you do!"