ST. LOUIS — Two sets of nuclear waste complaints against Mallinckrodt have been thrown into question in a two-week span, while the company restructures in bankruptcy court.
While industry analysts have focused on Mallinckrodt's future as a drugmaker, the company also faces potential liabilities for work a predecessor company, St. Louis-based Mallinckrodt Chemical Works, performed decades ago, when it processed uranium for the U.S. government. Radioactive waste left over from Mallinckrodt's uranium production is buried today in the West Lake Landfill Superfund site in Bridgeton and also along sections of Coldwater Creek, which runs from St. Ann to the Missouri River.
"Their legal footprint is huge right now," says Dawn Chapman, the activist co-founder of Just Moms STL, a volunteer group that has pressed for a cleanup of West Lake for years.
On Sept. 30, a two-year-old lawsuit aimed at getting Mallinckrodt to help shoulder the looming $205 million cleanup at West Lake was dismissed, but appears to be in mediation. Lawyers involved with the case warn that, despite the dismissal, the matters at hand remain unresolved and under discussion.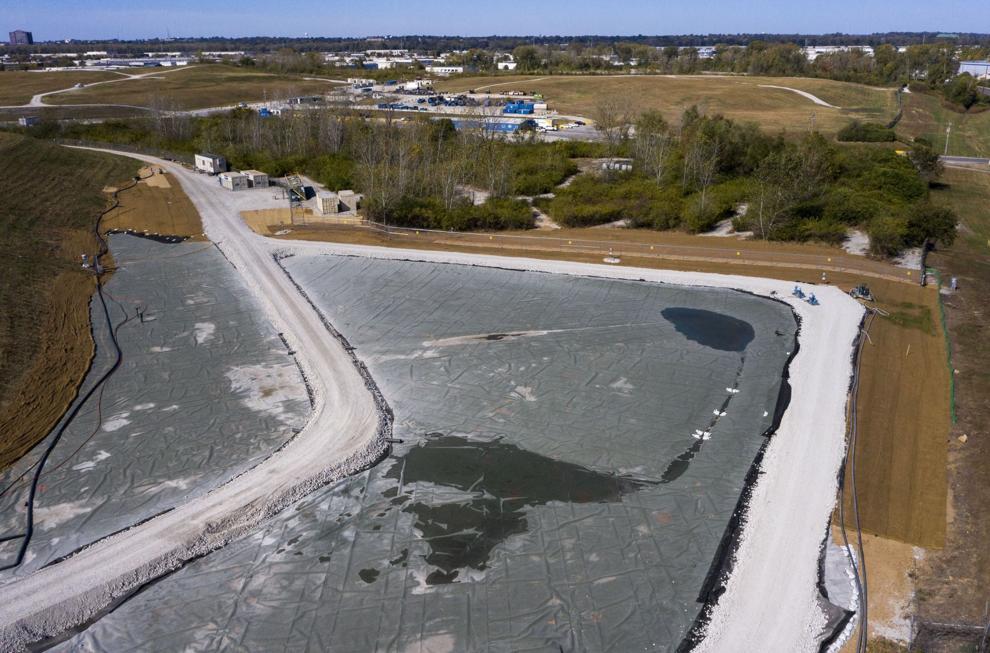 "The underlying controversy is not over," said Richard Greenberg, a St. Louis-based lawyer representing EverZinc, a Belgian company that is a co-defendant in the suit, along with Mallinckrodt. "All it really means is the dispute is going to be addressed in the future."
The dispute arose in 2018, when — after decades of inaction — a plan to soon excavate the bulk of West Lake's radioactivity was finally announced. In the months that followed, Republic Services — the waste hauling company whose subsidiary, Bridgeton Landfill LLC, is the legal owner of the Superfund site — initiated a chain of legal actions against Mallinckrodt and other entities in an apparent strategy to spread out the nine-figure cost of the site's long-awaited cleanup.
Allegations in the ensuing lawsuits focused on the histories of Mallinckrodt and other parties that Republic said belong at "the table," regarding work at West Lake.
Mallinckrodt was the first to be roped into the litigation. During the development of the atomic bomb in World War II, the company "purified and provided all of the uranium oxide used by the Manhattan Project," according to its website. Some of the radioactive waste from the company's St. Louis operations eventually made it to West Lake Landfill, where it was illegally dumped in the 1970s.
Republic's efforts quickly expanded to include additional companies, based on the alleged liabilities of various subsidiaries and predecessors. Mallinckrodt was joined by other defendants such as EverZinc, and the New York-based financial giant, Citigroup. (African Metals Corp., a predecessor of EverZinc, allegedly supplied uranium ore to the Manhattan Project in 1944, while Republic claimed that a group called Commercial Discount Corp., tied to a Citigroup subsidiary, arranged for the disposal of hazardous substances at West Lake.)
"I think they bought a lemon and they didn't know what they were getting," said Chapman, describing Republic's acquisition of West Lake and the company's path to becoming saddled with partial liability for a complex Superfund cleanup. "Republic is trying to use the same approach to pull other people into this. Why shouldn't they? It was used on them."
The case against both Mallinckrodt and EverZinc had seemed to angle toward mediation for a while. In court documents from March 2019, parties requested that proceedings be put on hold for 180 days, "in anticipation of a potential resolution of these claims at mediation." And just last month, a filing discusses "an ongoing mediation involving all parties," with details related to the process and any potential settlement kept confidential.
A lead lawyer representing Mallinckrodt in the case declined to comment.
But moving forward, West Lake's cleanup is not the only matter involving radioactive waste that could affect Mallinckrodt.
For almost a decade, the company has confronted personal injury lawsuits alleging that residents of surrounding communities have faced cancers and other health issues caused by the legacy of radioactive contamination along Coldwater Creek, after waste from Mallinckrodt was stored and buried at an upstream site near the airport.
Some of the cases — which originated in 2012 — have already been settled, and lawyers said in a hearing Wednesday that settlements that were verbally approved would not likely be affected by Mallinckrodt's bankruptcy case. Outstanding cases will likely be stayed while bankruptcy proceedings take place, though it's not clear what may happen next.
Back at West Lake, cleanup costs are currently set to be divided among Republic and two other parties deemed liable at the site: the U.S. Department of Energy and Exelon, the Chicago energy company that formerly owned the uranium processor, Cotter Corp., through a subsidiary.
Community members who follow issues related to West Lake say that, ultimately, they don't expect progress of the cleanup to be affected by how many entities are — or aren't — paying for the efforts.
"I don't think it matters in terms of the cleanup," said Chapman. "I think the cleanup will go forward."
Robert Patrick of the Post-Dispatch contributed to this report.
A landfill is on fire in Bridgeton, and while such "smoldering events" do happen in landfills, this one is close to World War II-era radioacti…