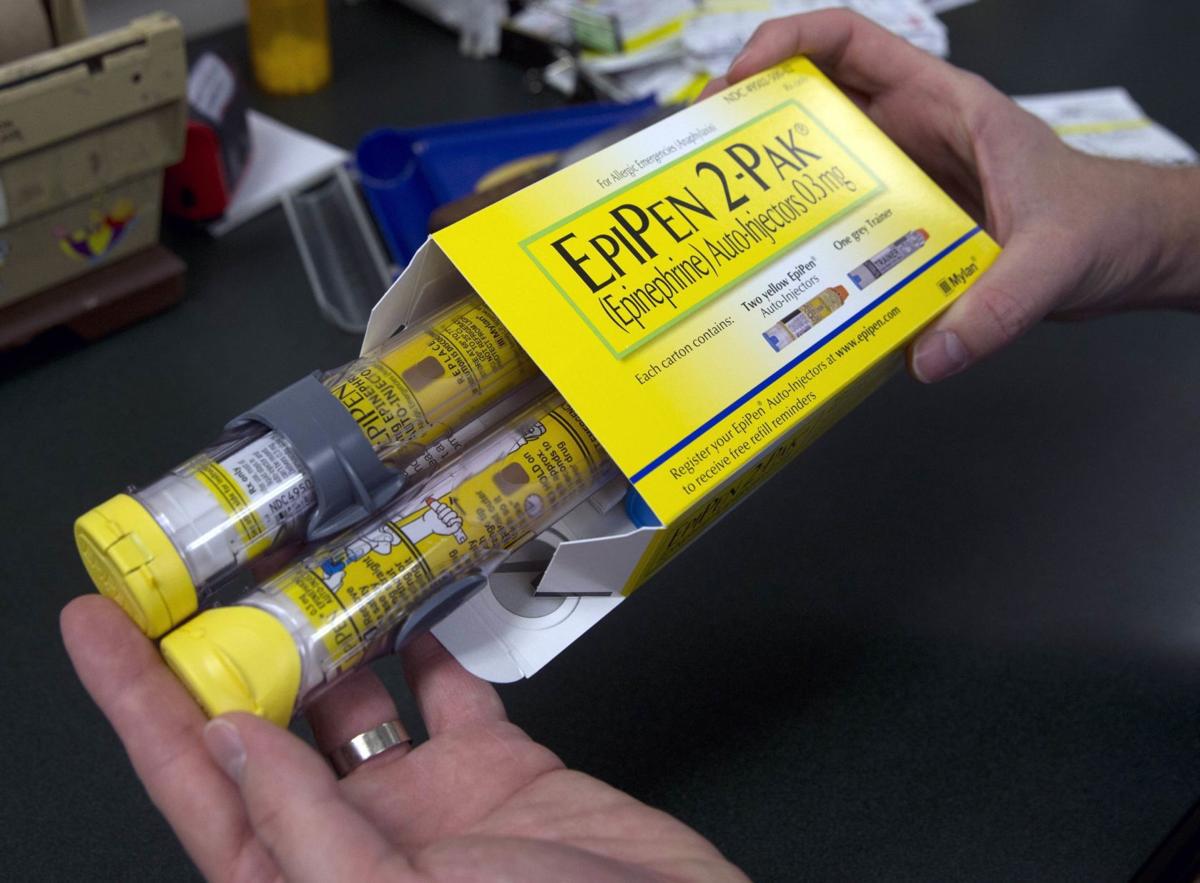 Drugmaker Mylan NV has received the brunt of criticism for alleged price-gouging on the lifesaving EpiPen, but other factors — and players — contributed to the monopoly it enjoys today, say experts familiar with the drug industry.
First approved in 1987, the EpiPen is protected from competition until 2025 by four patents. Three of those patents were awarded within the last six years.
Not all of the patents for improvements were sought under Mylan's ownership. A key patent that was responsible for keeping another drugmaker from coming to market with a generic alternative to the EpiPen was inherited by Mylan.
The patent in that case has ties to a company with St. Louis operations that produces the EpiPen and, soon, its generic version for Mylan.
"The reality is we would not be here today if it were not for the patent strategy of a St. Louis manufacturer," said Jake Sherkow, associate professor at New York Law School, who specializes in patent law.
Meridian Medical Technologies, a Pfizer subsidiary with facilities in Brentwood and Maryland Heights, is the sole firm that makes the EpiPen.
It was Meridian on April 1, 2005, that filed for the key patent — patent No. 7449012 — that it would later rely on to block a competitor. At the time, Meridian and its owner, Tennessee-based King Pharmaceuticals, were producing the EpiPen for Dey, a subsidiary of Merck KGaA, a German company that held the right to sell the EpiPen.
The patent, which was issued by the U.S. Patent and Trademark Office on Nov. 11, 2008, was for the automatic injector that delivers the drug epinephrine via a needle.
On Aug. 28, 2009, King and Meridian sued drugmaker Teva Pharmaceuticals for infringing on the 2005 patent. Teva was seeking approval from the Food and Drug Administration for its own version of the EpiPen.
The parties settled in 2012, and Teva agreed not to bring its product to market until mid-2015.
'Layered patents'
Meanwhile, on Oct. 2, 2007, Mylan completed its acquisition of Dey, thereby acquiring the rights to sell the EpiPen.
Meridian filed for a new patent on the EpiPen on Oct. 25, 2007, just 23 days after Mylan took over. That patent was issued in 2010.
It filed for another on Oct. 27, 2008, and, once again, on Aug. 17, 2010. Those patents were issued in 2011 and 2014, respectively.
Some patent lawyers question whether those patents represented meaningful improvements to the EpiPen.
"That's a concern with the patent system that you get a 20-year right to exclude, and a lot of companies have layered patents so they extend protection far into the future," said Michael Carrier, a Rutgers University law professor who specializes in intellectual property within the pharmaceutical industry.
"Meridian Medical Technologies has four U.S. patents that cover the current EpiPen product. Patents recognize and protect the importance of innovation," Pfizer said in an email statement.
Designed to protect original inventions and ideas, patents encourage innovation. But when they're granted for incremental, or insignificant improvements, they mainly serve to discourage competition, experts say.
The patent office is focused on granting protection to inventors. Even with a patent, though, a drug cannot be brought to market unless it's approved by the FDA, which must find that the drug is safe and effective. And it's not within the FDA's purview to decide whether patents are warranted or not.
"The bottom line of FDA approval: Is the drug safe and effective?" said Patti Zettler, a former FDA attorney, now a law professor at Georgia State University. If the improvement in the drug or device still meets that standard, it's not within the scope of the FDA to decide whether it's necessary.
Usually, insurance carriers decide if the update is meaningful. If the update is minimal and there are other competitors, usually the insurance carrier favors the other product.
But the EpiPen created the perfect storm for this issue because there are no competitors.
"This is a really important issue," said Rachel Sachs, a law professor at Washington University, who specializes in patent law and drug regulation.
"This is a very common tactic: to apply for a patent on a slightly modified version of the drug or device in order to extend your monopoly," Sachs said.
Samantha Liss • 314-340-8017
@samanthann on Twitter