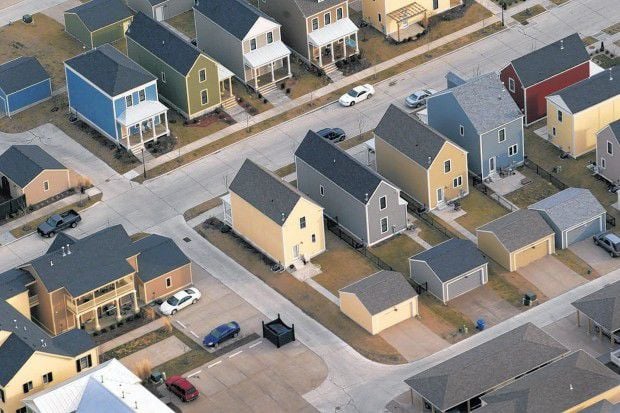 ST. CHARLES • The original developer of New Town St. Charles has unveiled plans to tack on 160 acres to the "new urbanist"-themed development — providing space for 850 new homes to be built beginning in 2019.
Greg Whittaker, who heads NT Home Builders, says it likely would take five to seven years to complete the estimated $250 million addition.
Like the original New Town site which opened in 2005, the new tract will feature modern homes of various sizes and price tags on an old-style street grid with easy walking to shops, recreation and eateries — along with lakes and canals.
"It's more of the same," Whittaker said, although he said the lots typically would be a "little bit bigger" than those in the existing development.
However, he said how many of each type of New Town home will be built depends on market demand.
The St. Charles City Council last month approved a development plan, rezoning and annexation of the tract, which is southwest of the original site. The new area is now farmland.
"The city doesn't have a lot of tracts of this size left," said Bruce Evans, the city's community development director. "Anytime we can get development on this scale, it's a huge plus for the city."
Whittaker said he also expects to build 200 to 250 new homes over the next two years on vacant land on the original New Town site.
Meanwhile, he said on Dec. 28 he regained his role as overseer of the New Town plan through his current company.
That role had been taken over during the recession by a consortium of banks — WBI Resolution LLC — after Whittaker's previous company went into Chapter 11 bankruptcy in 2009.
New Town, which is north of Highway 370, now has about 1,500 homes with roughly 3,500 residents. The majority of homes were put up by Whittaker's companies, although other builders have been involved as well.
Evans, the city official, said the addition of 160 acres to the nearly 700-acre New Town site more than offsets the 93 acres on its southeast edge removed by the city in 2014.
That was to make way for a suburban-type, lower-density subdivision called Charlestowne Crossing by another developer, Tom Hughes.
The city's decision then was over the objection of many New Town residents who worried that the more conventional subdivision would negatively impact New Town and its future.
More than 900 people signed petitions against changing the New Town zoning rules for that area.
At the time, council members supporting the change pointed out that no other developer had stepped forward to propose anything for the 93-acre site.
Work on Charlestowne Crossing is underway, with about a quarter of the 234 homes built or under construction.
Charles Luebke, one of the critics of the 2014 split-off and a New Town resident since 2008, said Thursday that he and other residents are pleased to hear of Whittaker's expansion plan.
"Everybody is pretty happy with it," said Luebke, whose architectural firm also is in New Town. "It all has to do with the housing economy turning around."
He added that Whittaker's return to overseeing the project is important. He said the bank entity's goal was to sell ground and didn't have "the same level of commitment to making this what it is that Greg Whittaker has."
As he did with the original New Town plan, Whittaker has hired a planning firm headed by Miami architect Andres Duany to help design the 160-acre addition.
The company was initially known in new-urbanist circles for its development of Seaside, Fla., in the 1980s.
Whittaker also retained Duany's firm in developing a New Town project in metro Kansas City. Work began last year on that development, called New Town at Harmony, in Independence, Mo.