At one time, St. Louisans were hard-pressed to find restaurants that offered inexpensive delivery, aside from pizza joints and sub shops.
But with folks increasingly accustomed to buying things online and having orders show up at their doorstep, that's finally begun to change. Case in point: In less than a year, the number of local bike-based restaurant delivery services has quadrupled.
That is, it has gone from one to four — more than enough to qualify as a certifiable trend.
To be sure, many of the services are still quite small, delivering for just a handful of restaurants. Most have been launched by cycling enthusiasts who relish the idea of being able to make a living by riding their bikes.
Here's how the businesses typically work: When customers order food for delivery, usually through a website, they're paying the menu prices. The delivery services, though, are able to buy that customer's order at a discount through their partnership with the restaurant. (Or in some cases, restaurants pay the delivery firm a commission.) They then deliver the food to people's homes or offices within a designated zone for a fee that usually is under $5.
Now all of these services are talking about adding more restaurants to their rosters and expanding their delivery areas.
"Bikes are awesome," said Tim Kiefer, a bike commuter who started the Food Pedaler last year. "That would explain why there's a proliferation" of these services.
The Food Pedaler now services about a dozen restaurants in the Central West End, including the likes of Sub Zero, the Gamlin Whiskey House, Cafe Osage and Rasoi. Kiefer is still figuring out the rhythm of the business but is already branching out more toward St. Louis University.
There's still plenty of room for all of these services to grow, he said.
"I would say at this point we're not fighting over pieces of the pie — we're baking a pie," he said.
Besides, the more bike delivery services on the road, the more people will notice their availability. A lot of people still don't know that they exist, Kiefer said.
Still, the rapid growth makes him a little wary because he knows firsthand how hard it is to make money doing it. He usually made more money from making deliveries than from running the business.
"I virtually always had a part-time job (at the same time) so I could pay my basic bills," he said. "So if the business was going to fail, I wasn't going to land completely in the poor house."
He figures the growing field may face a bit of a shake-out down the road.
But the growth hasn't come without a bit of awkwardness in that some of Heaslet's former riders, who continued on with the Bike Waiter, have branched off to start their own delivery business.
Matt Hartman, one of the co-owners of Spoked Couriers, which launched in January, said he and his partners felt like some of the local presence was lost when the Texas company bought it. And he added, some riders didn't like having to wear uniforms or use a trailer to transport the food.
"We're trying to work with smaller businesses," Hartman said. "We're very community-focused, not so much about the dollar sign."
His restaurant partners, which include the likes of the HandleBar and Atomic Cowboy, are mostly in the south city area. But in addition to food delivery, Spoked Couriers also delivers for a flower shop and plans to be a more general courier service by adding things like beer growlers to its list of delivery services.
Shane Broussard, the owner of the Bike Waiter, said he wasn't surprised those riders jumped ship. Not everyone likes change, he said.
But he noted that since he's taken over the business, he's grown it from working with about 10 restaurants to more than 25. And the number of orders has gone up. That helps ensure that local riders are making money, he said.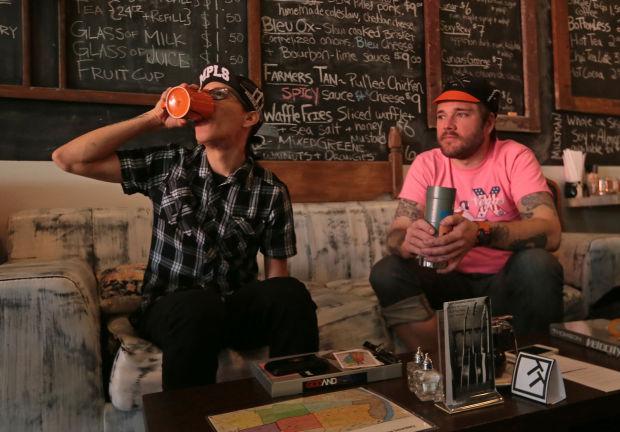 "It's no fun to do bike delivery if you're not doing deliveries," he said.
And while the dispatcher for the Bike Waiter is in Texas, Broussard noted that he delivers for many local, independent restaurants such as Local Harvest Cafe and the King & I Thai Restaurant. He added that he's helped generate more than $50,000 in sales for St. Louis area restaurants in the last six months.
Now he's even working on a mobile app.
Of course, one of the biggest limitations of these bike services is distance, especially when you're dealing with hot food. That's where car-based delivery services have a leg up.
Maplewood-based GrubGo, which delivers food via car, has also been rapidly growing since it launched two years ago and now works with more than 35 restaurants and is about to add some food trucks to the list. It services an area from downtown to Chesterfield. But, of course, it charges more to transport food over longer distances.
Peter Wheeler, the owner, said the business has been growing so fast that it sometimes has been having trouble keeping up with demand. On Valentine's Day, for example, he said the business had to turn away about 35 to 50 orders because restaurants and his drivers were so swamped.
"On a regular basis, we're hammered," he said.
For now, many of the bike-based delivery services like to deliver within a few miles of the restaurants they work with. Nick Stewart, who started Dovelo ("velo" is French for bike) last year, usually only delivers within a two-mile radius for the Kayak's by Washington University.
"I'm not going to deliver Kayak's all the way to downtown," he said. "That's too far to maintain quality."
While some people may wonder why they would bother using such a service for a small distance, he noted that delivery saves them not only the expense and time of driving — sometimes during rush hour — but also the pain of having to find parking and then waiting for their order.
Dovelo also works with Strange Donuts and delivers freshly roasted whole bean coffee from Kaldi's on Fridays.
Despite their different niches and service areas, all of these bike services have been united in their struggle to cope with single-digit temperatures and unplowed roads this winter. Some services have shut down during those more extreme days to keep riders safe.
But while it was a challenge to sometimes stay open, Stewart said he tried to do it when he could because it was good PR to show up at a Washington University dormitory with doughnuts in hand even in the midst of a snowstorm.
"It's been good to show we're out here and we're going to be doing this whether it's snowing or 110 degrees," he said.