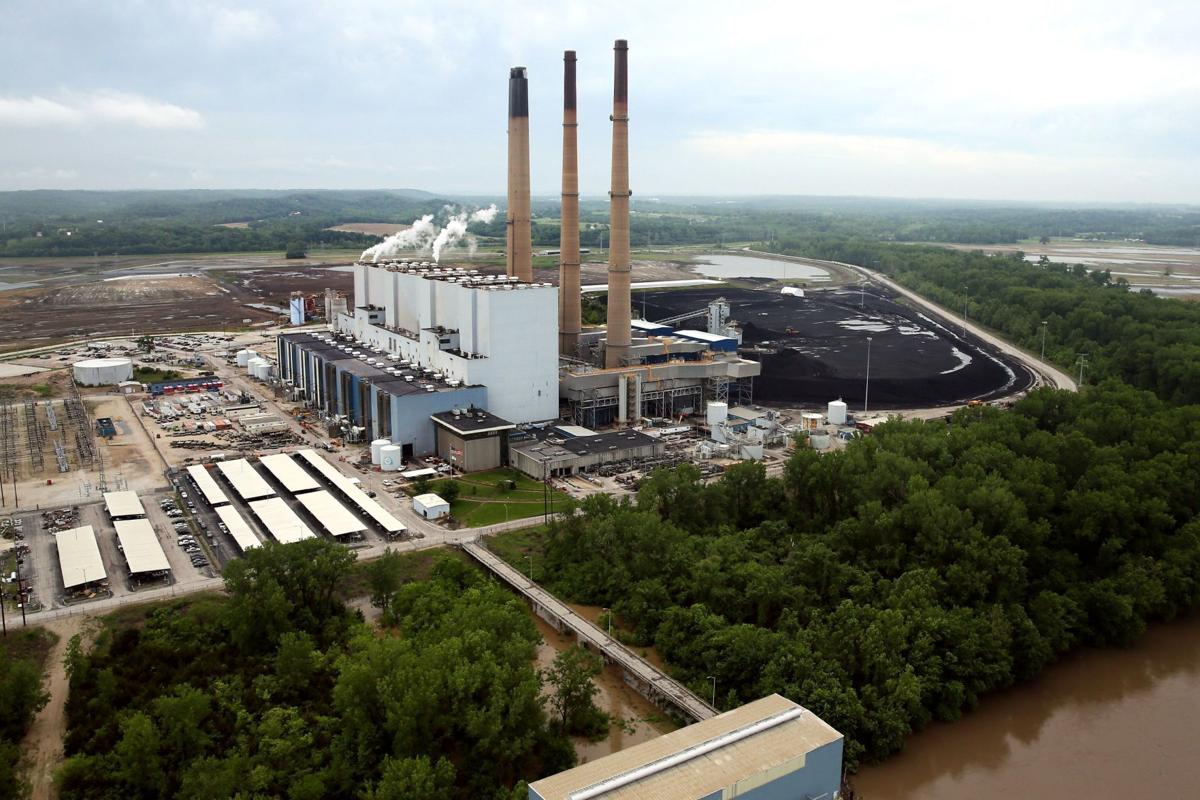 ST. LOUIS — A complicated financial instrument could accelerate a power revolution in Missouri, allowing utilities to build renewable energy projects more quickly, generate cheaper electricity, and reduce rates charged to consumers.
It's not certain that the concept will work as envisioned. But, if successful, it would essentially let utilities like St. Louis-based Ameren rid themselves of the debt on decades-old coal plants, allowing opportunities to invest in new projects, while also slowly freeing the company and its customers from a reliance on coal.
"The majority of coal plants across the country are not cost-effective. That continues to be true in the case of Ameren," said Uday Varadarajan, a principal with the Rocky Mountain Institute, an energy research nonprofit, and a fellow at Stanford University's Sustainable Finance Initiative. "The difficulty is that the capital costs don't go away when a plant retires, and that's where securitization comes in."
That's the idea: Securitization.
Here's how it works: Ameren owes billions of dollars on its coal plants — debts incurred largely from upgrades over the years. And that limits its ability to fund and build new wind turbines, solar farms and battery arrays.
But if it securitizes that debt — sells bonds backed by ratepayers to cover the coal plants' remaining value — then investors would pay hundreds of millions of dollars back to Ameren, with the promise of 2% to 4% returns on their investments. Without that debt, Ameren would be free to build renewable energy projects. And those facilities cost less to operate, so customers pay less, even while covering Ameren profits and bondholder returns.
The concept, which requires government approval, is finally on the cusp of succeeding in Jefferson City. Lawmakers have pushed legislation allowing such financing further than they have in years.
Experts hail the transition as beneficial for consumers, utilities, and the climate alike. They see securitization as a key to freeing up customers and companies locked into coal power in Missouri — which burns more coal than any state other than Texas, based on the latest government data.
Ameren announced last fall that it intended to reduce carbon emissions 85% by 2040, compared to 2005 levels, and reach "net-zero" by 2050.
Experts say securitization could allow Ameren to reach those goals 10 years early.
'Could be huge'
Ameren owes about $2.1 billion on its four coal plants, as of the end of last year. Currently, ratepayers are on the hook to pay that money to the company, plus between 9% and 10% in profits — returns governed by state utility regulators.
The new legislation, though, would enable utilities to sell bonds to cover that remaining value of their coal plants, while investing in renewables as cheaper power generation. Customers would still pay for the old plants by covering the interest paid to bondholders. But that interest on the bonds — which would likely range from 2% to 4% — would be lower than the rate of return owed to Ameren if the plants kept running as planned, creating cost savings. Additional savings would come from the switch to the new energy sources and the elimination of fuel costs because renewable power doesn't require constant supplies of fuel, such as coal.
Utilities have incentive to take part in the arrangement because it ensures the recovery of costs for coal plants that otherwise threaten to become stranded assets stuck on the books, even if no longer beneficial. And the policy would notably allow utilities to make a fresh set of investments, opening up a new frontier that they are able to collect returns on, from renewable energy projects.
"This only works if the alternatives are cheaper," said Ashok Gupta, a Kansas City-based energy economist for the Natural Resources Defense Council, who, for years, has made the issue one of his top priorities. "Nothing is done unless there are clear consumer benefits."
The policy could pave the way for clean energy expansion: To get new investments approved, experts expect Missouri utilities would have to show regulators that they are retiring older facilities.
Supporters tout other financial selling points for securitization, too. For instance, it could be structured so that a fraction of customer cost savings are set aside as transition assistance funding for workers and communities affected by the closure of coal plants. That amount could approach $200 million if more than $2 billion of uneconomic coal plants were replaced in Missouri, according to a December 2017 analysis presented to Ameren by NRDC.
Securitizing aging coal plants is a new use of an old trick. Places like New Mexico, Wisconsin and Michigan have recently used it to take aim at replacing struggling coal plants. States like Florida have turned to the policy in the aftermath of hurricanes, while other states used it widely in the 1990s, when a wave of deregulation forced utilities — including Ameren in Illinois — to sell power plants below their value.
This is the fourth year that the matter has appeared in the Missouri Legislature, but it's the first time that it has made significant progress.
Gupta worked with lobbyists in 2018 to introduce a bill and lay the foundation for future conversations. Proponents pushed the concept again in 2019, and got the bill all the way to a committee hearing. Last year, the coronavirus pandemic derailed any chances for attention.
But, this year, the state's major utilities support it. Ameren, for example, got behind the bill in February, after working to change language in a Senate committee substitute bill.
Warren Wood, Ameren Missouri's vice president of regulatory and legislative affairs, said the company has also been encouraged by discussions elsewhere.
"We see it as a tool that may be of value in the future," said Wood. Still, Wood said the company is shifting toward renewable energy over the next two decades, regardless, and has outlined its plan in detail in previous filings.
Consumer advocates agree that securitization could be useful, but suggest that, as proposed, its benefits would disproportionately be paid for by utility customers.
"Customers have reason to argue they should not pay for any of the stranded asset costs, as that loss is just the risk of investment," said Marc Poston, the head of the Missouri Office of Public Counsel, which argues on behalf of consumers in regulated utility issues before the state. "At an absolute minimum, utilities should share that responsibility for these fossil fuel assets."
Others are concerned about specific details in the current bill.
It appears, for instance, that this bill would require ratepayers to cover new project costs, even when they may not be in the best interest of consumers, said John Coffman, an attorney for the nonprofit Missouri Consumers Council.
"The impact on customer rates could be huge," said Coffman.
'A good chunk' of the problem
The conversion from coal to cleaner alternatives will eventually take place with or without securitization.
Four years ago, for example, southwest Missouri's Empire District Electric Co. showed that ditching coal for wind power was good for customers when it moved to close its Asbury coal plant early, even without securitization to sweeten the deal or accelerate the switch.
"Currently, coal phaseout hasn't kept pace with eroding economics," the Rocky Mountain Institute said in a 2020 report, which says that 79% of U.S. coal plants are uncompetitive today.
Ameren maintains that its plants are still cost effective.
Others say that's not the case, at least at certain plants. But even Labadie, for instance — Ameren's most cost-effective coal plant, and the largest in the state — could face pressure to retire in the next several years, far ahead of its currently intended closure.
"Securitization should reduce the barriers for when and if that transition makes sense. And we're not far," said Varadarajan, the RMI expert. "The plant economics at Labadie would give me pause by 2025."
Absent securitization, the conundrum about how to break away from outstanding coal plant debt will require alternative solutions. Even as coal's might has diminished, the issue has actually grown more problematic and pronounced because relatively recent spending on pollution controls has added even more to the coal power tabs that customers are responsible for.
Although many coal plants have shut down or run less frequently, upgrades on those still in service have raised the remaining costs of the U.S. coal fleet to "an all-time high," said Varadarajan.