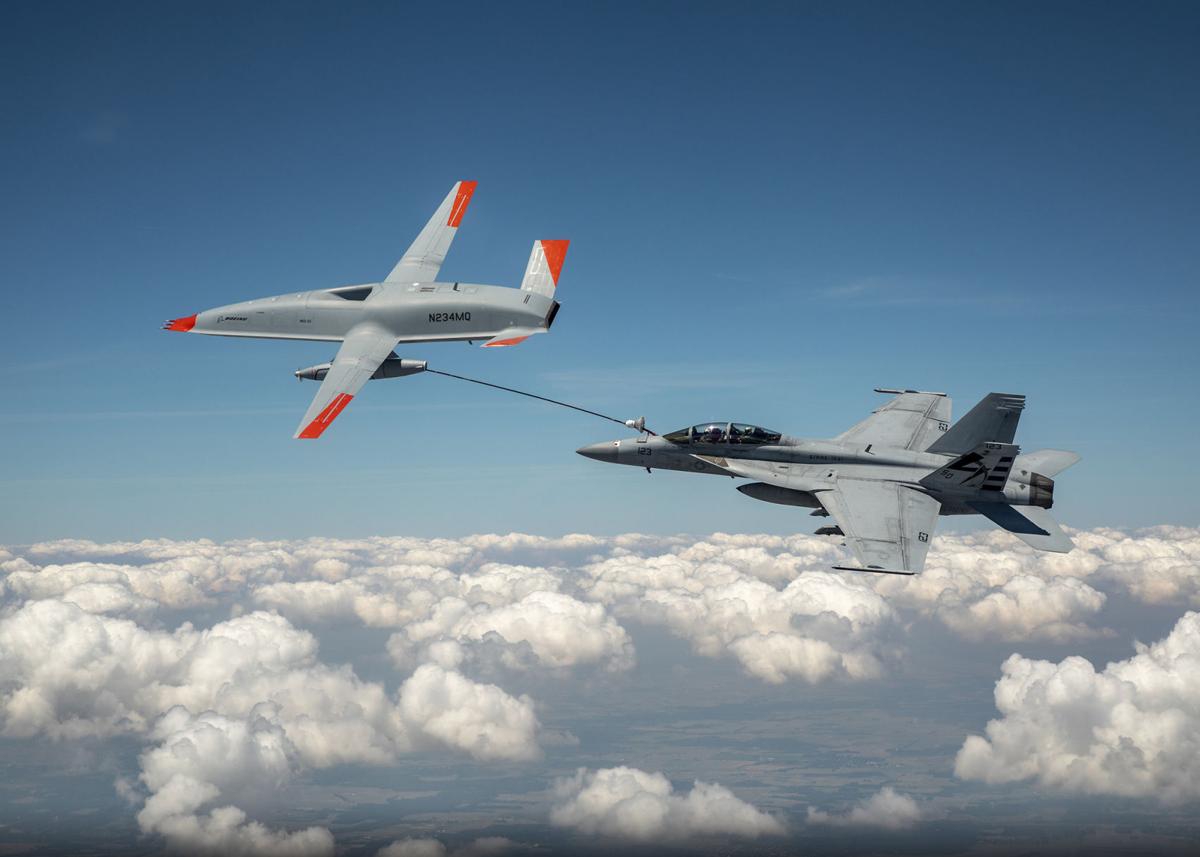 MASCOUTAH — A St. Louis-made tanker drone just made history.
After taking off from MidAmerica Airport here Friday, a prototype Boeing MQ-25 Stingray linked up with a U.S. Navy Super Hornet and became the first craft with no crew to refuel a manned plane in the air.
Boeing and the Navy announced the news in a press release Monday, hailing the exercise as a "big step" for the program.
Officials said the flight proved that the Stingray can refuel planes using the same method as manned tankers and laid the foundation for more challenging future tests, at different speeds, altitudes and locations — including from aircraft carriers.
"We took a big step last Friday," said David Bujold, Boeing's program manager for the Stingray.
The company is counting on the Stingray to become a multi-billion dollar line of business in the coming decade. And at least a chunk of its regional workers, who number more than 15,000, are counting on the planes for years of work at facilities north of St. Louis Lambert International Airport.
Boeing has been competing to build the drone for a least five years. At first, the Navy called for a pilotless fighter jet capable of executing long-range attacks, and then a few years ago, it shifted its focus to a refueling drone.
Such a plane would be useful for a few reasons. First, potential adversaries like China are developing anti-ship missiles that could force American aircraft carriers to set up farther away from combat zones, and a refueling drone would counter that by allowing jets to travel farther. Second, using drones for refueling would extend the lifespan of Super Hornets currently doing the job and free up their pilots' time for other tasks.
Unlike the current prototype, which Boeing built for itself, the planes will be outfitted and hardened for testing on carriers and over the sea.
Boeing says it will deliver the first of those planes in the fall or winter of next year.
And if all goes well, more money could be on the way.
The Navy has planned to buy as many as 72 Stingrays for an estimated $13 billion in the years to come.
Richard Aboulafia, an analyst with the Washington-based Teal Group, noted that the Pentagon has spent far more on St. Louis-made Super Hornets and F-15s.
Still, he said, the Stingray business would be nothing to sneeze at.
"It's going to be a nice program," he said. "It's certainly promising."
Loren Thompson, a defense industry consultant and an executive at the Washington-based Lexington Institute, said a successful Stingray rollout will also establish Boeing's credibility as a manufacturer of unmanned aircraft. Previously, he said, the company hasn't been much of a player in the futuristic space.
"The MQ-25 was a breakthrough into a new market for Boeing," he said. "If this works out it'll be a new business for them."
Thompson, whose Lexington Institute counts Boeing and other defense contractors as contributors, said a successful program would also make Boeing a better competitor for future drone contracts if the military chooses to expand its unmanned fleet in the future.
He cautioned that such decisions remain subject to debate, though, and noted that even the MQ-25 buy still has to survive the federal budgeting process.
The Navy seemed happy with the plane on Monday.
"Seeing the MQ-25 fulfilling its primary tasking is a significant and exciting moment for the Navy and shows concrete progress toward realizing MQ-25's capabilities for the fleet," said Navy Capt. Chad Reed, who is overseeing the drone program for the military.