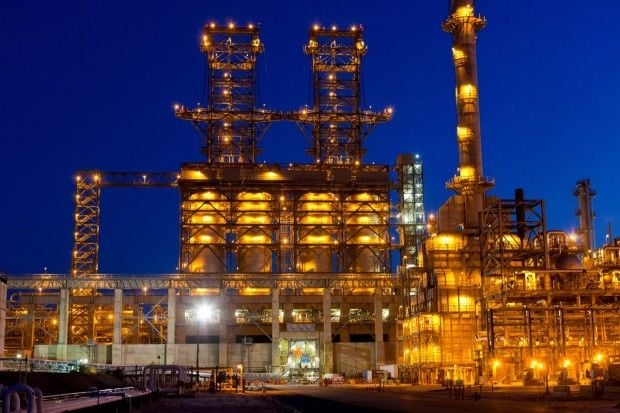 ROXANA • The Wood River Refinery has been processing a steady stream of Canadian crude oil since the original Keystone pipeline was completed four years ago.
But Rep. Mike Bost, R-Murphysboro, says Keystone's much more famous expansion project, Keystone XL, is also needed to "make sure refineries can keep working."
Bost stopped by the refinery Tuesday to push the House Republicans' plans to try to override President Barack Obama's veto of a bill approving the 1,200-mile Keystone XL, a flashpoint for years between oil interests and environmentalists.
The pipeline would take heavy crude from Canada's oil sands and bring it to refineries in the Midwest and ultimately the Gulf Coast. The first Keystone, at 2,151 miles, already runs from the same point in Canada. But rather than heading from southern Nebraska to the Gulf, the first Keystone cut through Missouri for 280 miles (including a long stretch in St. Charles County) to connect to the Wood River Refinery.
The refinery is co-owned by Phillips 66, the operator, and Cenovus Energy, a Canadian energy firm with huge reserves of Canadian oil sands.
Even with the massive Keystone pipeline already connecting the St. Louis region to Canada's vast oil sands, Bost stressed the importance of Keystone XL to the region — if for no other reason than it could increase overall U.S. crude supply.
"We're at a state right now where we need as much crude oil as we can get," he said, adding later: "We're doing everything we can to make sure people keep working at this plant."
The Keystone political squabble hasn't slowed the boom in oil pipeline development. About 3.3 million barrels per day of capacity has been added since 2012, five times more than the Keystone XL would carry, the Associated Press reported.
If Keystone XL is built, it would provide a new path for Canadian oil to the Gulf Coast. But Phillips 66 spokesman Melissa Erker said the company supports the project. It wouldn't hurt Wood River because there's ample Canadian crude production to fill both pipelines. "We're not worried," she said.
Wood River is actually embarking on two new construction projects that will put $200 million into the plant and add about 300 construction jobs during the next 18 months. When the first Keystone was built, Wood River underwent a massive $3 billion expansion that allowed it to process the new supply of heavy crude oil, and one project will continue that effort to update refining equipment.