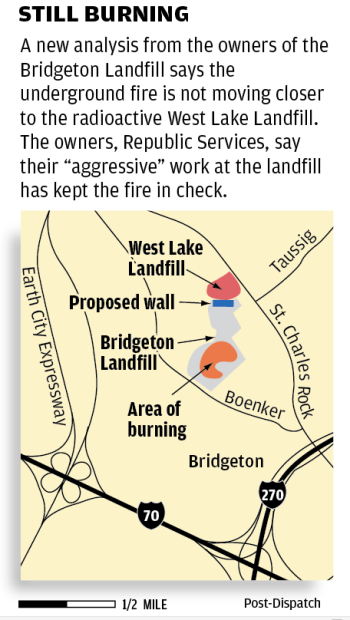 Consultants hired by Republic Services, owners of the smoldering Bridgeton Landfill, said a new analysis of temperatures and emissions shows the underground fire at the landfill is not growing nor moving toward radioactive waste.
The review of landfill conditions from Civil and Environmental Consultants of Michigan, dated Sept. 16, said the underground fire is limited to the southern portion of the Bridgeton Landfill, is not growing, is moving farther south and is not at risk of reaching the surface.
The review contradicts an August report from a consultant hired by the Missouri Department of Natural Resources, who said the fire is moving north, or toward the adjacent radioactive West Lake Landfill.
A manager for Republic Services said the state's consultant, landfill fire expert Todd Thalhamer, used limited data to reach misleading and sometimes incorrect conclusions.
Thalhamer said in August that the July and August temperature readings and gas data collected by the state at the Bridgeton Landfill show that higher temperatures are approaching the narrower "neck" area of the landfill that connects the south and north quarries.
The north quarry sits next to World War II-era radioactive material illegally dumped at West Lake in the 1970s. As recently as June 2013, Thalhamer said the underground fire was limited and contained in the south quarry.
Thalhamer said Republic's plans for new cooling measures and temperature monitors indicate that the company is concerned about the fire reaching into the landfill's neck.
But Republic Services said the work is more about controlling odors and making minor repairs at the landfill.
Thalhamer "unfairly attacks Bridgeton Landfill for its efforts at being proactive and innovative in its ongoing management of the (subsurface smoldering event)," according to a letter from Brian Power, an environmental manager for the company.
Thalhamer said he is not authorized to comment on any specifics about the landfills.