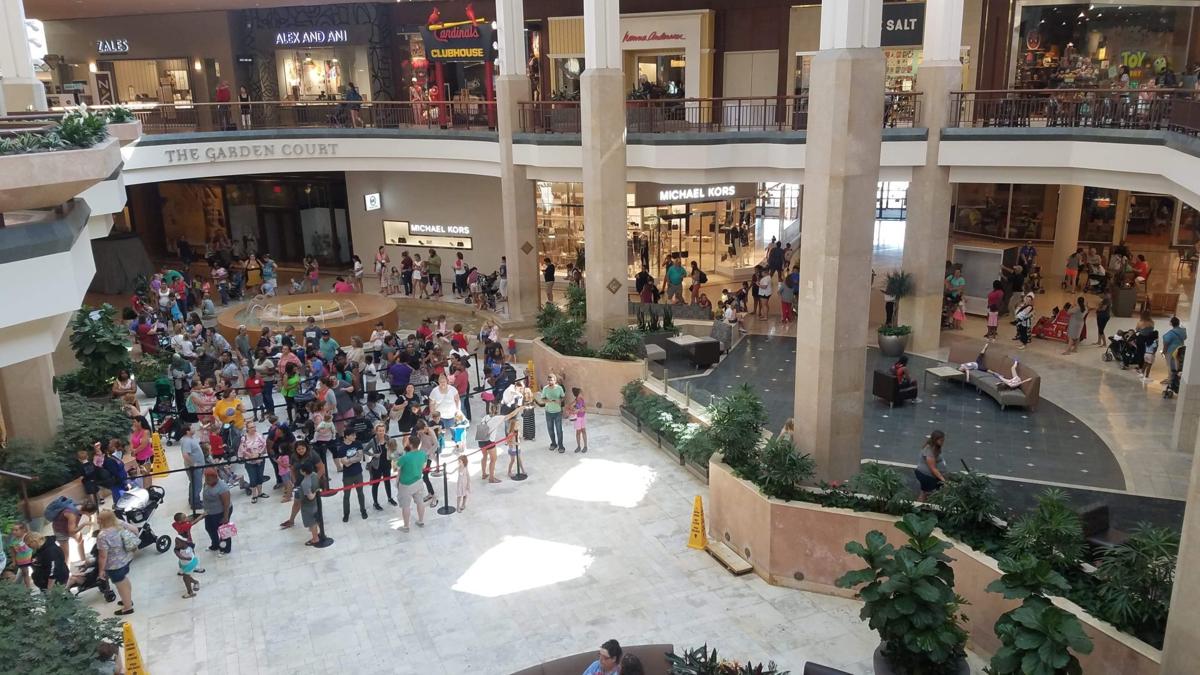 Just a few hours into its heavily marketed "Pay Your Age" sales event, Build-A-Bear Workshop shut down the promotion because of large crowds and safety concerns.
Officials with the Overland-based company known for its customized stuffed toys said they closed lines in U.S. and Canada stores. The offer was also available at the chain's stores in the United Kingdom.
The line at St. Louis Galleria was enormous, according to one customer who sought to take advantage of the one-day sale. A photo posted on social media early Thursday showed more than 100 people in line, extending out of the Build-A-Bear store into the mall's corridor.
In a Facebook post, the company said: "Based on the unprecedented response to our Pay Your Age Day event in our early opening stores, we are experiencing significantly longer than expected lines and large crowds. Local authorities are requiring us to limit the lines and crowds due to safety concerns. We understand this is disappointing. We are working to address the situation, and we will be reaching out to our valued guests soon."
Several hours later, the company issued a release that said it could not have predicted the overwhelming interest in the sales event where its popular bears and other toys could be purchased for as little as a dollar.
"In response, we distributed vouchers to guests, who were present in lines, to be redeemed for a future purchase," the company said in the release. "We are now making vouchers available to our Build-A-Bear Bonus Club members in the U.S. and Canada who log into their account by midnight on July 15, 2018. Vouchers related to this event will be honored through August 31, 2018."
Build-A-Bear CEO Sharon Price John appeared on NBC's "Today" show Friday morning to talk about the failed promo.
Under the promotion, customers were allowed to pay whatever their age was for a Build-A-Bear, with the minimum price being $1 and a $29 cap. The sale was only for July 12.
Nate Kromat, a Fox Park resident who was there with his two children, ages 1 and 12, said he arrived at the Galleria 15 minutes early, thinking he'd be one of the first in line when the Build-A-Bear store opened.
"That was obviously not the case," he said. "I forgot that the mall actually opens early for mall walkers, so I think a lot of people got there earlier than we did. People seemed more frustrated toward the end of the line, but most were there having a good time."
Kromat said he and his children decided to ditch the line and head over to the Disney Store, where there was also a line to get in.
Build-A-Bear's offer was only available at stores, though its website said the company would hold similar events for online customers in the future. Build-A-Bear has more than 400 stores worldwide.
---
Daily updates on the latest news in the St. Louis business community.