As it nears the 20th anniversary of its first store at the St. Louis Galleria, Build-A-Bear Workshop is navigating a new course that marks a departure from its mall origins with smaller locations and more licensing deals.
This month, the make-your-own stuffed animal chain founded in 1997 opened eight pop-up shops at AMC Theatres in Florida, New Jersey and Pennsylvania. And, earlier this year, Carnival Cruise Lines added pop-up Build-A-Bear workstations for the first time, with plans to expand to 10 ships by the end of the year and 25 by next summer.
"We don't think of ourselves anymore as a mall retailer," CEO Sharon John said in an interview. Instead, Build-A-Bear is making changes to ensure it's where its consumers are.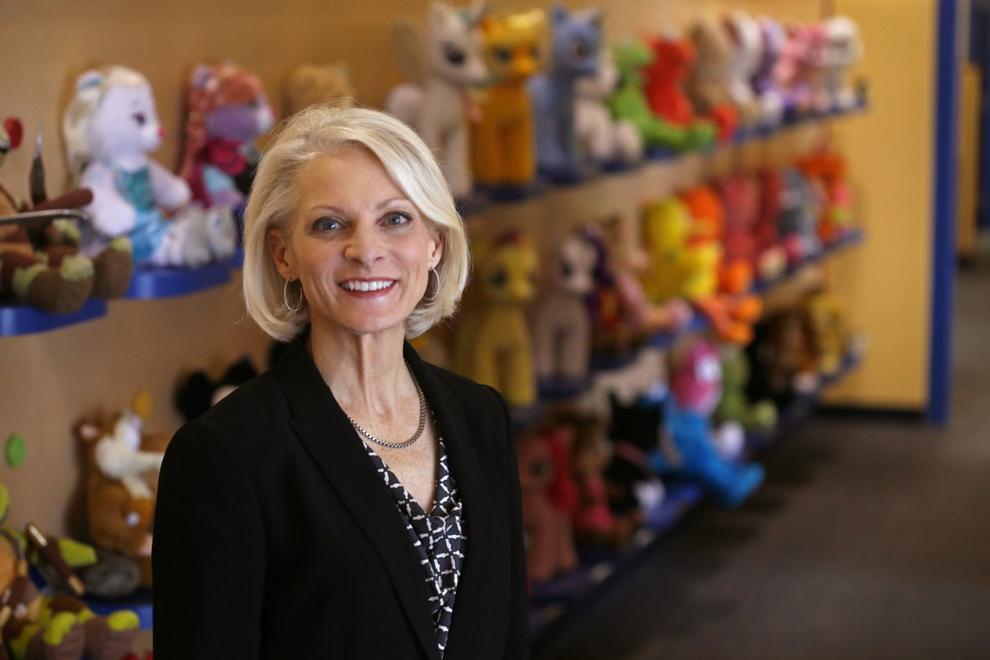 "For a long time, we only had one store format," said chief operations officer Chris Hurt. "We now have four different kinds."
Having different sizes of its stuffing machines, down to the nozzles and other machinery, means Build-A-Bear can be more nimble to locate in smaller spaces within malls or other retailers that offer more visibility in heavily trafficked areas. Build-A-Bear recently opened some "concourse" locations in spaces as small as 200 square feet, compared with a traditional 3,000-square-foot store.
"It's not that malls aren't going to be an important part of our portfolio," John said, adding the chain is looking at adding more stores-within-stores. "You might see us in Carnival ships, or shop-in-shop stores at select Macy's or Toys R Us stores."
Build-A-Bear also has expanded licensing deals to extend its brand at more retailers. Through a licensing agreement signed a year ago with Toronto-based Spin Master Corp., there are Build-A-Bear Workshop Stuffing Stations available at Walmart and Target nationwide.
"It's been very well received," John said of the at-home stuffing stations, which sell for between $25 and $30. Licensing deals have been limited primarily to candy and toys, but that's about to change. "As we turn the corner into the new year, we'll see the brand manifest into other fresh categories," John said.
For the holiday shopping season, Build-A-Bear added new reindeer characters, Tinsel and Twinkle. Additionally, the chain is adding a new Pokémon character in early December.
Since John was hired as CEO in 2013, replacing founder Maxine Clark, Build-A-Bear has been in turnaround mode. The chain closed dozens of underperforming stores in recent years and created a redesigned store layout, dubbed Discovery, that moves the toy stuffer closer to the front of the stores to increase visibility, among other changes.
As store leases come up for renewal, the chain is converting to the Discovery store layout, although not yet at its local stores at West County Center or the Galleria. Recent changes also include a new logo and shift in signage at stores that emphasize more blue and less yellow.
"We're approaching our 20th year, and we hadn't touched the brand in 20 years," John said. She said by the end of the year, 55 of Build-A-Bear's 330 stores will have their conversions to the Discovery format completed, with more conversions planned for next year. In addition to its corporate owned stores in North America, the United Kingdom, Ireland, Denmark and China, there are 80 franchised international stores.
John's turnaround efforts helped lead the company to profitability in 2014 and 2015 following several years of losses. Its stock price has risen nearly 35 percent following its most recent quarterly earnings report late last month when the company updated its guidance for the year. Build-A-Bear's stock closed Friday at $14.35 a share, up from $10.65 a share on Oct. 27. Build-A-Bear expects its fiscal 2016 revenue to increase in the low single-digit range compared to 2015.
Gravitating to locations inside movie theaters and other heavily trafficked areas while traffic at many malls is declining is a better approach than adding traditional mall stores, said Gerrick Johnson, an equity research analyst for BMO Capital Markets. "There are opportunities to capture incremental sales and incremental profit," Johnson said.
Analysts said they expect Build-A-Bear to continue to seek out opportunities for locations outside of the traditional mall store format. "They've proven that the Build-A-Bear model works in high traffic locations, and they don't have to just be in malls," said Alex Furhman, senior research analyst with Craig-Hallum Capital Group.
Strategic review
As it makes changes to its stores and operations, Build-A-Bear also is undergoing a strategic review process that could include a joint venture partnership or sale, according to analysts.
Build-A-Bear announced in May that its board is exploring strategic alternatives, and the company hired Guggenheim Securities as its financial adviser and Bryan Cave as its legal counsel in the review. Build-A-Bear said there's no timetable for the review process, and executives declined to comment about it.
"The process that they're going through is to evaluate what strategic options exist for them to grow and what capital needs they have to maximize the value of the business and the brand," said Stephanie Wissink, managing director and senior research analyst at Piper Jaffray & Co. "They might continue operating as an independent entity or find a strategic partner that has assets and capabilities that would be complementary to Build-A-Bear."
Lisa Brown • 314-340-8127
@lisabrownstl on Twitter