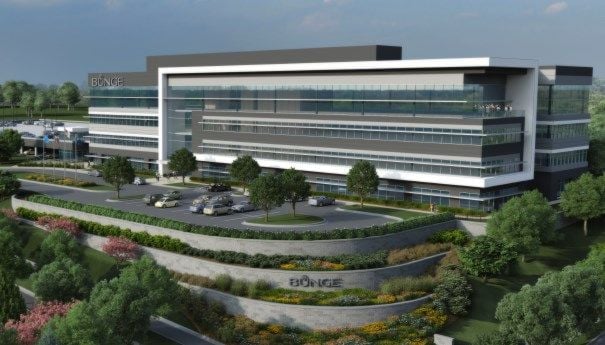 Bunge North America plans to add jobs and move its headquarters from a Maryland Heights office park to a high-visibility site next to Highway 40 (Interstate 64) in Chesterfield.
The company intends to keep its existing 557 jobs in the St. Louis area and add 160 jobs over the next decade, officials said Tuesday.
Bunge North America is part of Bunge Ltd., an international agribusiness and food ingredient company based in White Plains, N.Y.
Opus Development Co. plans to build Bunge's new North American headquarters on 14 acres next to I-64 on Timberlake Manor Parkway. The site is known as the Kraus Farm property.
Planned is a four-story building of about 150,000 square feet. The project includes a parking garage for about 700 vehicles.
Todd Bastean, Bunge North America's chief executive, said in a statement the company is "proud to have been a part of the St. Louis community for more than 25 years."
"We are excited to remain in the region because this community is connected to so many links in the ag value chain," he said.
Bunge decided to keep its corporate employees in the St. Louis area after conducting a multistate search for alternatives, the company said.
The project in Chesterfield is in line for public assistance.
The Missouri Department of Economic Development is offering up to $10.9 million in tax credits through its Missouri Works program if job creation and retention requirements are met.
In addition, the St. Louis Economic Development Partnership is asking the St. Louis County Council to approve a 50-percent tax abatement for 10 years on the Bunge leased property and the equipment for its new headquarters. The partnership has not finished calculating the precise dollar value of this abatement.
The council was scheduled to consider Bunge project incentives at its meeting Tuesday night.
County Executive Steve Stenger said in a statement the county had worked with Bunge officials on the headquarters relocation project.
"It was a highly competitive search and these new high-paying jobs will have a substantial impact on our economy," he said. "We look forward to Bunge continuing to thrive in St. Louis County and more agricultural companies moving here to be near the global center of agricultural technology."
Stenger credited the St. Louis Economic Partnership for working with the county to convince Bunge executives that the quality of life in the St. Louis region made the area an ideal fit for the company's North American headquarters. 
Bunge's current headquarters is at 11720 Borman Drive, in Maryland Heights.
The company's planned move to Chesterfield follows its recent acquisition of a 35,000-square-foot office and manufacturing building at Missouri Research Park in St. Charles County. Officials said the building will house an "innovation center" which will include pilot plants for oil and milling products as well as a test kitchen.
Missouri Department of Economic Development officials said Bunge's headquarters and Missouri Research Park projects will add nearly 200 jobs to the St. Louis region.
"Today's announcement that Bunge North America will not only stay in St. Louis but also expand significantly is a big win for the region and the state of Missouri," Gov. Jay Nixon said in a statement.
Steve Giegerich of the Post-Dispatch contributed to this report.
EDITOR'S NOTE: This story was updated Wednesday to clarify the type of incentive that the county is offering the Bunge project. An earlier story had an erroneous reference to bonds, which incorrectly suggested there was an additional incentive involved.