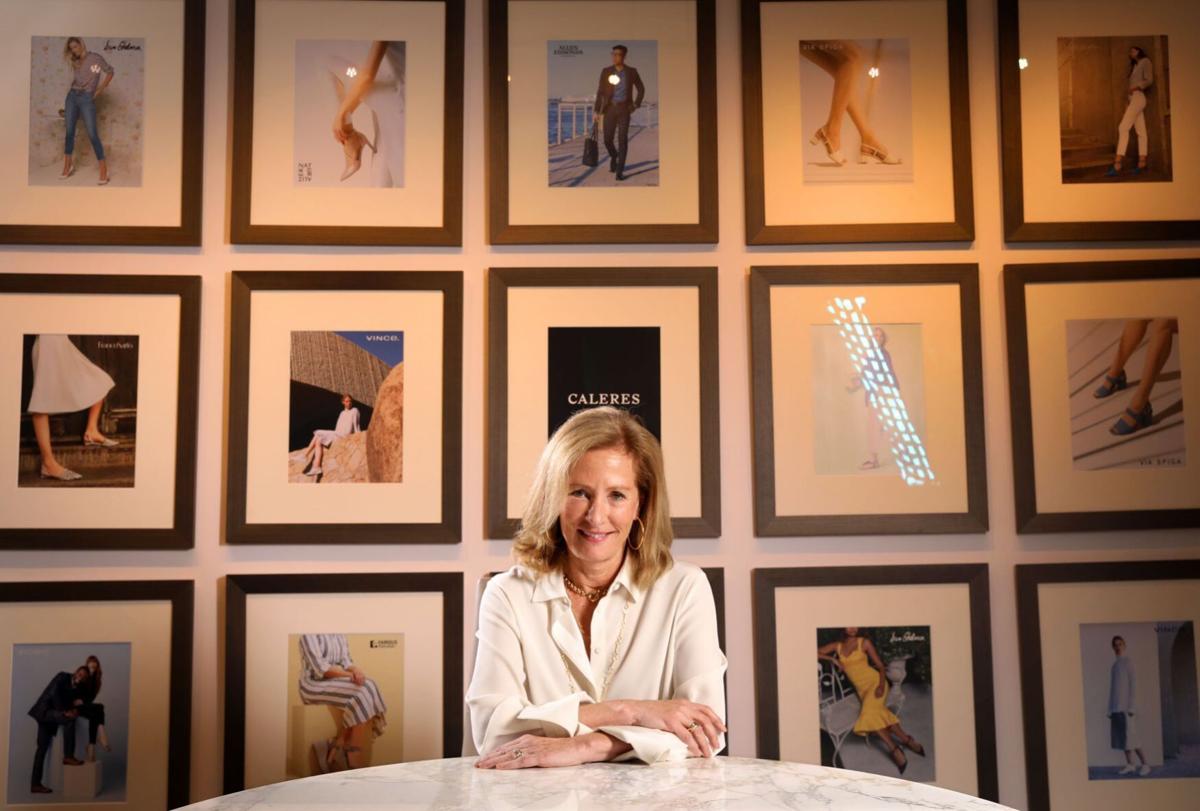 CLAYTON — Caleres CEO Diane Sullivan is reimagining the future of her historic shoe company. And the move may, at the same time, transform Clayton's front door.
The COVID-19 pandemic hammered the global company's profits in 2020 but it also gave Caleres the opportunity to reimagine its workforce and workspace. Earlier this month, the company, with fewer employees and office needs uncertain, listed for sale the Clayton headquarters it has occupied since at least the 1950s.
"To have really gone through something like we all went through and then to figure out how to reimagine and visualize what you want your future to look like … for me, the imagination of what's possible is what I'm most excited about," Sullivan said.
As companies deliberate how their offices should operate more than a year into the pandemic, Caleres is one of the few to sell its longtime corporate home — at least three square blocks on the western edge of Clayton — and rethink how its roughly 700 local employees will work in the future. The decision also has created an opportunity for the city of Clayton, which could see upwards of $500 million worth of new development at the site.
"It's a big site and could accommodate a really exciting, transformative development," said Mayor Michelle Harris.
Caleres, known for its Famous Footwear, Naturalizer, Dr. Scholl's and other brands, is one of St. Louis' oldest companies, having survived two world wars, the Great Depression and the 1918 flu pandemic. Its origins trace back to the 1870s when it was known as Bryan, Brown and Co. It became the Brown Shoe Co. in 1893 and rebranded as Caleres in 2015. The footwear company once made all of its shoes in the U.S. before low-cost alternatives from overseas prompted the company to close the last of its domestic factories in the mid-1990s.
Caleres' move to market its campus comes as the company aims to build on growth in e-commerce this year: 30% of net sales last year were online, up from 10% in the year prior. Sullivan was especially encouraged by online merchandise returns — 90% are made in-person at Caleres' 916 Famous Footwear stores, and 70% convert into other purchases.
The company in 2018 and 2019 wasn't meeting e-commerce goals. COVID-19, which prompted restrictions or closures of in-store shopping, accelerated consumer confidence in online shopping by three to five years, Sullivan said.
The layoffs and closures were "some of the hardest decisions in my entire career I've ever had to make," Sullivan said. But the company now sees an opportunity for employee growth with the footwear industry posting 5% growth over last year, notably growing 19% in March, she said. That's prompted the company to begin hiring for up to 100 open positions, with 75% of them based in St. Louis, Sullivan said.
After the pandemic hit, Caleres hired designers to re-envision its Clayton campus. Then the company received an unsolicited offer to buy its headquarters, prompting executives to think more broadly, and, ultimately, list the site for sale.
Caleres does not know what its new office will look like or where it will be located.
"You never know what's going to happen, but we love St. Louis and our roots are here," she said. "We love St. Louis."
The company shouldn't have trouble finding a new home here.
Caleres likely will need over 100,000 square feet of office space — about one-third of its current headquarters. The largest available blocks of contiguous space in the St. Louis metro area are found in downtown St. Louis or the Interstate 64 (Highway 40) corridor in Chesterfield, said Brian Kelley, managing director and principal of commercial real estate firm Avison Young's St. Louis office.
Regional civic and business group Greater St. Louis Inc. is helping Caleres look for modern, appropriate space.
"It's a good time to think those things through so that we can make sure Caleres is here for another 150 years," said Greater St. Louis CEO Jason Hall. "I'm not reading anything into (Caleres' announcement) other than it trying to find the best possible solution in our metro area to continue to grow and thrive here. We're going to work very hard to help them find a good solution."
The company has hired Cushman & Wakefield executive directors Tripp Hardin and Mike Hanrahan and director Matt Stephens to handle the national marketing campaign to sell the property. Hardin and Cushman's Jay Holland are assisting Caleres in its search for a new office.
"This is an important piece of property for the city to claim," Hardin said. "It's the front door from the west and is worthy of a high quality project."
Clayton office space is hot. It's in the middle of the region, is full of corporations, has a MetroLink train stop and is the St. Louis County seat. Some companies left during the pandemic, but Clayton still has the region's second-lowest vacancy rate at 11.7% and the highest rent at $29.50 per square foot.
Infill in Clayton is scarce. The property, on 9 acres at 8300 Maryland Avenue, is attractive for redevelopment. A new mixed-use project on the site could cost more than $500 million, Avison Young's Kelley said.
"This site will draw regional and national interest," he said. "Nine acres in downtown Clayton allows for a very prominent development."