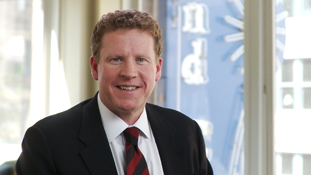 A month after stepping down as Wind Capital Group LLC chairman, Tom Carnahan has sold his remaining stake in the company.
Ireland-based NTR Plc issued a statement Friday saying it had increased its stake in Wind Capital Group to 97 percent from 62 percent. But the company didn't disclose terms of the transaction, or from whom it purchased the additional interest.
Carnahan, 43, confirmed in an email Friday that he sold all of his remaining  shares in the company he founded and no longer has an affiliation with Wind Capital.
"I wish the company well in its future endeavors and will be turning my attention to new business opportunities as well as to my upcoming role as chairman of (American Wind Energy Association)," he said.
Beside taking over as the chairman of the nation's wind energy trade group later this spring, Carnahan has also formed Wind Rose Partners LLC to provide advisory services in renewable energy. The firm will also develop and invest in renewable projects, he said.
Carnahan founded Wind Capital in 2005 and sold a majority stake to NTR in 2008.
The wind energy developer, which employs 60 people, including 20 in St. Louis, said last month that it planned to maintain its Washington Avenue headquarters. The company also has offices in Madison, Wis., and Chicago, where it's chief executive and chief financial officers are based.
Wind Capital has developed more than 900 megawatts of wind energy across the upper Midwest and has projects in various stages of development across more than a dozen states. Those states include Kansas, where it closed on financing for a 201-megawatt wind farm last month.
NTR CEO Michael McNicholas said the increased stake in Wind Capital "consolidates our position in the company at a time in which a substantive amount of operating assets are coming on-stream."