ST. LOUIS — While area casinos were closed for the last two months, Darryl Foster has been playing the unregulated slot machines that have popped up in gas stations around Missouri.
But on Monday morning, he was one of the first in line awaiting the 9 a.m. opening of Lumiere Place in downtown St. Louis. Foster, 54, was there the night before it closed March 17 due to the coronavirus.
Lumiere was the first casino in the region to reopen, following the lifting of the Missouri Gaming Commission's shutdown order and the assent of St. Louis officials. Ameristar St. Charles reopened a couple of hours later, while casinos in Illinois and St. Louis County remained closed.
Except for the masks, an otherwise quiet downtown and an early morning line outside a casino, the mood at Lumiere almost felt normal, like the danger and uncertainty of the last two months had lifted. People chatted casually. Spirits seemed high.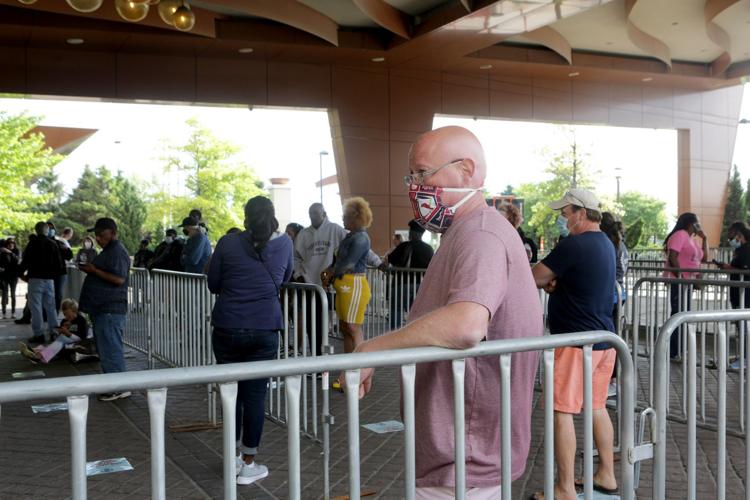 Close to 100 people lined up to enter the casino Monday. One woman in the front said she had been there since 6:30 a.m. Many were elderly; most wore masks and spaced themselves out in line.
"I look at it like, it is what it is," said Foster, of St. Louis. "If it's gonna get you, it's gonna get you."
The women waiting next to him, each wearing a mask, nodded in agreement.
Denise Weiser, 65, of Alton, said she and her friends came to Lumiere even when her town's casino, the Argosy Alton, was open. Lumiere is her preferred spot. She called so frequently during the last few weeks, asking about an opening date, that "security knows my name now," she chuckled.
One man, who gave his name as Tony, said he usually gambles at River City Casino in south St. Louis County, but he came to Lumiere because St. Louis County has not authorized the reopening of River City or Hollywood Casino in Maryland Heights. He thought opening all the casinos at once might have spread people out a bit more.
The only other casino in the region reopening Monday was Ameristar St. Charles, the state's largest and busiest casino. It counted about 5.3 million admissions last year, more than Lumiere's 4.1 million and 350,000 more admissions than the state's second-busiest casino, River City.
After doors opened at 11 a.m., a steady stream of people moved toward the gaming floor at Ameristar St. Charles. By noon, a few hundred people were on the floor.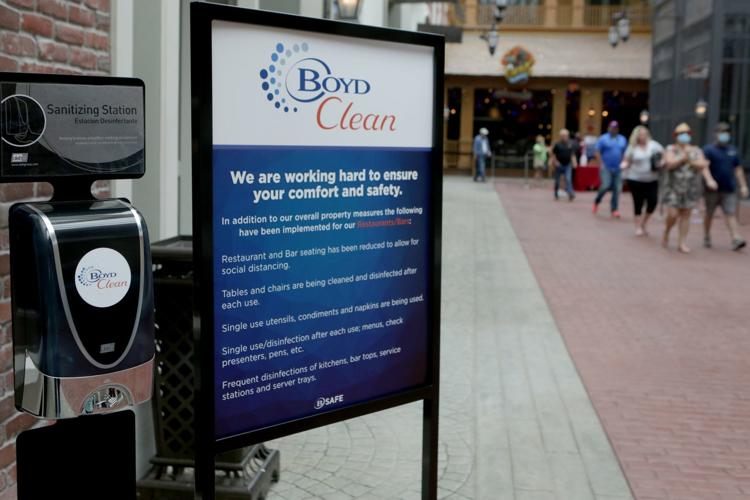 It was the first time in over two months that Gerald Parmentier, 81, and his wife had ventured from their home in Washington, Missouri. Before it closed, they'd visit Ameristar a few times a week.
"Everybody's wearing a mask, or most everybody," Parmentier said. "That's better than going to the Walmart."
Ameristar employees handed out free masks to patrons as they entered, though they were not required to wear them. Max capacity on the floor was lowered. Alternating slot machines were switched off to space people apart and keep them from sitting next to each other for long stretches. Blackjack tables only sat four people instead of six.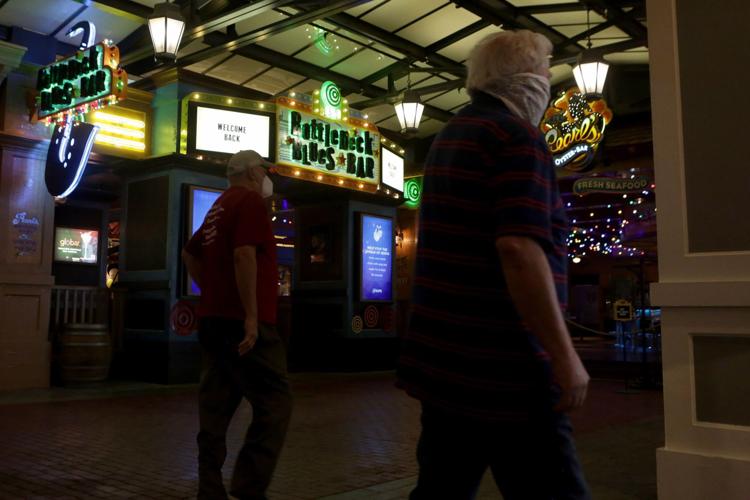 But at some craps tables, people stood shoulder to shoulder.
Back at Lumiere, Weiser, the Alton resident, said she'd just as well play the video gaming machines in Illinois bars and gas stations. But there's been no word from the Illinois Gaming Board on when those or the state's casinos, two of which are in Metro East, will reopen.
In the meantime, she said she'd enjoy Lumiere.
"We'll be here till it closes," Weiser said.
Daily updates on the latest news in the St. Louis business community.