2014 was another blockbuster year for Centene Corp., as the company saw substantial growth in its core business of managing health care for the poor thanks in part to health care reform.
Last year, the Clayton-based managed care company added more Medicaid beneficiaries to its health plans through expanded contracts in Florida, Ohio, Washington, Mississippi, Texas and Illinois.
Centene also began to offer insurance through the online health insurance marketplaces and added more Medicaid beneficiaries in states that chose to expand Medicaid.
Overall, Centene added nearly 1.2 million members to its portfolio of health plans across the country, a 41 percent increase from 2013. The company now manages the care of 4.1 million members.
That membership growth caused revenue to climb 52 percent to a record $16.6 billion for the year ended Dec. 31, 2014.
Profit for the year spiked 64 percent to $271 million.
This allowed Centene to again take the top spot among publicly traded companies in the St. Louis area, according to a Post-Dispatch analysis. The newspaper ranking is based on its financial performance: return on equity, size of revenue, revenue growth and profit growth.
During its record year, Centene also climbed higher on the Fortune 500 ranking, moving to No. 251 from 303.
"The key is we're not focused on just one product line," Michael Neidorff, president and CEO, said. "We are a very diversified company at this point, and we're in 23 states." And, he said, "We are far from done growing."
Analysts say the growth is likely to continue as state governments will turn to managed care companies like Centene as they feel increased pressure to balance their budgets and curb costs.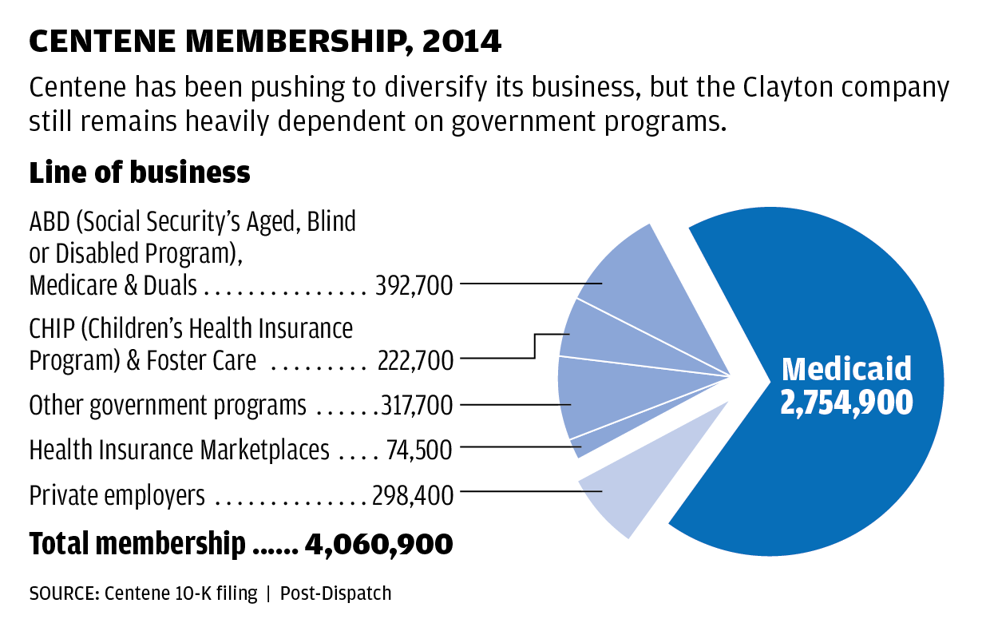 Analysts polled by Thomson Reuters expect, on average, that the company's revenue will grow 34 percent this year and 12 percent in 2016.
Centene collects a per-member, per-month fee from states to manage the care of Medicaid beneficiaries and other populations. Before managed care, states paid providers for each service administered, known as fee-for-service.
Centene is right in the middle of a "big wave" of traditional Medicaid populations shifting to managed care contracts, said A.J. Rice, analyst with UBS.
As of September 2014, 39 states used managed care companies to Medicaid benefits to their residents.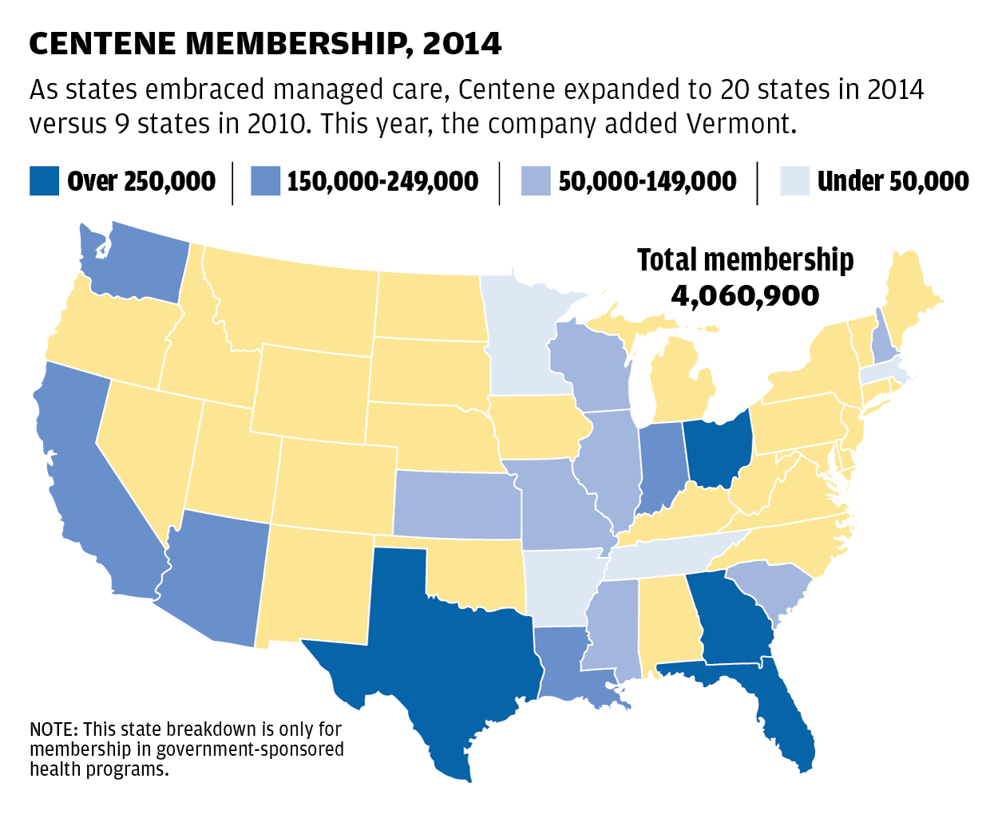 Even with states that already utilize managed care companies, there are other new niches for companies such as Centene.
States are adding contracts for so-called dual-eligibles, individuals who are eligible to qualify for both Medicaid and Medicare coverage.
"States have had a lot of success with their legacy Medicaid programs shifting to managed care, now they're looking at all these new populations," Rice said.
A recent report from equity research firm Oppenheimer said states have yet to even "scratch the surface" on adding these dual-eligibles over to managed care. Oppenheimer estimates there are roughly 9 million dual members in the country, which represents a $300 billion opportunity for companies such as Centene.
Oppenheimer reports Centene had 16,000 dual eligibles at the end of 2014, "but that should ramp up significantly as South Carolina, Texas and Michigan all come on board."
Shareholders have rewarded Neidorff handsomely for the company's rocketing growth. The CEO's pay rose 33 percent last year to $19.3 million.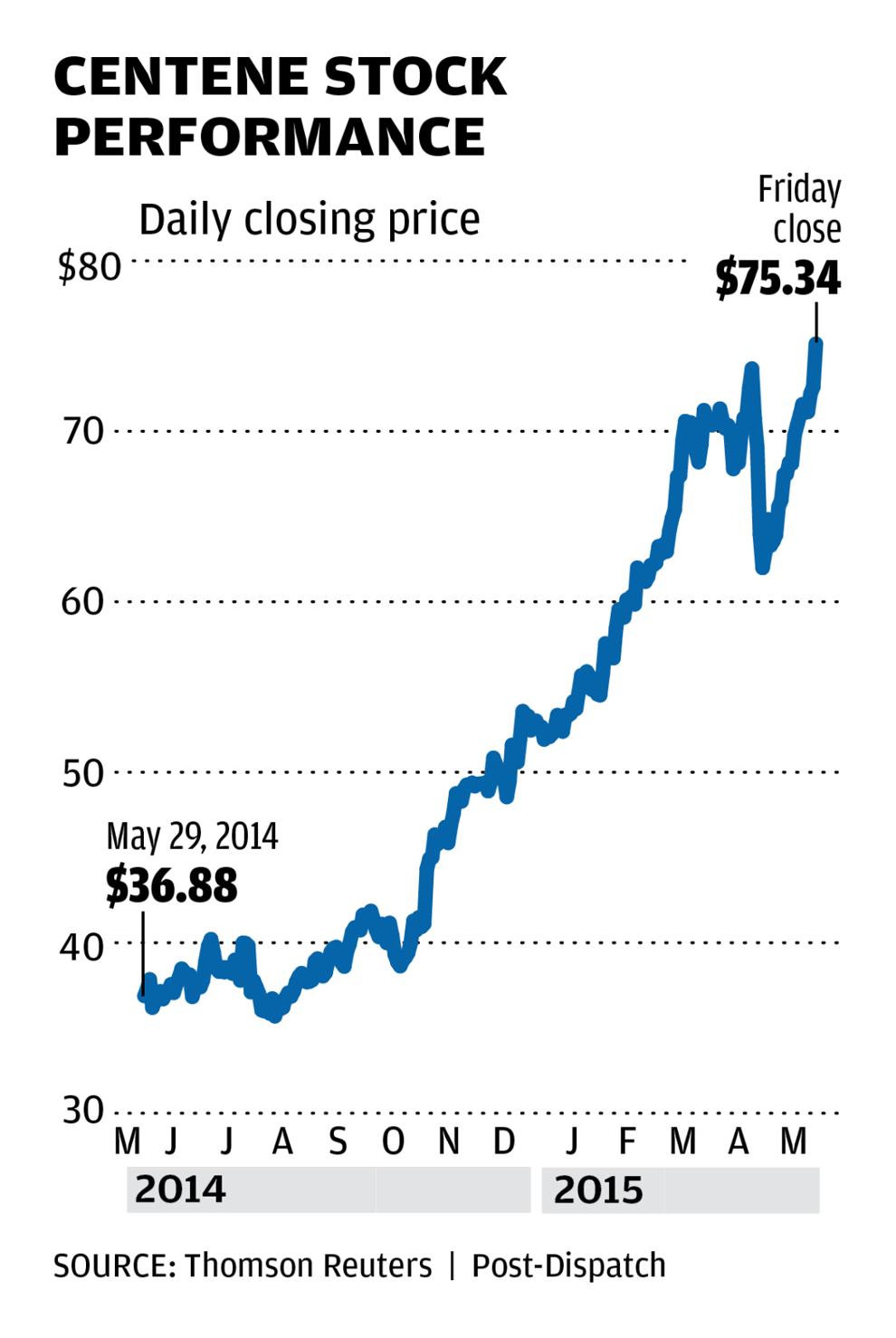 But just as Centene's business is booming, the federal government released new proposed regulations last week that would place restrictions on how companies like Centene can do business.
The proposed regulations state how much money needs to be directed toward medical care in an effort to put patient care ahead of profits. However, even if the Medicaid plans spend less than 85 percent on medical care, they won't be required to return those funds like private insurance plans are required to do under health reform.
Other proposed regulations aim to ensure that the networks are adequate and robust for patients.
Despite the looming regulations, Neidorff said he's not worried.
"I don't think it will impact us at all," Neidorff said. "A lot of things they're talking about we already do."
Rice agrees. "States already have a tremendous amount of rules and regulations, including a tight oversight on how much the companies can earn off Medicaid," the UBS analyst said.
While Centene's core business improved substantially, it was actually outpaced by revenue growth in its specialty services, which increased 64 percent year-over-year compared with 43 percent growth in its managed care business.
Centene's specialty services include contracting services for correctional facilities, telehealth, vision, pharmacy benefit and specialty pharmacy.
Its specialty pharmacy unit AcariaHealth, which Centene acquired in 2013, led to the major revenue growth in the specialty unit in 2014. Three new contracts to manage care at correctional facilities also led to gains in the specialty unit.
Centene also invested in international health care organizations to position itself for future growth outside of the U.S. In April 2014, Centene acquired a noncontrolling interest in Ribera Salud, a company that manages public hospitals in Spain.
"I think it's just keeping opening their long-term options for growth," Rice said. "Right now the focus is on expanded Medicaid populations in the U.S. Down the road it could be a further avenue for growth."
Samantha Liss • 314-340-8017
@samanthann on Twitter
Publicly traded companies in the St. Louis area
Dollar figures in million.
N.R., not ranked; N.A., not available;  N.M., not meaningful
Post-Dispatch ranking is based on composite figure derived from relative performance of return on equity, revenue growth, profit growth and revenue size. Data is for fiscal year 2014.
| 2015 Rank | Company | Return on equity | Revenue | Pct change | Net income | Pct change | Global employees |
| --- | --- | --- | --- | --- | --- | --- | --- |
| 24 | Aegion Corp. | -5.0% | $1,331 | 22% | -$37.2 | N.M. | 6,200 |
| N.R. | Allied Healthcare Products Inc. | -11.7% | $36 | -5.7% | -$2.8 | N.M. | 243 |
| 7 | Amdocs Ltd. | 12.7% | $3,564 | 6.5% | $422.1 | 2.3% | 22,546 |
| 6 | Ameren Corp. | 8.9% | $6,053 | 3.7% | $586.0 | 103% | 8,527 |
| 11 | American Railcar Industries Inc. | 21.4% | $733 | -2.3% | $99.5 | 15% | 2,865 |
| N.R. | Arch Coal Inc. | -28.5% | $2,937 | -2.6% | -$558.4 | N.M. | 5,000 |
| 18 | Belden Inc. | 9.1% | $2,308 | 12% | $74.4 | -28% | 8,100 |
| N.R. | Build-A-Bear Workshop Inc. | 15.3% | $392 | 3.5% | $14.4 | N.M. | 900 |
| 4 | Caleres Inc. (formerly Brown Shoe Co.) | 15.7% | $2,513 | 1.4% | $82.9 | 118% | 11,200 |
| 20 | Cass Information Systems Inc. | 12.3% | $120 | 1.3% | $24.0 | 2.3% | 788 |
| 1 | Centene Corp. | 18.0% | $16,560 | 52% | $271.0 | 64% | N/A |
| 19 | Commerce Bancshares Inc. | 11.6% | $1,084 | 1.5% | $261.8 | 0.3% | 4,328 |
| 5 | Emerson | 20.7% | $24,537 | -0.5% | $2,147.0 | 7.1% | 115,100 |
| 17 | Energizer Holdings Inc. | 14.3% | $4,448 | -0.4% | $356.1 | -13% | 9,800 |
| 30 | Enterprise Financial Services Corp. | 9.1% | $148 | -9.1% | $27.2 | -18% | 452 |
| 25 | Esco Technologies Inc. | 7.2% | $531 | 8.4% | $0.4 | N.M. | 2,103 |
| 12 | Express Scripts Holding Co. | 9.6% | $100,887 | -3.1% | $2,007.6 | 8.8% | 29,500 |
| 29 | First Clover Leaf Financial Corp. | 5.1% | $22 | -2.0% | $3.8 | 14% | 90 |
| N.R. | Foresight Energy LP | 665.0% | $1,109 | 16% | $135.2 | 1533% | N/A |
| 28 | FutureFuel Corp. | 15.5% | $342 | -23% | $53.2 | -28% | 500 |
| 14 | Huttig Building Products Inc. | 23.9% | $624 | 11% | $2.2 | -31% | 1,000 |
| N.R. | Isle of Capri Casinos Inc. | -160.0% | $955 | 3.4% | -$127.7 | N.M. | 7,000 |
| 9 | Laclede Group Inc. | 6.6% | $1,627 | 60% | $84.6 | 60% | 3,152 |
| N.R. | LMI Aerospace Inc. | -22.1% | $388 | -6.0% | -$29.0 | N.M. | 1,970 |
| 22 | Mallinckrodt Plc | -10.3% | $2,540 | 15% | -$319.3 | N.M. | 5,500 |
| 2 | Monsanto Co. | 26.7% | $15,855 | 6.7% | $2,740.0 | 10% | 22,400 |
| 26 | Olin Corp. | 9.9% | $2,241 | -11% | $105.7 | -41% | 3,900 |
| 8 | Panera Bread Co. | 25.0% | $2,529 | 6.0% | $179.3 | -9% | 25,500 |
| N.R. | Peabody Energy Corp. | -22.9% | $6,792 | -3.2% | -$787.0 | N.M. | 8,300 |
| 31 | Peak Resorts Inc. | -35.4% | $105 | 5.5% | -$1.5 | N.M. | 450 |
| 16 | Perficient Inc. | 8.2% | $457 | 22% | $23.2 | 8% | 2,074 |
| 21 | Post Holdings Inc. | -19.0% | $2,411 | 133% | -$343.2 | N.M. | 7,950 |
| 27 | Pulaski Financial Corp. | 9.7% | $57 | -19% | $11.0 | 12% | 441 |
| 3 | Reinsurance Group of America Inc. | 10.6% | $10,904 | 5.7% | $684.0 | 63% | 2,070 |
| 32 | Reliv International Inc. | 4.4% | $57 | -16% | $0.7 | -7% | N/A |
| 10 | Sigma-Aldrich Corp. | 16.6% | $2,785 | 3.0% | $500.0 | 1.8% | 9,300 |
| N.R. | Stereotaxis Inc. | N.A. | $35 | -7.9% | -$5.2 | N.M. | 133 |
| 13 | Stifel Financial Corp. | 8.2% | $2,250 | 11% | $176.1 | 8.7% | 6,200 |
| N.R. | Sunedison Inc. | -510.0% | $2,484 | 24% | -$1,180.4 | N.M. | 7,260 |
| N.R. | Sunedison Semiconductor Ltd | -13.3% | $840 | -8.7% | -$90.2 | N.M. | 4,400 |
| 23 | Synergetics USA Inc. | 4.9% | $65 | 3.1% | $3.1 | 20% | 395 |
| N.R. | Viasystems Group Inc. | -7.8% | $1,204 | 2.8% | -$16.0 | N.M. | 14,854 |
| 15 | World Point Terminals LP | 19.5% | $90 | 7.6% | $32.5 | 2.2% | 145 |
| | | | | | | | |