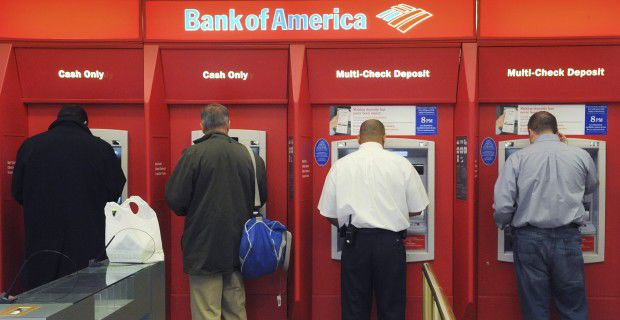 Perhaps the most despised bank fee among consumers is the overdraft fee, an ugly $30 (or so) insult to your wallet.
Many consumers have been hit with it at one time or another, usually when it's the absolute last thing they need. The depth of consumer disgust for such a high fee is, alas, equally matched by the abiding love banks, thrifts and credit unions have for the billions of dollars in annual revenue they provide.
Overdraft services began decades ago as a simple service for customers without calculators: If you didn't have enough money to cover a check, your bank saved you from bouncing it.
The CFPB examined overdraft fees on debit cards and ATM withdrawals for people who frequently find themselves overdrawn on their checking accounts.
Among those who paid 10 overdraft or nonsufficient fund (NSF) fees a year, those who opted into a bank's overdraft service paid as much as $450 more in fees than those who had similar behavior but who didn't opt in to overdraft coverage. Those consumers made up 9 percent of the 40 million accounts the CFPB studied at a small number of large banks, and they paid 79 percent of the banks' total overdraft and NSF fees.
What makes this all particularly perverse is that the CFPB estimated in previous studies that most debit card transactions leading to overdrafts are $24 or less. That small overdraft, however, can lead to a cascade of big fees if the consumer doesn't catch it, and thus continues to use the card as usual or doesn't pause automatic payments for cable, power and the gym.
Sen. Cory Booker, D-N.J., has inquired of banks for information on their overdraft programs, and several class actions against credit unions, which depend heavily on these fees, have been filed in recent years. Nevertheless, it's become a bit easier to avoid overdraft fees in recent years.
A regulatory change that became effective in 2010 requires that you first have to opt in to a bank's overdraft service before it can charge you an overdraft fee on a debit card purchase or ATM withdrawal. If a consumer doesn't opt in to the service, which costs nothing until it kicks into action, their transaction can simply be refused because they don't have enough money in the account.
The regulation doesn't apply to checks or scheduled online bill payments, though, which is why one overdraft can cascade if automatic payments aren't halted.
Fintech companies, meanwhile, are popping up with mobile phone money management apps to help millennials avoid overdraft fees. One such company is named Dave — which has Dallas Mavericks owner Mark Cuban as lead investor — and tracks, analyzes, and predicts users' balances and lets them borrow up to $75, interest-free, until the next payday to prevent an overdraft fee. The company sees helping with overdrafts as a way into a bigger banking relationship with users.
Many consumers agree to overdraft services without being entirely clear what they're signing up for — or just forgetting they agreed to it. A 2014 Pew report found that 52 percent of people who overdrew their account and got a fee didn't recall opting into the coverage.
Pew has urged regulators to make changes including enabling "banks and credit unions to offer affordable small-dollar loans in place of expensive overdraft penalty programs" and to "make overdraft penalty fees reasonable and proportional either to the financial institution's costs in providing the overdraft loan or to the overdraft amount."
But don't expect much regulatory action out of the CFPB on the overdraft front soon, though. In a prepared statement introducing the new report, CFPB director Richard Cordray said that, "We are not proposing any regulatory amendments at this time, though we are considering new overdraft regulations, and currently we are in the 'pre-rule stage' with no timing stated for when a rule may be proposed."