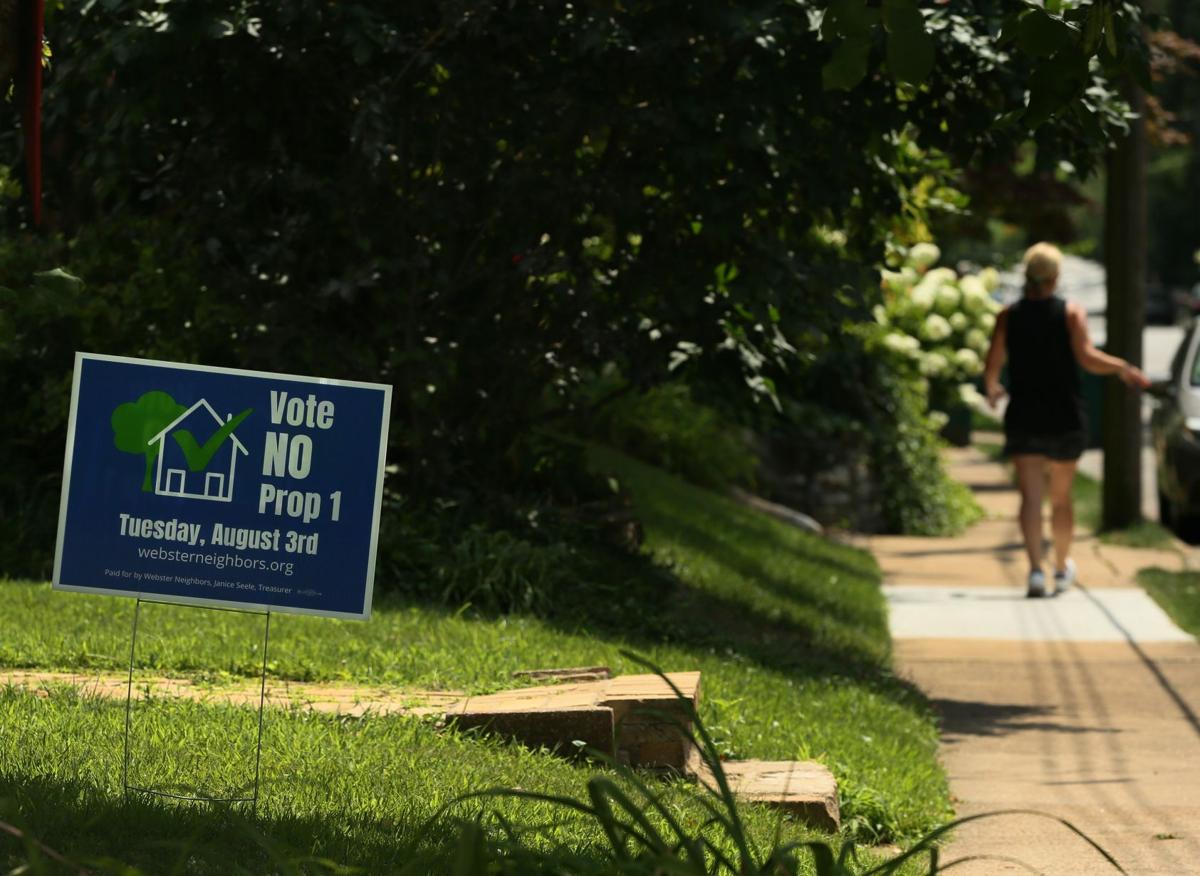 WEBSTER GROVES — Officials here say they aim to find another way to add affordable housing after voters overturned a City Council decision that would have allowed for more two-family homes in this leafy, south St. Louis County suburb.
Opponents declared victory on Wednesday, pledging to keep the historic aesthetic in their bedroom community. Meanwhile, others called the vote just the start of the conversation, and said they hoped city housing options would eventually grow.
"Webster needs to position itself for the future with housing options," said resident Caroline Miller, who led efforts to keep the council's decision. "Change is hard. Change is scary. But we believe this is the start of the conversation."
Nearly 60% of voters on Tuesday approved Proposition 1, overturning a City Council decision in May that amended zoning rules to allow for the construction of two-family dwellings in single-family neighborhoods throughout much of the city.
The ordinance and repeal marked an example of how the municipality, known for its historic homes and tree-lined streets, is at a crossroads in determining what kind of community it wants to become and what type of residents it wants to welcome.
Multiple efforts to diversify housing stock could change the makeup of Webster Groves. One project, by St. Louis companies Green Street Real Estate Ventures and Seneca Commercial Real Estate, has pitched a $320 million commercial and residential development along West Kirkham Avenue in Old Webster.
Those against the new ordinance were concerned the zoning changes could lead to an influx of developers ready to demolish single-family homes in favor of $400,000 duplexes — something that would counteract the nature of the zoning change.
Mayor Gerry Welch supported repealing the new ordinance. She wants more affordable housing in Webster but said two-family and multiple-unit developments are more appropriate in commercial districts or on main streets.
"When you buy a house in a single-family zoned neighborhood, that's what you expect," Welch said. "It's like changing the rules on people."
The zoning change was an attempt to correct exclusionary codes from decades ago that prevented two-family homes from going up in most areas of Webster Groves. City code only allows two-family dwellings on blocks where 40% of the existing housing stock already consists of two-family homes.
But the ordinance led to swift action by residents who launched a petition to have the changes repealed. More than $20,000 was raised by both sides of the debate.
Two campaign committees — Webster Groves Residents Organization and Preserve WG — led the repeal, together raising $14,000. Resident Richard Mazzarella, who described himself in campaign finance reports as a self-employed real estate professional, donated $11,000. Mazzarella declined to comment.
Kathy Hart, a former Webster Groves council member, led the effort for the repeal.
"I think people were concerned about protecting their own assets and the character of our community," Hart said. "There's a place for (duplexes) in our community, but it's not in the middle of our single-family neighborhoods."
Councilmember Laura Arnold thought the zoning changes were largely misunderstood.
The ordinance, Arnold said, was not going to "revolutionize the community," but instead it was to provide an alternative to a trend of replacing smaller houses with $750,000 infill homes.
"We're at a point now where we have a big audience in our community who are talking about this," Arnold said. "It's time as leaders of this community to figure out what that means in terms of specific policies."
Webster Neighbors, a group that supported the new zoning, reported $10,399 in donations.
Miller, the resident who led the group, said the ordinance would have filled in the "missing middle" of housing options. Young professionals don't always want big homes, she said, and seniors who want to stay in Webster Groves don't always want to live in senior apartments.
Miller was disappointed by the process — the opposition was primarily funded by one person and used fear mongering to persuade voters, she said, calling the effort more "AstroTurf than grassroots."
But experts said you can't expect zoning to solve housing issues.
Patty Heyda, associate professor of urban design and architecture at Washington University, said a city has to layer zoning changes with good urban planning.
"It's important to have a view of the whole city and neighborhood to see where things can fit," Heyda said. "There has to be a careful calculation."