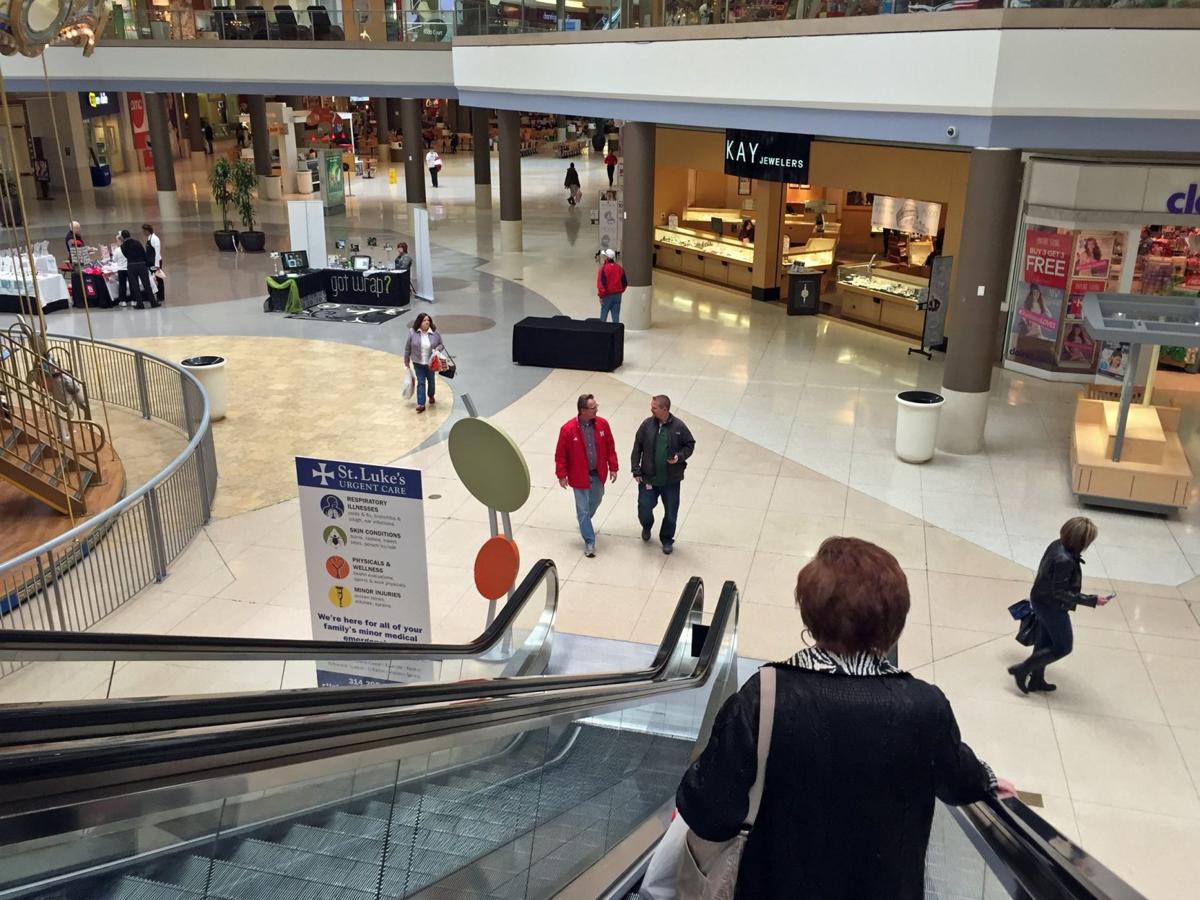 Chesterfield Mall's lender finalized foreclosure on the shopping center, and the struggling property that remains open will soon be placed up for sale.
City officials met with an executive of mall owner C-III Capital Partners at the end of June to discuss plans to place the mall up for sale after 90 days and a likely conversion to a mixed-use property after it's sold, said Libbey Malberg-Tucker, Chesterfield's economic development director.
Chesterfield Mall was placed in receivership in August after C-III sued the mall's prior owner CBL & Associates Properties, alleging CBL defaulted on repayment of a $140 million loan. The foreclosure became final on June 27, making C-III its owner until the real estate investment company with principal offices in New York and Texas can sell the property.
"They will ultimately sell it," Tucker told the Post-Dispatch. "They plan to put it out to market for one month with a call for offers." A spokesman for C-III declined to comment.
While it's uncertain what the mall's future holds, Tucker said it's unlikely to remain an enclosed shopping center. "We know it can't remain all retail, and we're open to it becoming a mixed-use development. Whether that's office, hotel, living space, all of those things we'd embrace," Tucker said.
Tucker said Chesterfield would consider some incentives for a redevelopment of the property, including a Transportation Development District, but no requests have yet been submitted to city officials.
A sale of the mall would be the latest in a string of ownership changes at malls in the region. Several other malls have closed as shoppers turned to online retailers or bypassed malls for strip centers. Northwest Plaza closed in 2010, Crestwood Court closed in 2013 and Jamestown Mall closed in 2014.
Outlets' impact
CBL & Associates Properties, which also owns South County Center, West County Center, Mid Rivers Mall and St. Clair Square locally, acquired the 1.3 million-square-foot Chesterfield Mall in 2007.
One of the largest mall owners in the United States, CBL holds interests in or manages 80 regional malls or open-air shopping centers, and St. Louis is the Chattanooga, Tenn.-based company's largest market.
But after two nearby outlet malls opened in Chesterfield in 2013, revenue at Chesterfield Mall declined and many retailers closed their doors, including recent exits by Pottery Barn and Williams-Sonoma.
"The mall had experienced declining cash flows as competition from several new outlet shopping centers in the area impacted its sales," CBL said in a regulatory filing early last year.
Like many malls across the country, a growing list of retail bankruptcies also has plagued the mall, with new store closures announced last week. Gymboree Corp., which filed for bankruptcy in June, said Wednesday Gymboree and Crazy 8 stores at Chesterfield Mall are among 350 stores it's closing nationwide.
Chesterfield Mall suffered another setback in September when a water main ruptured, flooding one of its anchor department stores, Dillard's. The store remains closed and the retailer hasn't yet announced reopening plans. Tucker said the retailer has expressed interest in keeping a Chesterfield location but said Dillard's likely won't return to its prior space at the mall. "I don't expect that it will be in the same format as it was," Tucker said. "It's a really big space."
C-III lists dozens of shopping centers, office buildings and apartments for sale on its website. C-III's only Missouri property listed for sale is a 96,699-square-foot retail strip center in Chillicothe, about 90 miles northeast of Kansas City.
Chesterfield Mall's value was estimated at about $63 million last year by U.S. Bank, which served as a trustee representing C-III in its lawsuit, down from $286 million in 2006. Chesterfield Mall's 2017 appraised value is $55.1 million this year, according to St. Louis County real estate records, down from $60.8 million in 2012.
Built in 1976, Chesterfield Mall still has dozens of stores, including an American Girl store that opened in 2012, AMC Theatres and a Cheesecake Factory restaurant.
Until the mall is sold, it's business as usual at the shopping center, which remains open.
Washington, D.C.-based Madison Marquette Retail Services, which was hired to manage Chesterfield Mall while in receivership, continues to oversee the mall's leasing and operations. The mall recently renewed its lease with retailer H&M and has "strong, ongoing relationships with anchor tenants Macy's, Sears and AMC and it is evaluating enhancements to its landscaping, infrastructure and communications vehicles," Robyn Marano, Madison Marquette's vice president of marketing, said in an email to the Post-Dispatch.
Marano said Chesterfield Mall is still "actively pursuing new relationships with local boutiques and specialty retailers as well as national brand-name retailers."
Shoppers walking the aisles at the mall last week had to walk past dozens of vacant stores to visit more than 100 retail tenants that remain open. On a day when temperatures reached 100 degrees outside, the air conditioning inside the mall didn't feel as cold as usual, some shoppers complained.
Stephanie Thompson, 50, who was picking up a pair of new eyeglasses Wednesday afternoon, has shopped at Chesterfield Mall since she was a teenager. She said she'd welcome a redevelopment that would bring more activities or specialty retail to the area but still felt wistful about the mall's past.
"I'd hate to see it stop being a mall," she said as stood in front of the shuttered Dillard's store. "It totally makes me sad."
Lisa Brown • 314-340-8127
@lisabrownstl on Twitter