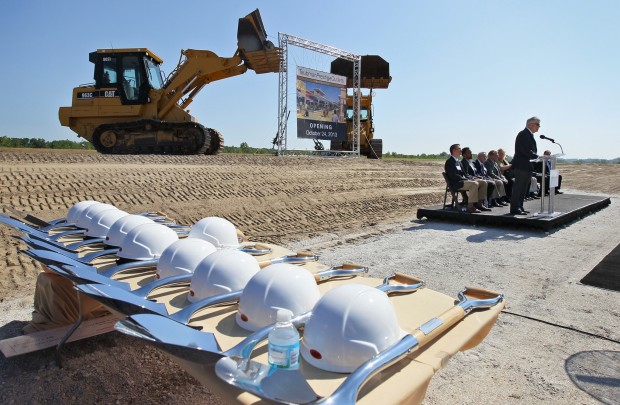 Two rival outlet mall developers are now betting that Chesterfield, already rich with retail, can indeed support both proposed malls, with about 200 stores between them, co-existing just a few miles apart.
That marks a change in the trajectory of the ongoing mall war between Taubman Centers and Simon Property Group, with the assumption up until recently being that only one would be built.
Yet analysts and industry observers have reacted to the prospect of these dueling outlet malls so close to one another with skepticism, noting that the malls would cut into the sales of the other.
"I'm kind of incredulous that they would both go forward," said Martin Sneider, an adjunct professor of retailing at Washington University. "I can't imagine how they justify it although I imagine they are both reluctant to give it up...They are both like Thelma and Louise."
On Wednesday, William Taubman, chief operating officer of Michigan-based Taubman Centers, showed no signs of yielding. At a groundbreaking ceremony, he proclaimed that Taubman Prestige Outlets Chesterfield would open for business on October 24, 2013.
To drive home the point, he rattled off a list of 40 retailers including Banana Republic, Gap, Furla, Ed Hardy, Billabong, and Lucky Brand Jeans that have either signed leases or given commitments to be a part of a 450,000 square foot outlet mall located near Boone's Crossing and Highway 40.
Also on Wednesday, Taubman Centers closed on a $15.2 million deal to buy the property on which its project is located from the Monarch-Chesterfield Levee District, according to David Human, the district's general counsel.
Yet, two weeks ago, executives from Indianapolis-based Simon Property were the ones who held the shovels for their own groundbreaking ceremony -- St. Louis Premium Outlets, located a few miles to the west near the Daniel Boone Bridge. That 350,000 square foot project has named tenants such as Saks Fifth Avenue Off Fifth, Elie Tahari, Ann Taylor and Tommy Hilfiger. Officials have said the center is more than 60 percent committed.
Nathan Isbee, an analyst with Stifel Nicolaus, said it's hard to believe that two outlet malls will be built so close to one another. But he said it's looking more and more like that both will go up given that both have broken ground, announced tenants, and given out opening dates.
Still, he added, "Until steel appears on both sites you can't be sure."
Isbee noted that there are some other markets where outlet malls are located close to one another such as in Myrtle Beach, Orlando, and Lancaster, Penn.
"So it's not unprecedented," he said. "But those tend to be more tourist-driven markets unlike St. Louis."
Steve Sakwa, an analyst with ISI Group, said he doesn't see either side budging at this point.
On the one hand, two outlet malls in close proximity could work by making Chesterfield a hub of outlet mall shopping for the region if there are enough unique retailers in each center, he said.
But he wondered if the developers will get the returns they hoped for with two centers instead of just one.
"The real question is if there is enough tenant demand so that people will want to go shop there," he said.
Sneider believes a certain amount of ego is at play with both developers.
There is some contentious history between the two sides. About a decade ago, Taubman Centers successfully fought off a hostile takeover attempt by Simon.
While each developer has announced a number of different retailers for their rosters, there is also some overlap in stores such as Brooks Brothers, J. Crew, Nine West, Jones New York, Hot Topic, Naturalizer and Famous Footwear.
But those stores are not all done deals. Dave Krueger, senior vice president for real estate for Clayton-based Brown Shoe Co., said in a statement that Brown Shoe is currently negotiating lease terms with both developers.
"We are monitoring the progress with both sites in Chesterfield and will make our final decisions based on the retail tenant mix at both locations and what is the best fit for our Naturalizer and Famous Footwear customers," he said.
David Simon, Simon's chief executive, acknowledged earlier this week that it is likely that there will be two outlet centers built in Chesterfield.
However, Taubman on Wednesday wouldn't go so far as to say there would be two outlet malls built, noting that the Simon project is farther behind than his in securing the necessary approvals to begin construction.
"I think it's interesting when the guy who is in second says there's going to be two (malls)," Taubman said. "They have a tremendous amount of work left to do in order to build a project. They don't have any of the permits that we have today."
Still, Simon put out a statement on Wednesday afternoon saying that its outlet mall will open in September 2013. That is a month earlier than Taubman's scheduled opening.
Aimee Nassif, Chesterfield's planning and development director, said Simon's final site improvement plan -- a step needed in order to begin construction -- is still under review and will likely take several weeks before it is approved. But she noted that Taubman also still needs to get a building permit before it can begin building walls.
With no major anticipated roadblocks in the permit process, Nassif said it will likely be the retail tenants that will decide the fate of these projects. She wondered if each project could line up a combined 200 retail tenants as promised.
"I'm cautious about it -- absolutely," she said. "We could have one (outlet mall). We could have two -- or we could have none."
Daily updates on the latest news in the St. Louis business community.