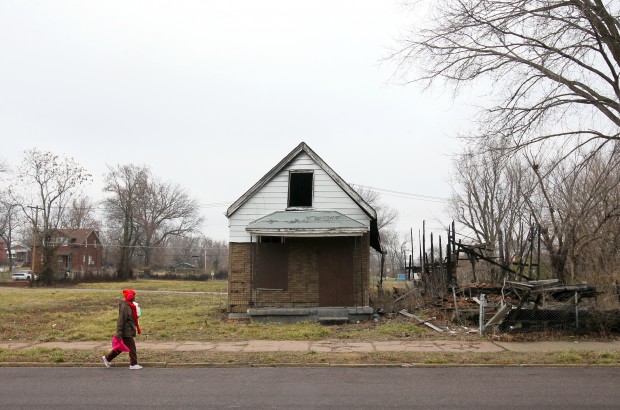 In the city of St. Louis, there is no bigger land-owner than the city of St. Louis.
Over the past four decades, the city has accumulated more than 11,000 parcels of real estate that no one else wants, long-empty houses and thousands of vacant lots, big downtown buildings and even a 30-acre cemetery. It sells some parcels every month and accumulates more after five annual tax sales. But most of the land just sits, waiting.
Last week's deal to sell more than 1,200 parcels on the near north side to developer Paul McKee highlights the potential for this "land-banking." McKee, who already owns 800 parcels in the area, will be able to market more and larger sites to potential tenants for his massive NorthSide Regeneration project under the deal. It's progress, says the city.
But as land banks bloom from New York to Nebraska, St. Louis' experience illustrates two simple facts: That this practice is no panacea for blight and that any real progress requires lots of patience.
St. Louis has been banking land since 1971. Residents and businesses were fleeing for the suburbs, leaving behind crumbling buildings with unpaid taxes. The city wanted a central repository to hold that property, clear the title, maintain it, and sell it to someone to redevelop. The Land Reutilization Authority — the nation's first city-run land bank — was born.
LRA started taking properties that went unsold at St. Louis sheriff's office tax sales, and its inventory quickly ballooned into the thousands. Despite a constant churn of sales, inventory has stayed high ever since. Today, the LRA and two smaller land banks own 11,136 parcels, more than two square miles of ground; they'll still own 9,900 after the NorthSide sale closes. Mowing and maintaining all this costs $2.7 million a year.
The authority has some success stories, such as the old City Hospital — now high-end condos — and large-scale rebuilding in the Gate District and Gaslight Square. But it still has vast holdings, especially in battered sections of north St. Louis, neighborhoods such as The Ville, Hyde Park and Wells Goodfellow, where as much as one-fifth of all real estate is owned by LRA. Much of the land is vacant lots, but there are also plenty of empty buildings, with crumbling roofs, patchy walls and the LRA's trademark dark red boards over the doors.
The trouble, said Otis Williams, who oversees the authority for St. Louis Development Corp., is that there just isn't much interest in these properties, even at a price tag of just a few thousand dollars.
"The goal is to get each of them back on the tax rolls," Williams said. "The problem we have is the market. There's a real lack of demand."
But some say the LRA holds on to too much property for too long.
Every month, at a meeting in a downtown office building, the LRA considers offers. Typically it receives dozens. Some are from people who want to buy the plot next to their house for a sideyard. Some come from rehabbers who want to turn a shell into apartments, or people looking for an affordable way to purchase a home.
In a report last year, free-market thinktank the Show-Me Institute combed through eight years of LRA records, and found that the agency rejected more than 40 percent of purchase offers, often saying the land was being held for "future development." In some cases, LRA turned down offers for the same property several times.
That seems to run counter to the goal of putting property back on the tax rolls and getting it redeveloped, said Audrey Spalding, the Show-Me policy analyst who led the study.
"When you turn down an offer to purchase property today in the hopes of a future, better development tomorrow, you are turning down a certain offer, and property tax revenue, in the hopes that a future offer will materialize," Spalding recently told a Missouri House of Representatives hearing. "In this economy, such a bet is ill-advised."
Williams said the LRA weighs a number of factors, including the potential for future development and whether the buyer's plan for the site fits the city's plan for the area. But, he said, a major reason why sales get turned down is because the buyer doesn't have the resources to redevelop the property.
"We're not going to sell to just anybody," he said. "They've got to be able to do something with it.
If not, he said, it's quite possible that the land will just wind up back with LRA a few years down the road, maybe in worse shape than it is now. The LRA has changed policies in one regard, though. Williams said it has tried to sell more land as side yards, and to neighborhood groups that want to create community gardens and parks.
In the meantime, new land banks — often with more powers than the LRA — are sprouting up across the country.
Michigan now has 41 land banks, and Ohio has expanded its land-banking programs. New York is readying to launch them in five cities this year, proposals are before state lawmakers now in Pennsylvania, Georgia and Nebraska, and Kansas City officials are asking the Missouri General Assembly to create one there.
"More states are really recognizing that vacant and abandoned properties impose tremendous costs on their cities and their neighborhoods," said Frank Alexander, a law professor at Emory University in Atlanta who works on land bank legislation. "(Land banks) can step in where there's no market."
Most of these new banks would be more powerful than the LRA, with access to more funds to rehab or demolish buildings and clean up sites for reuse. New York law gives land banks the right to all land that is seized for unpaid property taxes, not just the sites left over after investors have picked over sheriff auctions — which is how St. Louis' LRA accumulates most of its land.
That's huge, said Dan Kildee, who developed the land bank in Genesee County, Mich. — home of Flint — because it means land banks get some good properties to work with, too.
"The land bank gets to be the smartest and luckiest speculator," Kildee said. Then they can market the properties or partner with nonprofit groups or developers to rebuild them. And more sales means more money for demolition of properties that can't be rebuilt.
Funding demolition has been a challenge in St. Louis. It costs about $8,000 for LRA to knock down a structure, and it owns roughly 2,000. In recent years, the agency has demolished 200 to 240 buildings a year, though that number plunged to 142 in 2010 because of budget cuts. Other cities — most notably Detroit — have used federal money designed for foreclosure relief to knock down thousands of houses. St. Louis used most of that money on rehab work. The LRA does, though, plan to spend much of the $3.2 million its getting from McKee on much-needed demolition.
Take the 3300 block of Blair Avenue in Hyde Park, where the shells of three LRA-owned brick four-families sit crumbling in a row, their roofs gone and brick walls caving in. Across the street, another LRA house, this one of blue shingles, sits empty, its roof rotting. On a recent afternoon, a boy played in a fort built of mattresses in the yard. Otherwise the street was dead.
Just a few blocks away, construction crews are working, rehabbing 27 buildings scattered across several blocks in a project called Hyde Park South. When they're done, there will be 50 affordable apartments.
Most of the buildings were bought from the LRA, said Michele Duffe, a development consultant who is working on the project, and the former LRA director herself. Duffe's firm and the development arm of nearby Bethlehem Lutheran Church have built 206 units of housing in the neighborhood, with 40 more in the pipeline.
Buying all those parcels from individual owners, instead of a land bank, said Duffe, would have been impossible.