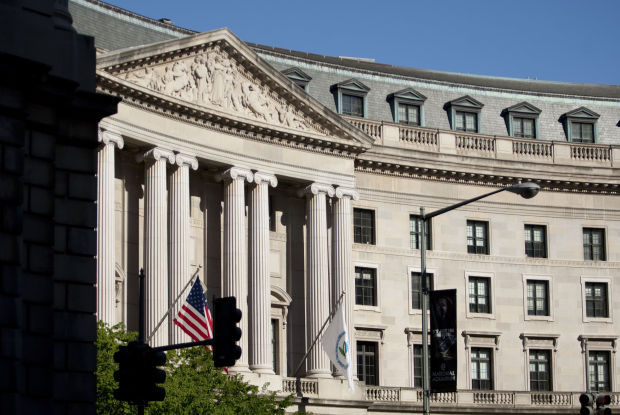 LENEXA, Kan. • They came by car, airplane and train. Some were grandparents, others still in their 20s. They traveled from at least five states — executives, politicians, scientists, labor representatives and homemakers.
For all the diversity on display, the 300 or so people crammed into the Environmental Protection Agency's regional offices in suburban Kansas City on Monday came bearing two messages — opposing messages — about efforts to curtail climate-warming greenhouse gas pollution.
Some in the audience urged the Obama administration to enact stringent controls on coal-burning power plants. Others warned of dire consequences if the EPA did so.
The meeting was part of the agency's 11-city "listening tour" to solicit ideas from the public before it issues rules to curb carbon dioxide emissions from existing power plants, specifically coal-burning plants that collectively represent the largest stationary source of planet-warming gases. President Barack Obama ordered a draft of the rules by June 1.
Many who signed up to speak for three minutes put the issue in stark terms, including Brian Ettling, a south St. Louis County native who grew up just a few miles from Ameren Missouri's Meramec coal plant.
Ettling, a ranger at Crater Lake National Park during the summer, works as a climate activist in St. Louis when he returns to his hometown in the winter. He said he has seen the effects of a warming planet firsthand in his job.
"I am very worried what the future holds for my nieces and nephews with climate change," he said. "Scientists warn us that we must act fast to reduce the threat of climate change. Otherwise our children could carry the burden of more severe droughts, floods, food shortages, ... etc."
Utility officials and electric cooperative executives from several states had little to say about the effects of climate change. They instead zeroed in on the potential effect on electric rates if coal-fired electricity is hastily phased out.
Among them was David Klindt, vice president of the Association of Missouri Electric Cooperatives, an umbrella group for 47 rural electric cooperatives in Missouri based in Jefferson City. He said the group's rural membership, many over age 55 and on a fixed income, depends deeply on cheap power from coal.
"Without exception, they're concerned about the price of electricity," he said. "I encourage you to consider common-sense solutions."
Terry Jarrett, a Jefferson City attorney and former Missouri Public Service Commission member, said his mission as a state regulator was to help ensure safe, reliable and affordable power for consumers. For that to continue to be possible, he said, "coal must remain an important fuel source."
Many of in the crowd expressed themselves without even addressing a three-member panel of note-takers who recorded the meeting.
Sierra Club members and climate activists including Ettling wore light green T-shirts that read "Climate Action Now." Sometimes they sat beside coal industry supporters in navy blue T-shirts that read "Coal Keeps the Lights On."
Whatever regulations the EPA proposes next spring, the stakes are high, especially for Missouri, which depends on coal for 80 percent of its electricity.
Environmental advocates said Missouri's coal dependence and relatively low retail electric rates come at a high price in terms of air and water quality and public health. At the same time, an overwhelming majority of climate scientists have urged sharply limiting carbon greenhouse gas emissions or risking damaging consequences.
"The costs (of coal) are piling up and they're all around us," said Sara Edgar, a St. Louis-based Sierra Club organizer.
After the meeting, EPA Region 7 Administrator Karl Brooks said the meeting accomplished its goals.
"This was designed to be a big hopper that everybody could pour ideas into," he said. "And they certainly did that."