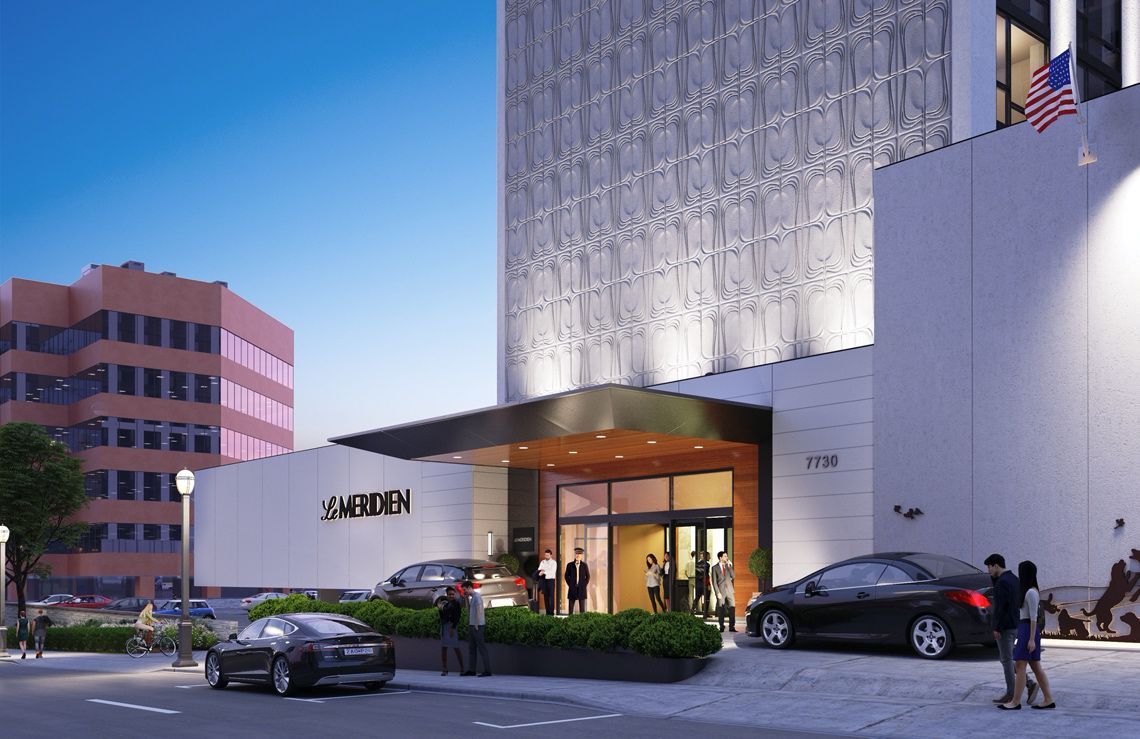 CLAYTON — Mayor Michelle Harris and the board of aldermen this week approved permits for Le Meridien St. Louis Clayton Hotel and its associated Café la Vie restaurant, both at 7730 Bonhomme Ave. The hotel is now set to open Oct. 1 after a multi-million dollar facelift of the building.
During public hearings on Tuesday, City Manager David Gipson said that the 300,320-square-foot hotel has 268 guest rooms, including 13 suites, meeting room space and the 4,000-square-foot restaurant.
Gipson said the former Sheraton Clayton Plaza Hotel had been operating at the location for years, prior to the city's requirement for conditional use permits for hotels. Denver hotel company Silverwest Hotels bought the hotel two years ago, and that sale has forced the hotel to conform with zoning regulations, he said.
"The hotel is required to have at least 260 parking spaces, and 290 are provided," he said.
"On-site parking (in a garage) is connected to the hotel building on the east side."
Gipson said the Café la Vie restaurant will be open seven days a week from 5 a.m. until 2 a.m., will provide seating for 120 patrons and will feature a three-meal full course menu servicing the hotel guests, a café and a full bar and be open to the public.
Le Meridien St. Louis Clayton officials said, in a press release, that the hotel features more than 17,000 square feet of meeting space, a state-of-the-art fitness center (on the previously unused 15th floor) with panoramic views of downtown St. Louis, an open-air pool deck on the third floor, a signature bar and Café La Vie, artwork from more than 50 local and nationally acclaimed artists, and more.
In the release, General Manager Andrew Hargis said the hotel opening follows a year of extensive renovation work.
Designed by HOK, exterior work to refresh the 17-story building included new windows throughout the hotel, new façade updates, a redesigned porte cochere entry, and more, hotel officials said.
In addition to the design, HOK worked with Eaton Fine Art to create a curated art program for the hotel, they said.
Rooms feature 55-inch televisions with app streaming and fiber cabled guestrooms, they said.
Le Meridien St. Louis Clayton also will offer space for business meetings, social functions, weddings and various celebrations and has a dedicated conference level floor, officials said in the release. Located on the lobby level, two ballrooms, the Forest Park Ballroom and Grand Salle Ballroom, can host banquet and catering events, they said.
Hargis, during the hearing Tuesday, said "we're excited to open and excited about the transformation of this property." He said the facility will be pet friendly.
"We're excited to have you in the city," Harris said.
City officials also approved that night a liquor license for the restaurant.
Daily updates on the latest news in the St. Louis business community.