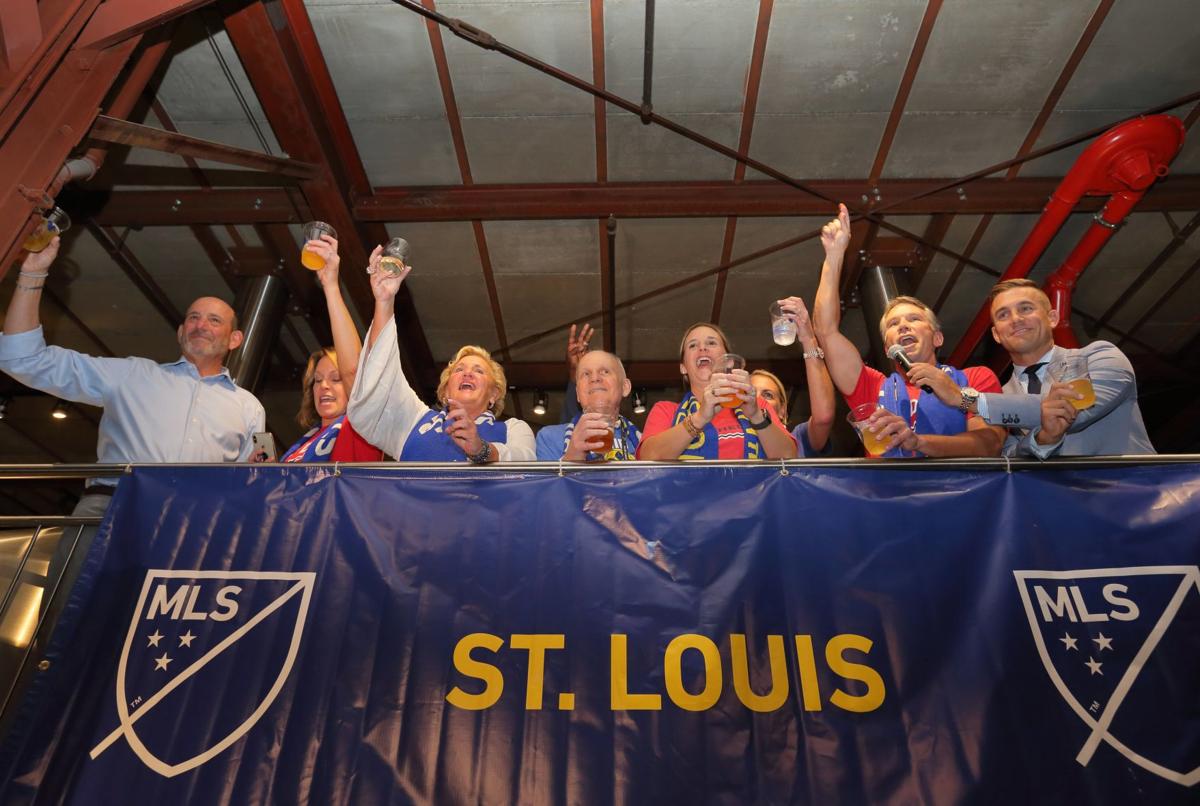 In April 2017, sports fans from around the region lamented a decision by St. Louis voters to reject contributing $60 million to a Major League Soccer stadium.
But because city voters opted against providing the sole public financing for a regional asset — using about $4 million in annual business use tax revenue that has instead gone to affordable housing and vacant building demolitions — they got a better deal for everyone.
After MLS announced Tuesday that St. Louis will get the 28th team added to the professional men's soccer league, the next step is building a soccer stadium so the team can play its first game in March 2022. While the outline for the stadium along Market Street west of Union Station was included in a November resolution overwhelmingly endorsed by St. Louis aldermen, final negotiations are likely to include some tweaks.
Yet if it stays close to that proposal, experts and critics of the 2017 MLS stadium plan agree the roughly $250 million stadium planned by the newly-minted St. Louis ownership group is a far better proposition for taxpayers. Compared to the 2017 proposal, there's a smaller share of overall public financing and it's shouldered by fans who attend games, not by the city alone.
"It's a very different deal than the one the voters were presented with (in 2017)," said 20th Ward Alderman Cara Spencer, who opposed the earlier plan but voted for the November resolution outlining this stadium's financing terms. "And I think voters were right to reject general sales tax dollars for use in the stadium."
Even MLS Commissioner Don Garber, who heads a league long interested in adding a St. Louis team, concedes it was worth the wait.
"If not for that failed vote, we wouldn't have been able to have really attracted the interest of the Taylor family," he said Tuesday.
While the last ownership group included a Boston-based investor, this group is led by the deep-pocketed Taylor family behind Clayton-based rental car giant Enterprise Holdings. Not only does that make the ownership all local, but it's led by a family whose charitable contributions to local institutions and nonprofits over the years approach $1 billion.
Carolyn Kindle Betz, executive director of the Enterprise Holdings Foundation and granddaughter of Enterprise Rent-A-Car founder Jack Taylor, said her family was looking for a new project to aid the region after helping to fund the $30 million renovation of Soldiers Memorial and the rebuilding of the Gateway Arch grounds and museum.
"As we have stated from the beginning, we did not want to take resources away from the city," she said during the Tuesday announcement capping the MLS effort they jumped into publicly in October. "Our goal has always been an overwhelmingly privately financed team and stadium that would fuel the region's continued growth, bringing people together and creating a lasting legacy for this city."
'Off and running'
The city's economic development arm, the St. Louis Development Corp., is still negotiating the final terms of a stadium lease and the land transfer with the Missouri Department of Transportation that will turn excess road right-of-way into a foot-traffic-generating attraction along Market Street. Those details could be a month or so away.
But the outlines of that deal were reflected in a nonbinding resolution overwhelmingly endorsed by St. Louis aldermen, 26-2, in November.
At least two, and possibly three, special sales tax districts would be set up, each charging 1% on stadium purchases to contribute to the stadium. The city would own the stadium and lease it to the ownership group, resulting in a property tax break estimated at a little over $1 million a year. The land is currently owned by the state and not taxed, so it would not result in a loss of property tax dollars.
The city would exempt sales taxes on construction materials, saving about $4.5 million for the ownership group. And half of the city's 5% ticket tax would be abated, with the other half going to a stadium upkeep fund that city analysts estimate would collect about $28.7 million over 30 years.
City analysts estimate the new stadium would generate almost $1 million in annual tax revenue.
If the final deal follows those guidelines, "there is absolutely no question in my mind that the proposal is as fiscally responsible as any I've seen in professional sports," said Patrick Rishe, director of the sports business program at Washington University.
But in a city with an understandable suspicion of stadium deals, many aldermen still want to see the final deal on paper.
"I'm optimistic that the original collaborations and deals will hold firm," said 21st Ward Alderman John Collins-Muhammad. He was a co-sponsor of the November resolution and has been an ally of Board of Aldermen President Lewis Reed, chief sponsor of the November resolution. "Can that change? Absolutely. Will that change? I certainly hope not."
Yet Tuesday's announcement signaled strong confidence that a stadium plan won't hit any major roadblocks. Flanking Garber and Kindle Betz on the stage Tuesday were Mayor Lyda Krewson and Reed, a majority of the three votes on the city's top fiscal body, the Board of Estimate and Apportionment, which will likely need to approve a final deal.
And St. Louis Comptroller Darlene Green, who represents the third vote on the board, issued a statement even before the MLS made it official praising the ownership group for "developing and championing a successful proposal that will bring MLS soccer to downtown St. Louis." She had raised concerns about the last MLS stadium proposal's impact on city finances and fought a publicly-funded revamp of the St. Louis Blues stadium.
The message was clear: Green, a skeptic of past stadium financing proposals, was satisfied with the outlines of the deal.
Missouri Gov. Mike Parson's administration, too, has signaled it is on board, a reversal from former Gov. Eric Greitens' accusation that using state tax credits for the proposed 2017 stadium was "welfare for millionaires." The St. Louis Land Clearance for Redevelopment Authority, part of SLDC, has already approved a measure to apply for $30 million in state tax credits from the Missouri Development Finance Board to aid in the stadium financing.
Lt. Gov. Mike Kehoe, who was at Tuesday's announcement and whose late uncle was St. Louis soccer legend Bob Kehoe, sits on the MDFB board. He told the Post-Dispatch that he and Parson have "a great relationship" with Krewson and "we'll absolutely be a partner going forward. There's no doubt in my mind."
'Where the issues might come in'
Still, some questions remain on the financing package. For one, aldermen rejected an expansion of the St. Louis Port Authority — the mechanism for imposing the third 1% sales tax on stadium purchases — amid questions about its power and oversight in the wake of a corruption scandal involving the St. Louis County Port Authority.
Alderman Jack Coatar, 7th Ward, said a smaller expansion of the Port Authority boundaries might assuage some concern.
"I think if it was narrow in scope and just included basically land from the river to the stadium site, I don't think that would cause much consternation with my colleagues," he said.
Another question is the future upkeep of the stadium. While half of the ticket tax would be set aside for future needs, some aldermen questioned whether that was enough. Others recalled the hefty public tab in 2017 to renovate the St. Louis Blues' Enterprise Center and the ongoing expense of the Dome at America's Center following the NFL's departure.
"In my mind, that's where the issues might come in," said 6th Ward Alderman Christine Ingrassia, who represents the area where the stadium is proposed. "I'm confident that the owners' heart is in the right place, I just like to have things in writing in terms of protecting the city's finances both in the short and long term."
Alderman Annie Rice, 8th Ward, who was at Tuesday's announcement, said commitments to union labor, sustainable design and stadium employee wages are issues that could still see some debate. Rice, who raised concerns about the Port Authority expansion during debate last year, said she expects some changes to the final proposal compared to the resolution she supported.
"I'm hoping they come back in good faith on that," she said.
It's especially important now, she said, in a year that's seen an increase in homicides, plus the shooting deaths of 11 children. "After a really rough summer, a heartbreaking summer in the city, there are probably more folks who are wary of any public support of this when we have children who have not survived the summer," Rice said.
Yet no one expects anything to derail a final deal. And backers point out that there are benefits beyond new public revenue. For one, the proposal takes unproductive dead space along the Market Street corridor and activates it, adding to momentum near the Union Station aquarium and Ferris wheel under construction and the planned Build-A-Bear headquarters.
"If we can connect these pockets of strength, that gives us a more cohesive urban fabric," said former Missouri economic development official Jason Hall, CEO of Arch to Park LLC, a "civic-minded" private investment entity focused on strengthening the urban core. "Anywhere you've got missing teeth, missing buildings, vacant land, that's working against having a dynamic city … . It's showing that we as a region understand that all of our futures are critically linked to the vitality of that central city."