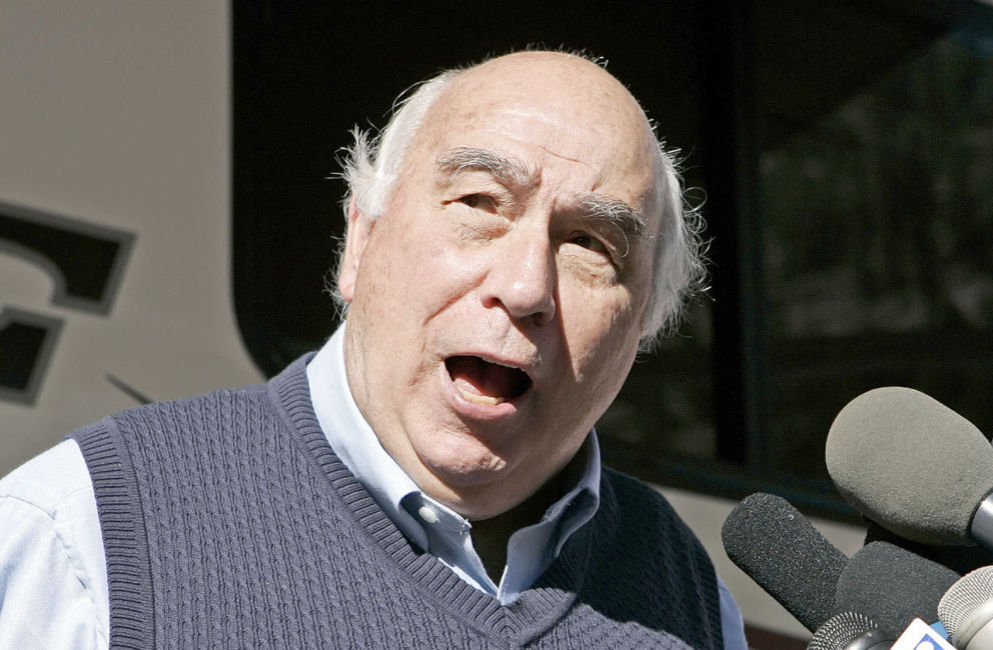 Robert Murray is pumped — as though coal-fired steam might be coursing through his veins. Striding purposefully, he ascends to a lectern in a conference room at Pittsburgh's Wyndham Grand Downtown hotel toting a cardboard box with hundreds of copies of his keynote speech to give out lest anyone miss a word.
It turns out to be a corporate version of a hellfire-and-damnation sermon for the 250 U.S. coal executives assembled at the Platts Coal Marketing Days conference. Satan and his minions aren't in the room, but Murray knows their names.
"Environmental alarmists" and "liberal elitists," he says, his voice rising as he whips off his glasses. And worse than them all, "the insane, regal administration of King Obama" and the Environmental Protection Agency.
Murray, 74, pauses for effect and then lowers his voice. "We have the absolute destruction of the United States coal industry. It isn't coming back. It's permanent. Virtually all of it is permanent. And if you think it's coming back, you don't understand the business. Or you're smoking dope."
This is vintage Murray, America's pro-coal provocateur-in-chief, a coal miner's son and a former miner himself, a man whose anti-regulation record is so unwavering that he once dismissed acid rain as a hoax, never mind climate change.
His warnings are all the more interesting when framed against what Murray, chief executive officer and owner of Murray Energy Corp., is actually doing. For all the doom and gloom, he is gorging on coal mines — Murray Energy last fall spent $3.5 billion to acquire five of Consol Energy Inc.'s West Virginia operations.
It was the biggest deal in the beleaguered coal sector in two-and-a-half years, catapulting his St. Clairsville, Ohio-based company to the country's fifth-largest coal producer and making Murray Energy America's largest privately held coal producer. Ever since, Murray's been on a tear, ramping up production at his newly acquired mines as he ratchets up his rhetoric in defense of his beleaguered industry and against Obama's "War on Coal."
Yet if war is hell, Murray seems to smell something else in the air besides brimstone: money. Make no mistake about it, Murray has a plan. Statistics indicate that it's been a terrible decade for coal. The market capitalization of the entire industry has shrunk from $78 billion in 2011 to about $25 billion today. Coal now generates 37 percent of the country's electricity — down from over 50 percent in 2007.
Still, 37 percent represents at least a $30 billion a year industry, and even as that pie shrinks, huge profits will accrue to those who stay the course. Even globally, coal's lot is always more complicated than the dire prophesies of both its detractors and advocates. Consider that Germany — with the world's most ambitious green-energy program — has gone back to burning copious amounts of dirty lignite to make up for the shortfall in electricity being caused by its phase-out of its nuclear power plants.
So in the United States, as rival coal producers get battered by stiffer emissions regulations, production cutbacks and debt drives many into bankruptcy, Murray sees nothing but opportunity. He'll be feasting on the losers. "He was preparing for the regulatory regime before anyone really knew what was coming," said Ted O'Brien, the New York-based chief executive officer of Doyle Trading Consultants. "He's going to be one of the last-standing U.S. producers, no doubt."
This year, fueled in part by his acquisition of Consol mines, Murray says he expects to mine 64 million tons of coal, worth about $3.6 billion. That's up from revenue of $1.3 billion in 2012, according to Moody's Investors Service Inc.
All this is run from St. Clairsville, the titular home to Murray Energy's headquarters. It could pose for a Midwestern postcard. Ten miles west of the Ohio River, the town of 5,000 sits amidst a countryside of rolling hills, farmhouses and twisting, two-lane roads. Its manicured downtown, anchored by the towering, ornate Belmont County Courthouse, exudes a prosperity with bustling shops and busy restaurants.
Murray has his own tower but he decided to build it about three miles west of town and it reflects his sensibilities. A tall, boxy, utilitarian building, it sits nonetheless on an impressive sprawl of neat lawns sprouting ponds and fountains — and most of it ringed by fences.
The building opened in 2012, a few weeks before Election Day. Upon completion, Murray, dwelling on the coal industry during Obama's first term, told a reporter for the local Herald-Star newspaper that he might have reconsidered the investment had he known Obama was going to win in 2008. "Nevertheless, we are here," he told the paper, "and we will do the best we can."
From the perspective of the outside world, Murray's combative tone has hurt him as much as it plays well in the diehard coal belt. During the 2012 election season, Murray, a registered Republican in Belmont County, closed his Century Mine near Beallsville, Ohio, for a day so that Mitt Romney could hold a campaign rally.
Murray docked his Century miners a day's pay, while some of his managers let them know that their attendance at the rally was "mandatory" — even though Chief Operating Officer Robert Moore later said on a Wheeling, W.Va., radio station that nobody was actually forced to attend.
That election season, Murray said that if Obama was victorious he'd have to fire hundreds of employees. He made good on the warning, firing about 300 workers, or 8 percent of his workforce, shortly after the election.
This year, as the midterm elections approached, Murray's political actions brought him back in the public eye. All told, his company donated $1.3 million to candidates and political action committees, according to OpenSecrets.org. The biggest individual beneficiary was House Speaker John Boehner, a Republican who represents Ohio's 8th District. Boehner received $141,878. There was only one Democratic recipient.
Murray's safety record is another source of scrutiny, having drawn censure from federal regulators and environmental groups. In 2013, the company ranked 22 of 25 among the largest U.S. coal producers for incident rates, according to the Mine Safety and Health Administration. In the same year, the incident rate at Murray's Powhatan No. 6 in eastern Ohio was 2.4 times higher than the national average for its type of mine, MSHA data show.
Murray disputes this data, contending the agency doesn't distinguish between surface mines, which are low-employment, low-risk operations, and his deep underground mines which have far more workers and inherently carry more risk.
"He might like to think of himself as being this omnipotent being that takes care of people, but his record, particularly in Utah, wasn't that he did that very well," says Bill Price, environmental justice coordinator for the Sierra Club in West Virginia.
Price is referring to the Crandall Canyon mine disaster. On Aug. 6, 2007, six of Murray's miners, working 1,800 feet deep in the Utah pit, were killed when pillars supporting the mountain above them buckled, ejecting coal over a half-mile area. Ten days later, three rescue workers who tunneled in to retrieve them died during a second collapse.
Murray, forced into the spotlight, shouted down reporters on TV and insisting the collapse hadn't been the result of flawed mining designs but of an earthquake. "That mountain is alive," he said in an emotional interview on CNN.
In a report, MSHA found flaws in the mine's design but no evidence of a naturally occurring earthquake that could have triggered the collapse. Rather, the cave-in itself had registered as a 3.9-magnitude shock at a University of Utah seismograph station.
Murray's subsidiaries were further reproached for withholding details about two coal bursts that had occurred earlier in the year, one just three days before the Aug. 6 collapse. The incidents should have prompted a revision of the mining plan, MSHA said.
In settling with the government, Murray's subsidiaries agreed to pay $1.15 million for civil penalties at the Crandall Canyon and other Utah mines.
Murray still bristles at the penalties and the criticisms, pointing to a report from a University of Utah expert who contended the earthquake still played a major role. "While we truly do not know what we could have done better or differently, we continue to stress safety as the absolute top priority at Murray Energy Corporation," Murray said.
ENVIRONMENTAL REGULATIONS
These days, the U.S. coal industry can feel like it's facing tectonic shifts of its own. At a time when countries such as India are increasingly craving the fuel, coal is stigmatized in the U.S. as the EPA and environmentalists center their fight on coal and CO2 emissions as a major driver of climate change.
This is happening as some of America's chief coal competitors, notably Indonesia, Australia and China, are increasing their own production to feed the still-growing global demand.
The industry is also contending with a boom in cheap shale gas that has begun to replace coal as the fuel of choice for new electric power plants. By some estimates, 60,000 megawatts of coal-fired electricity capacity will retire by 2020 as a result of regulation and competition from natural gas.
Murray is left staring at a smaller market. There will be 230 million fewer tons of coal burned at power plants in coming years, he projects, vastly eating into the country's current output of 980 million tons of coal a year. Of that, 160 million tons will fall away from the Powder River Basin, which is primarily in Wyoming.
Thirty million will come out of the Illinois Basin and another 27 million from Utah. Still another 11 million will be erased from Northern Appalachia, including where he's headquartered and where Murray Energy is increasing production.
Murray is fighting tooth and nail for every final ton. He's filed four lawsuits against the federal government aimed at preventing stricter regulation of coal mining and carbon emissions at power plants. A spokeswoman for the EPA, which is the target of the suits, said, "History has shown us that EPA writes solid rules and they stand up in court-and the courts have reaffirmed our science and reasoning time and time again."
He also filed a suit, still pending, over disputed coal reserves against his fiercest competitor in the Illinois Basin, Foresight Energy LP, which was founded by mining entrepreneur Christopher Cline. Foresight declined to comment on the litigation.
"Murray's business is worth a lot of money, he's built it himself over several years, and he doesn't appear to be going out of business at the moment," said Colin Marshall, CEO of Cloud Peak Energy Inc. in Wyoming. "He's got his region and he's doing very well with it. I wouldn't want to go head to head with him there."
Some of Murray's coal-mining brethren think his strategy isn't helping the industry, even if they might admire his fire. The "War on Coal" counterattack isn't winning the industry much sympathy outside of the mines among average Americans, says Greg Boyce, CEO and chairman of Peabody Energy Corp., America's largest coal producer.
Still, "Bob Murray is an extremely passionate individual," Boyce said. "He loves the industry. He loves his employees. Everybody has a different style."