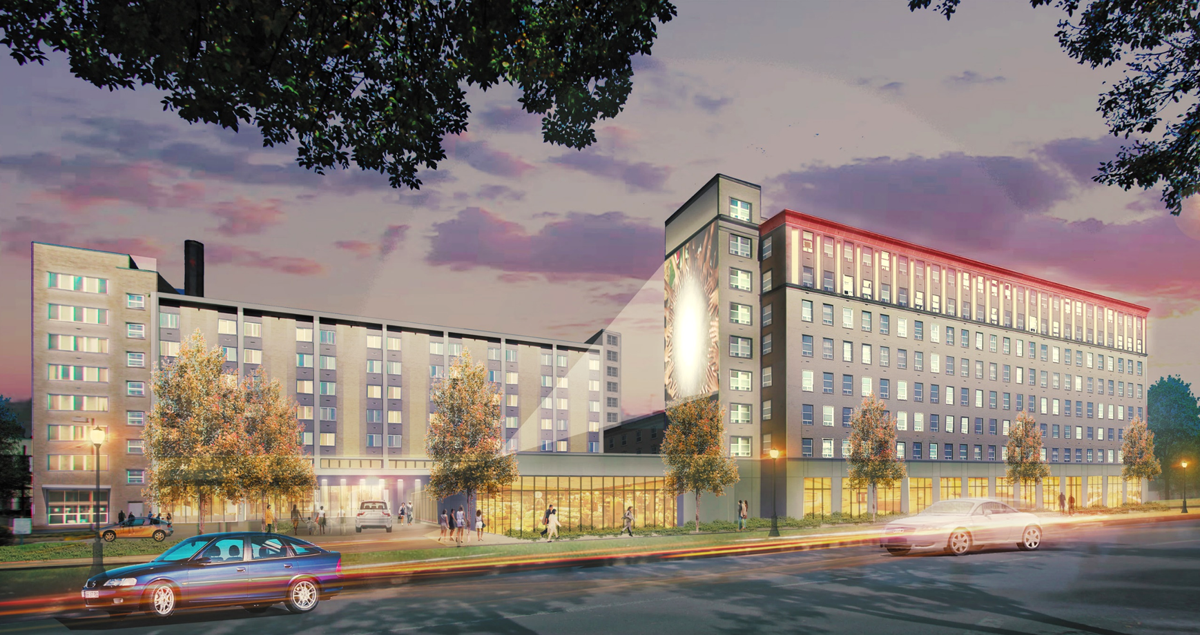 A partnership led by former Build-A-Bear CEO Maxine Clark and a subsidiary of Chicago-based Clayco Inc. plans a $90 million rehab that will turn the old St. Luke's Hospital on Delmar Boulevard into apartments and collaborative office space designed for nonprofit organizations.
Delmar DivINe, as its backers call it, envisions 180,000 square feet of office space in its first phase for area nonprofits and community organizations as well as 160 apartments. Ground-floor retail space will house neighborhood businesses: a bank, restaurants, maybe a gym or an early childhood center.
"The Delmar DivINe is a reference to the location — the dividing line of St. Louis," Clark said in a statement. "We're giving new life to this historic corner of the West End neighborhood — on the north side of Delmar between Clara and Belt (avenues) — that will provide a headquarters location to not-for-profit organizations and community support providers that focus on improving the lives of children and families in St. Louis."
Clark said she envisioned the space as sort of a Cortex Innovation Community for nonprofits, where community organizations could share space and work together on projects. Cortex, founded in 2002, has transformed an old industrial area in Midtown and the Central West End into a hub for bioscience and tech firms.
"I see what happens when people can be together," Clark said in an interview. "It just makes for conversation. It takes more than that, but if you're working on solving our community's problems, one plus one can equal 100."
The proposal from Clark and CRG, the Clayco subsidiary, was one of two submitted to St. Louis's Land Clearance for Redevelopment Authority, which owns the former hospital. The campus most recently housed St. Louis ConnectCare, which filed for bankruptcy in 2013 and ceased operations.
The Post-Dispatch first reported in February that the city was seeking applicants to redevelop the property and that Clark and CRG had plans for the nonprofit office space. The other proposal, called Grand Missourian International, was from Prad Sabharwal, managing director of Ananta Advisors. It envisioned apartments, a movie theater and workshops for makers of clothing, home furnishings and other items.
LCRA Chairman Chris Goodson said that both submissions were "quality" proposals but that Clark's partnerships with Washington University and nonprofits swayed the board. He hopes to see the project help push northward the vibrancy of the neighborhoods just to the south.
"We're strong in the central corridor, and we've got to build on that dynamic energy that's going on," he said.
Clark is confident there is enough demand from community groups and nonprofits in the region, saying there has already been interest expressed in 100,000 square feet of the planned space. Large organizations are expanding and need more space, while others may want to be closer to clients in the city or partner nonprofits. She envisions the Delmar DivINe organization offering training, workshops and other programming.
The building dates to 1904, and St. Luke's built additions as needed in the ensuing decades before leaving the city for Chesterfield in 1975. The last of its operations left the hospital a decade later.
Mostly underutilized over the next 30 years, the complex sat on the north of St. Louis's infamous Delmar Divide. A mile to the west, the Delmar Loop entertainment district bustled, and a mile to the southeast, the Central West End underwent a renaissance.
"It's the beginning of forgetting about a divide and beginning to think about a real bridge," Clark said.
Now, development along Delmar is moving east. Clayco is nearing completion of a 14-story, $66 million apartment building a mile to the west, and Clark pointed to the Loop Trolley streetcar line, expected to start operations this year. She wasn't excited about the Loop Trolley at first, but now she thinks it will be a catalyst in the area. Only a block to the west of the old hospital, it will head south from Delmar Boulevard onto DeBaliviere Avenue en route to the Missouri History Museum.
Delmar DivINe is organized as a company instead of a not-for-profit, but Clark said the goal wasn't to make a killing on the venture. The apartments will be small — maybe 800 square feet for one-bedrooms — to provide housing that's within the budget of young workers who are starting their careers or working in fields that don't pay the big bucks, such as nonprofits.
"I don't think we've really focused on the young professionals who live on a more modest income," Clark said. "We're not trying to lose money, that's for sure, but we really are trying to make the rents affordable."
CRG now has the building under contract from the city, and Clark said they hoped to close in the fall. A final price is still being negotiated, Clark said.
The team is working to get the structure listed as a historic building so it's eligible for historic tax credits, and they also plan to apply for New Markets Tax Credits from the city, she said.
Construction is expected to start in November and be ready for initial occupancy by the first quarter of 2019.
Daily updates on the latest news in the St. Louis business community.