UNIVERSITY CITY — Laptops and coffee cups filled the dozen-plus tables along the sidewalk outside Meshuggah Café on Wednesday morning, a normal Delmar Loop street scene in a time that is anything but normal.
Customer counts have steadily risen since the Loop mainstay reopened not two months ago. And with the return of Washington University students to campus early this month — several weeks later than normal — business and foot traffic has started to return.
But signs of the new reality remain. Meshuggah's dining room is still closed; baristas take orders from the sidewalk. More storefronts are empty, especially those that were filled by newer businesses like Blue Box Pizza and national bar chain Hopcat. The pandemic's casualties also included Loop fixture Plowsharing Crafts, a free trade store that closed this summer after 35 years.
"We think we're going to be able to make it through this, but it's definitely stressful seeing other businesses close," said Ryan Patterson, owner of comic and gaming store The Wizard's Wagon and a member of the Loop Special Business District board. "It's hard to know when we're going to have new people coming in. We've been seeing this in the Loop for longer than just the pandemic, with the trolley and stress from that."
Life is returning to the Loop, one of the region's most popular shopping, dining and entertainment districts. But it's been a hard go, slowed by the city-county divide that bisects the Loop and the coronavirus' stubborn refusal to depart. Yet the eclectic mix of businesses that make up the area remain committed to one of St. Louis's most unique places.
That's despite a disappointing last few years. First, construction on the Loop Trolley line blocked parts of Delmar Boulevard and took up parking, hurting some businesses. Then, continued delays in the long-promised attraction's opening turned into mechanical glitches, and finally, its shutdown amid financial problems late last year.
A few months later, the pandemic hit, forcing restrictions that kept shoppers and diners home and shuttered businesses for two months in the early spring.
As local governments moved to supplement business assistance passed by Congress with their own local programs, a tale of two Loops emerged.
Just a few weeks before the March lockdowns, University City officials pushed the Loop Special Business District, a taxing district within the St. Louis County suburb's borders, to stop paying for services via an arrangement with the East Loop Community Improvement District, a special taxing district that covers the portion of Delmar Boulevard in the city's borders.
University City Manager Greg Rose said the mayor and City Council wanted to make sure funds generated by the Loop Special Business District were used only for businesses on the University City side, not those east of Skinker Boulevard in St. Louis.
A University City economic development official who was working with the Loop businesses was laid off during the downturn, and merchants on the University City side say they miss having a dedicated staffer.
"It's the Loop, and it's better if we advertise as the Loop as opposed to having this divide between east and west, and U. City has forced that," said Patterson, The Wizard's Wagon owner.
East v. West
While The East Loop Community Improvement District quickly pulled together a program to offer a month of rent for about 35 businesses in its borders, a University City business loan program got off to a slow start.
Patterson said after a lot of paperwork, all that University City offered his store was a couple hundred dollars based on a portion of the store's sales tax receipts; rules barred him from using it for rent. Other businesses said they either didn't use the program or the assistance offered was too little to be much help.
Even Joe Edwards, the consummate Loop salesman who led the area's revitalization and owns many of its buildings — including business pillars such as Blueberry Hill and the Pageant — called the break-up "counterintuitive." The Loop has been successful, he said, because of cooperation across jurisdictions. A dedicated Loop staffer, Edwards said, could have helped city officials design a program that worked efficiently up front and helped businesses find other resources.
"If (L'Ecuyer) had been still representing the University City part, it could have all been coordinated," Edwards said.
Jeff Weintrop owns Silver Lady, a jewelry store with locations in the West Loop, Maplewood and the Central West End. He said he's noticed the loss of L'Ecuyer.
"The Central West End has just bent over backwards to come up with programs that will help businesses down there," he said. On the University City side of the Loop, there was "no marketing manager to talk to. No one seems to really care."
Merchants say, however, that University City has recently begun to put resources toward the Loop. At the University City Council meeting Tuesday, Rose will recommend a new version of the small business assistance program worth $850,000 for forgivable loans of up to $15,000, even to those who received assistance from prior versions.
The municipality has hired a business specialist familiar with the district, Jessica Bueler, a former Loop store owner and head of one of the business groups. Bueler has helped organize activities, including drive-in movies on the parking lot near Kingsland Avenue and Delmar Boulevard, which officials say have sold out. Side street Leland Avenue will close next to Vintage Vinyl this weekend for outdoor music and retail and food booths. She pushed a program to turn parking spaces along Delmar Boulevard into outdoor dining rooms, something restaurant owners say has helped.
After months of slow sales, business owners say they're starting to see pedestrians and customers return, albeit at levels well below this time last year.
"It's happening," Edwards said. "It's not like it was before March, but it's getting better all the time, particularly on the weekends."
Less fear
The return of Washington University students has been a Godsend to merchants who pay a premium in rent in return for the foot traffic a suburban-style shopping center can't draw. Washington University is renting out Edwards' Moonrise Hotel for student rooms in order to keep students from doubling up in campus housing, adding a few more bodies to the Delmar sidewalks. Concert venue The Pageant, a regular draw to the area, will begin hosting limited-capacity concerts next month.
Popular bar International Tap House plans to open in the new CVS-anchored development at Skinker and Delmar Boulevards in April, and custom T-shirt-maker Baked T's recently expanded its storefront. Edwards said he just signed a lease with a custom gown boutique called House of Sheabella, which will open next month in the space on the west side of the Pageant building.
"Most of the businesses that I'm aware of, and I'm in contact with most of them most of the time, are making it," Edwards said. "Unlike other areas that don't have that high pedestrian traffic and the variety of retail stores."
Popular barbecue restaurant Salt and Smoke, which opened its first location on Delmar Boulevard six years ago, reopened indoor dining at its Loop location Sept. 16. Owner Tom Schmidt said the restaurant installed special ionizing ventilation systems that sanitizes viral particles. Hopefully, he said, the new investment helps keep the restaurant busy through the winter.
"People are really becoming less fearful," he said. "We figured out a lot what the best practices are, and I think people are taking it seriously and doing what they need to do, but also just not being as enveloped in fear."
Jen Kaslow, owner of Meshuggah's, recently got extra dining table space on Delmar Boulevard where two parking spots used to be. She's decorated the new area with plants and purchased extra tables from Ikea. Business is better, but she's already thinking about winter. She hopes some fire pits and heaters can keep her sidewalk tables full. Outdoor space heaters, though, are already hard to find.
"I've never checked the weather so much in my life," Kaslow said. "My vision is to have students show up here with their blankets."
"You just have to keep being creative."
The Delmar Loop in University City
The Delmar Loop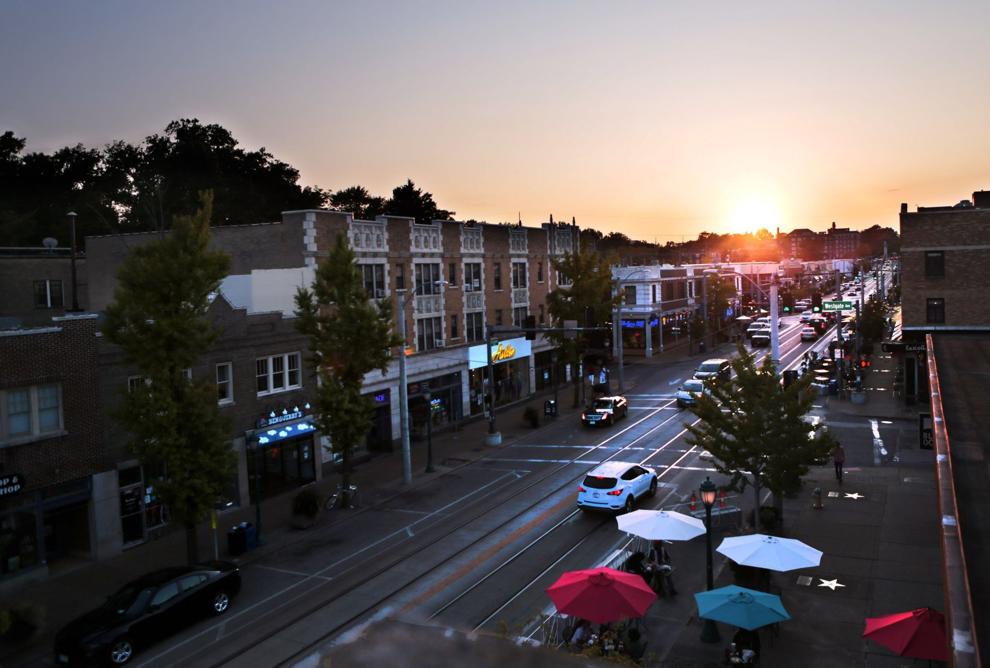 The Delmar Loop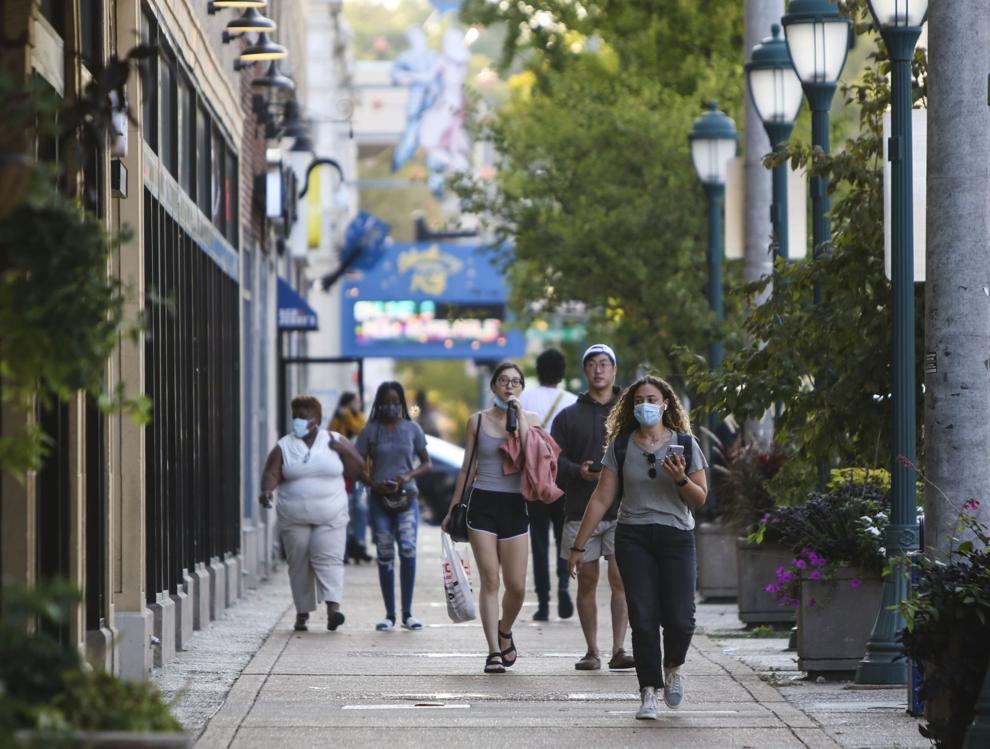 The Delmar Loop in St. Louis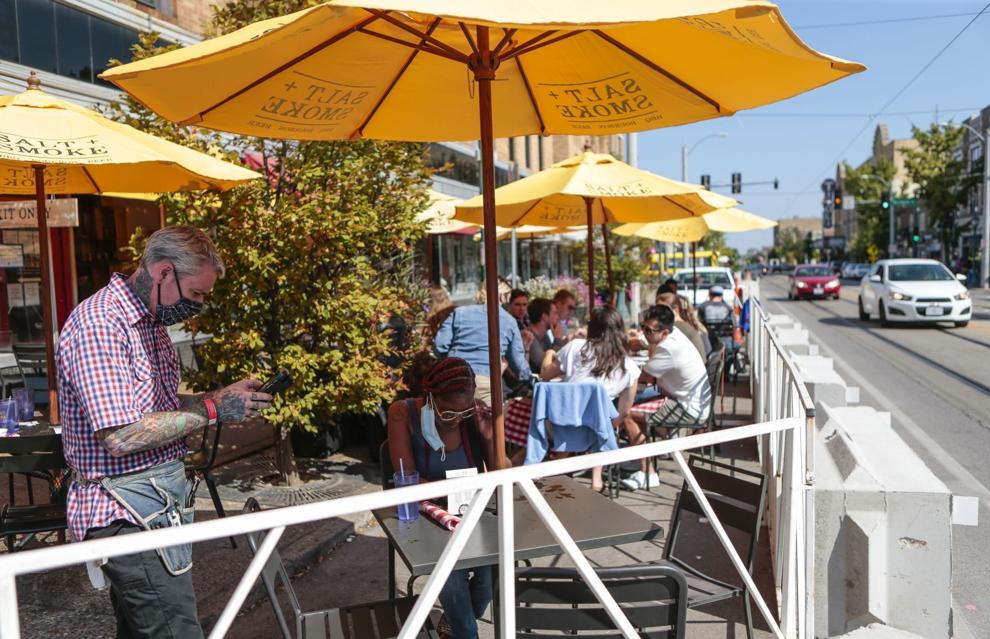 The Delmar Loop in St. Louis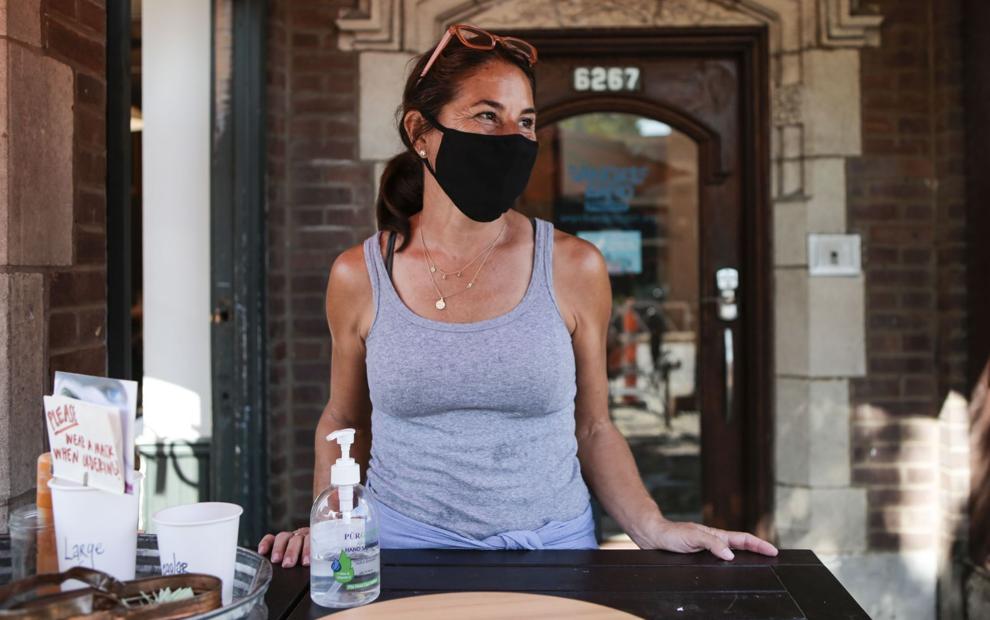 The Delmar Loop in St. Louis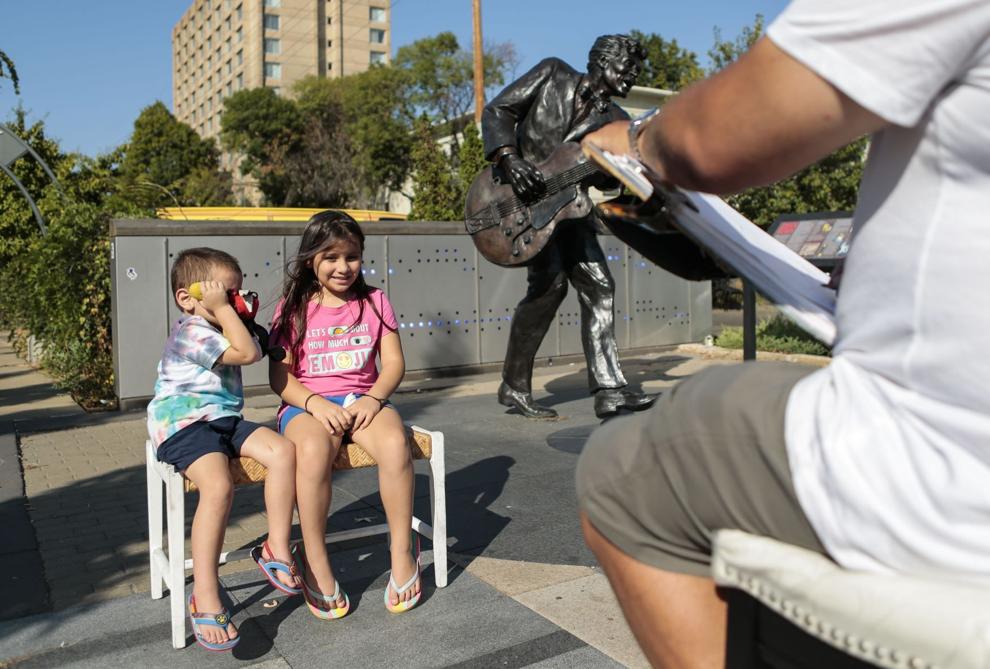 The Delmar Loop in St. Louis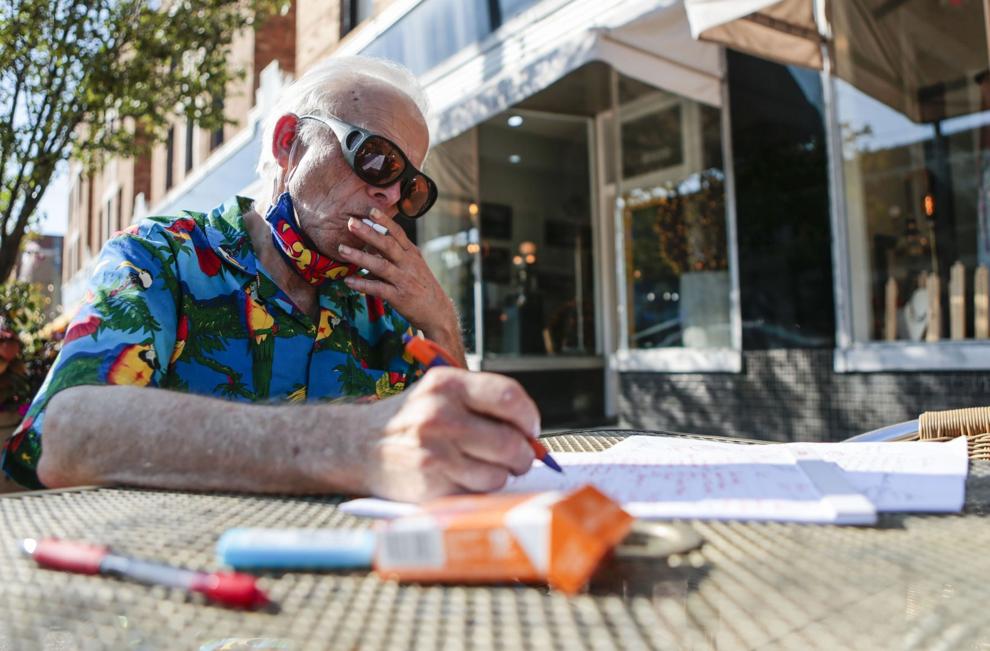 The Delmar Loop in St. Louis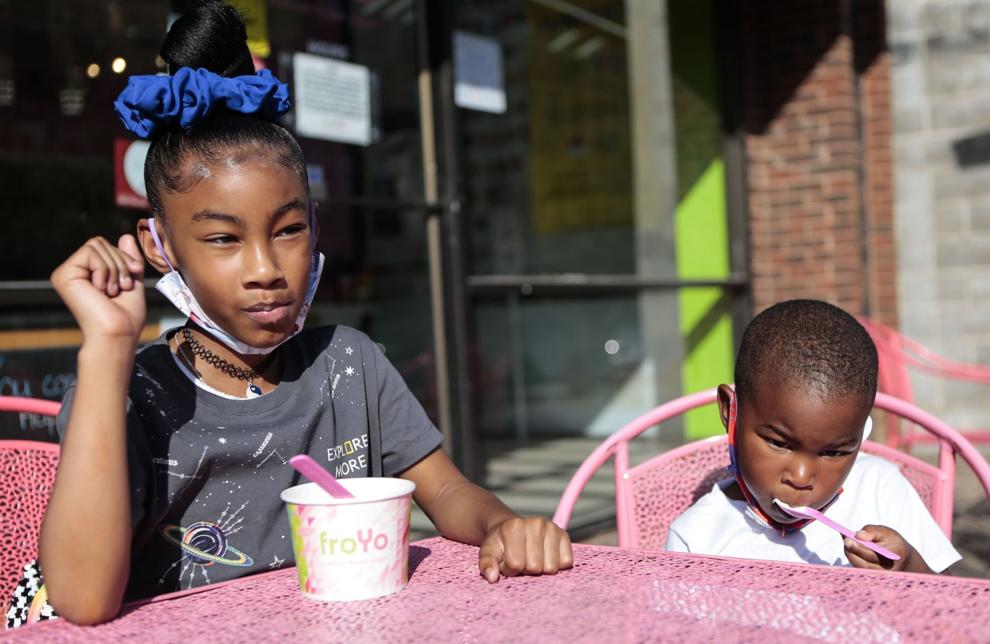 The Delmar Loop in St. Louis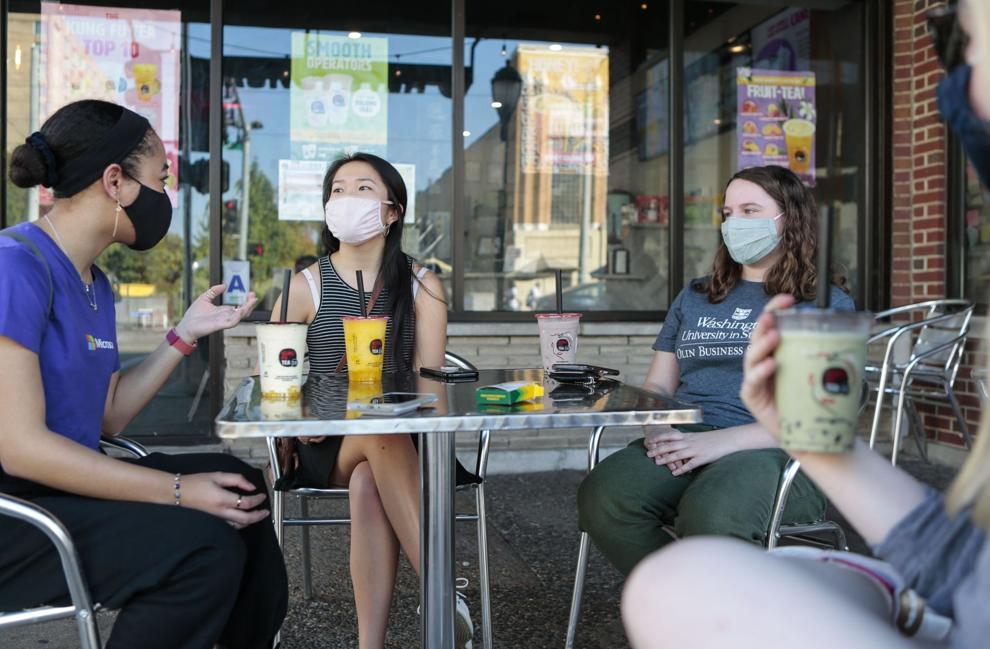 The Delmar Loop in St. Louis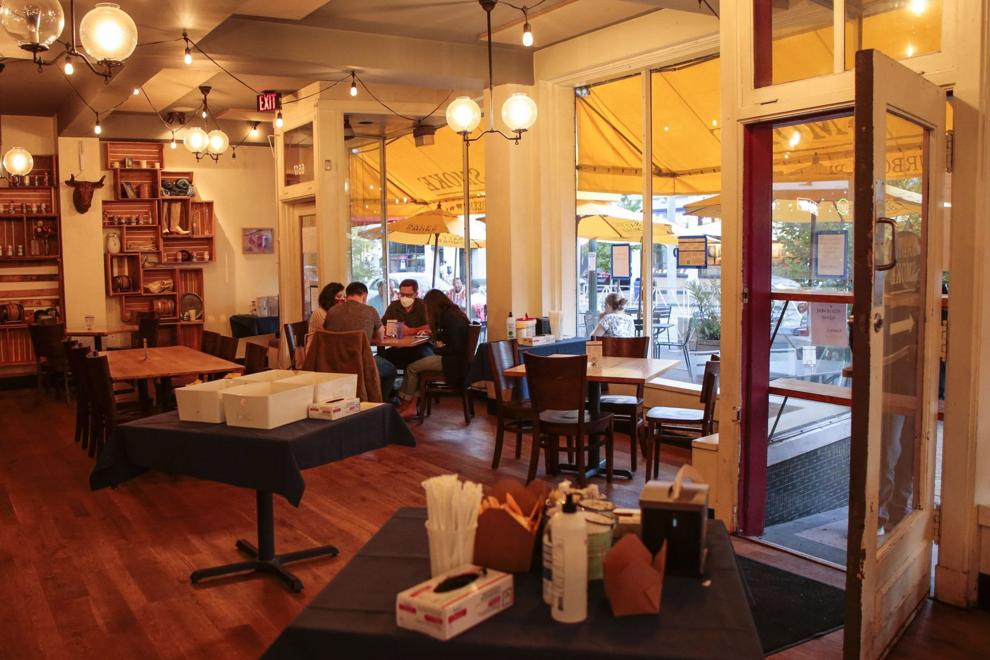 The Delmar Loop in St. Louis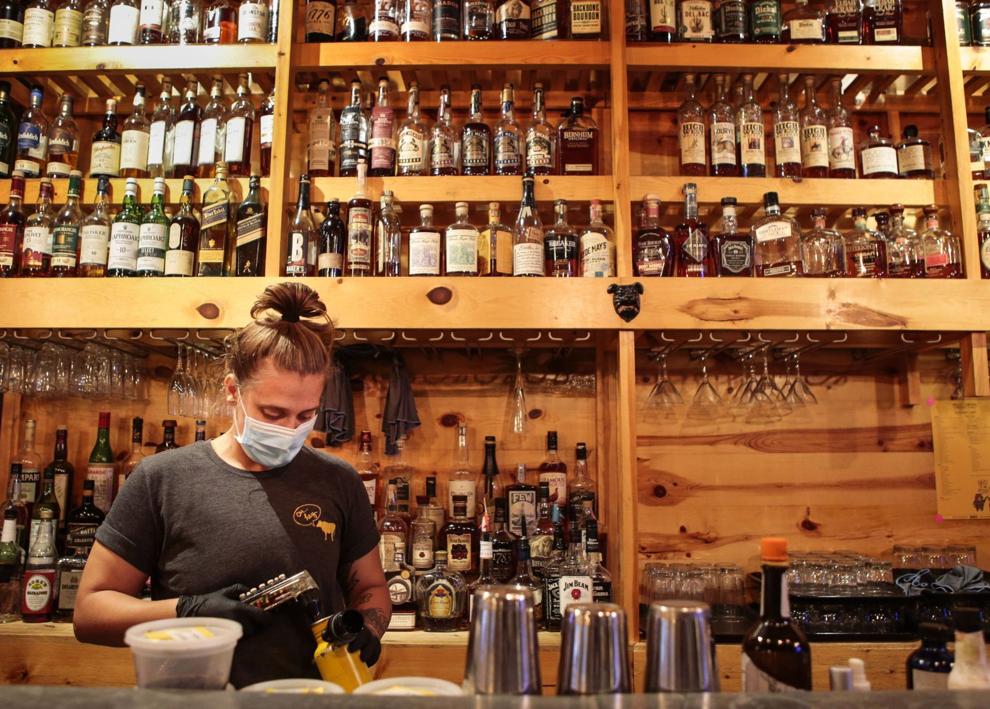 The Delmar Loop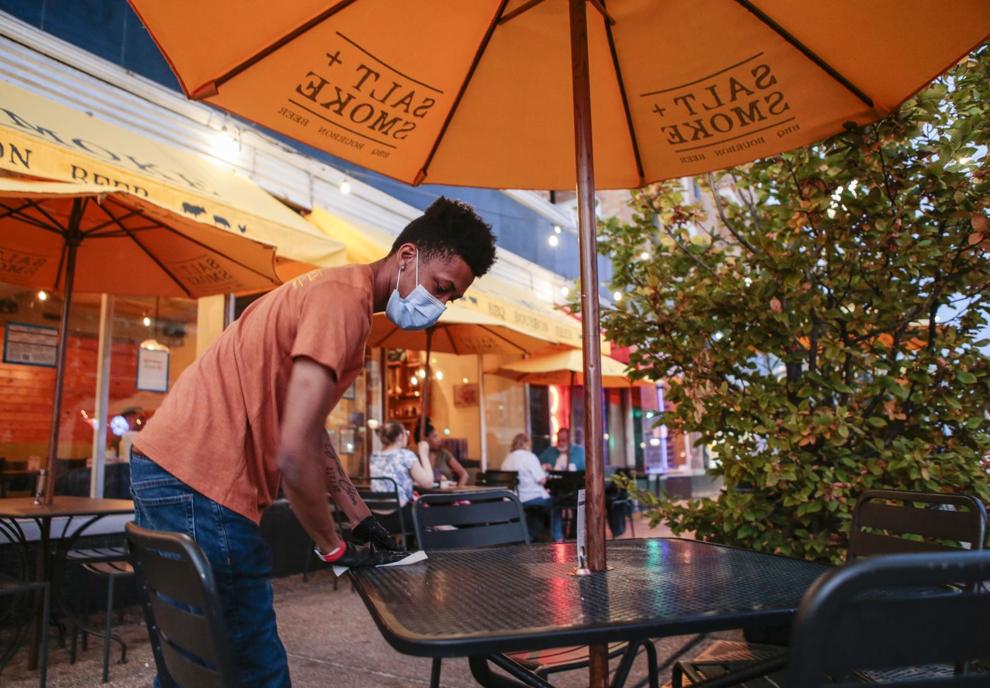 The Delmar Loop in St. Louis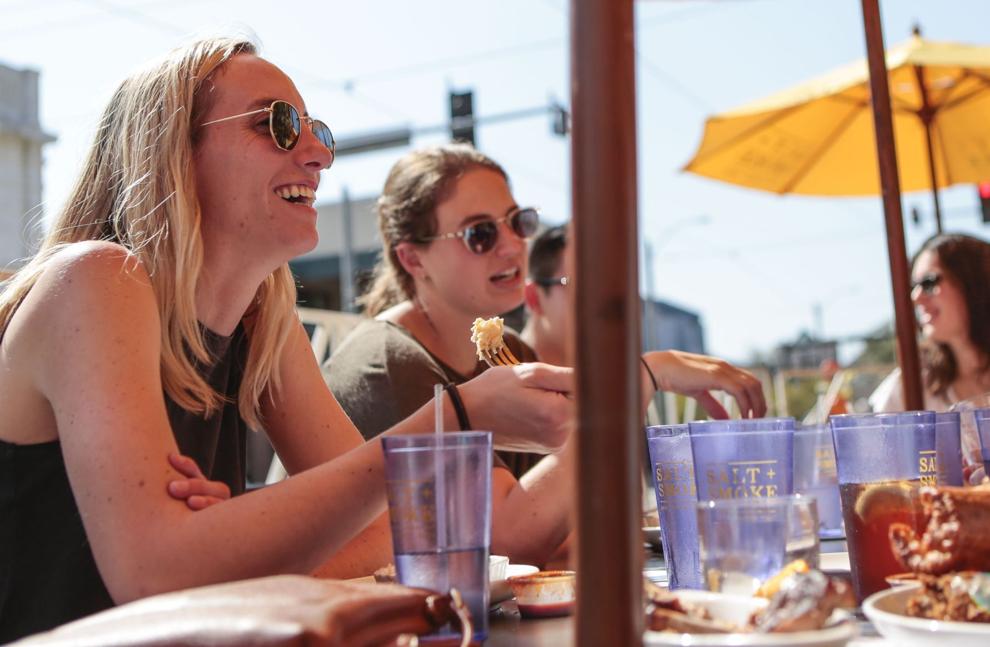 The Delmar Loop in St. Louis