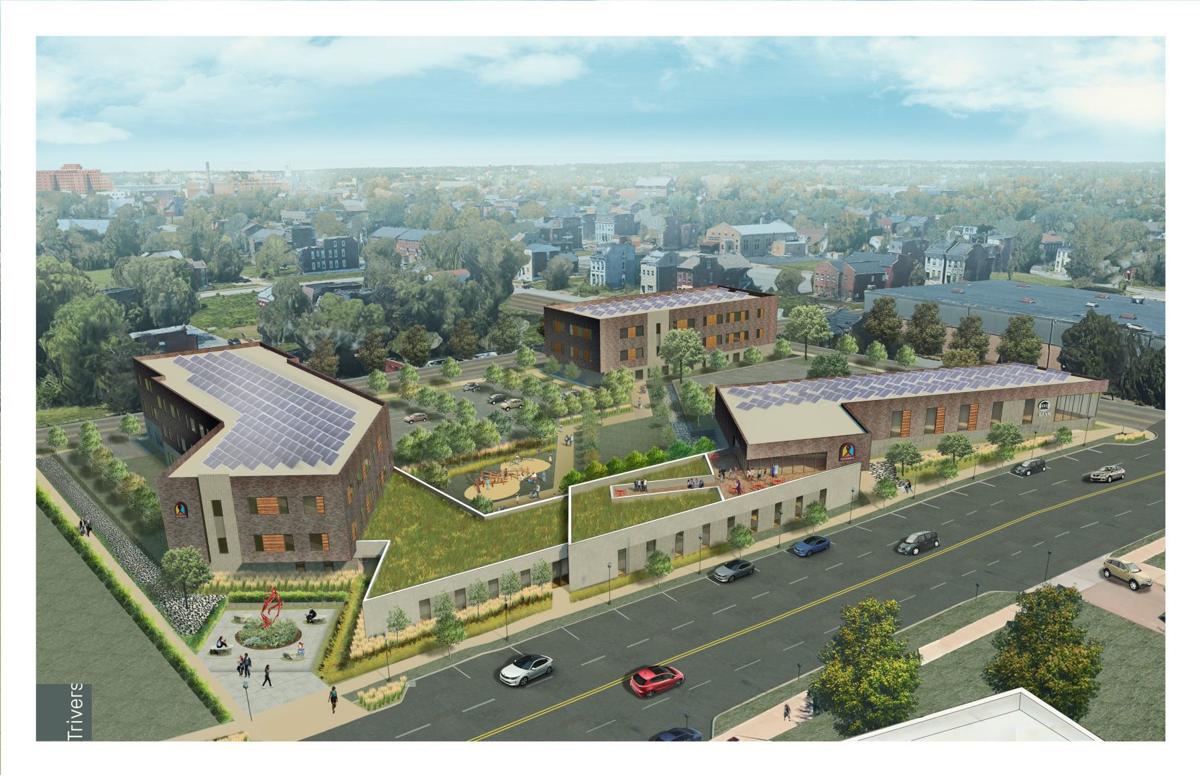 ST. LOUIS — The city's economic development arm on Thursday approved allocating federal tax credits to four projects in the city, including a popular charter school's expansion and two complementary projects on Delmar Boulevard.
• Doorways, an interfaith agency providing housing and support to people at risk of homelessness due to HIV and poverty, received an $8 million New Markets Tax Credit allocation to assist with its new campus on Jefferson Avenue in the Jeff-Vander-Lou neighborhood.
The organization, formed in 1988, is currently based out of a building at 4385 Maryland Avenue in the Central West End. It recently began the $22 million construction project that includes a 50-unit apartment complex for emergency housing as part of its first phase.
The tax credit contribution will help Doorways finance an administration building quadrupling its space that will allow it to grow its staff to 100 from about 76 now, according to a city report. The building will include 15,000 square feet of office, classroom and event space and also allow the addition of a retail space Doorways hopes to fill with a bank for the neighborhood.
• City Garden Montessori School won a $6 million New Markets Tax Credit allocation that it says will help it expand into a building at 4209 Folsom Avenue, near its existing campus on Tower Grove Avenue. It plans a $16 million renovation of a 53,000-square-foot building, more than doubling the school's space. The school plans to more than double enrollment to 750 students.
U.S. Bank and nonprofit investor IFF, as well as Arch To Park, a strategic real estate fund being merged into the Greater St. Louis Inc. business organization, have agreed to help finance the expansion as part of the tax credit transaction, according to the city.
• LaunchCode will receive a $4 million New Markets allocation to help finance the $5 million expansion and rehab of its facility at 4811 Delmar Boulevard. The nonprofit, which trains people in computer coding schools and helps place them in tech jobs, says it had to turn down 3,700 applicants last year because of a lack of space. The group hopes to train about 200 more people a year following the expansion, up from about the roughly 600 that currently graduate a year.
LaunchCode, started by Square co-founder Jim McKelvey, enrolls about 1,000 students per year in its free classes.
• Adjacent to the LaunchCode building, Kevin Bryant of Kingsway Development won a $6 million New Markets allocation for rehab of the structure at 4731 Delmar Boulevard into a coworking and commercial space.
The project is part of a larger, $84 million redevelopment adding office, retail and residential space along Delmar. Last week, Bryant won a recommendation from a city board for $6.2 million in tax increment financing to assist the project. Bryant plans to begin a 156-unit apartment complex across the street at Euclid Avenue late next year.
The St. Louis Development Corp. has received millions in federal New Market Tax Credit allocations annually. Its staff help choose the projects, often in poorer areas, that can use the credits to attract investors and lenders.