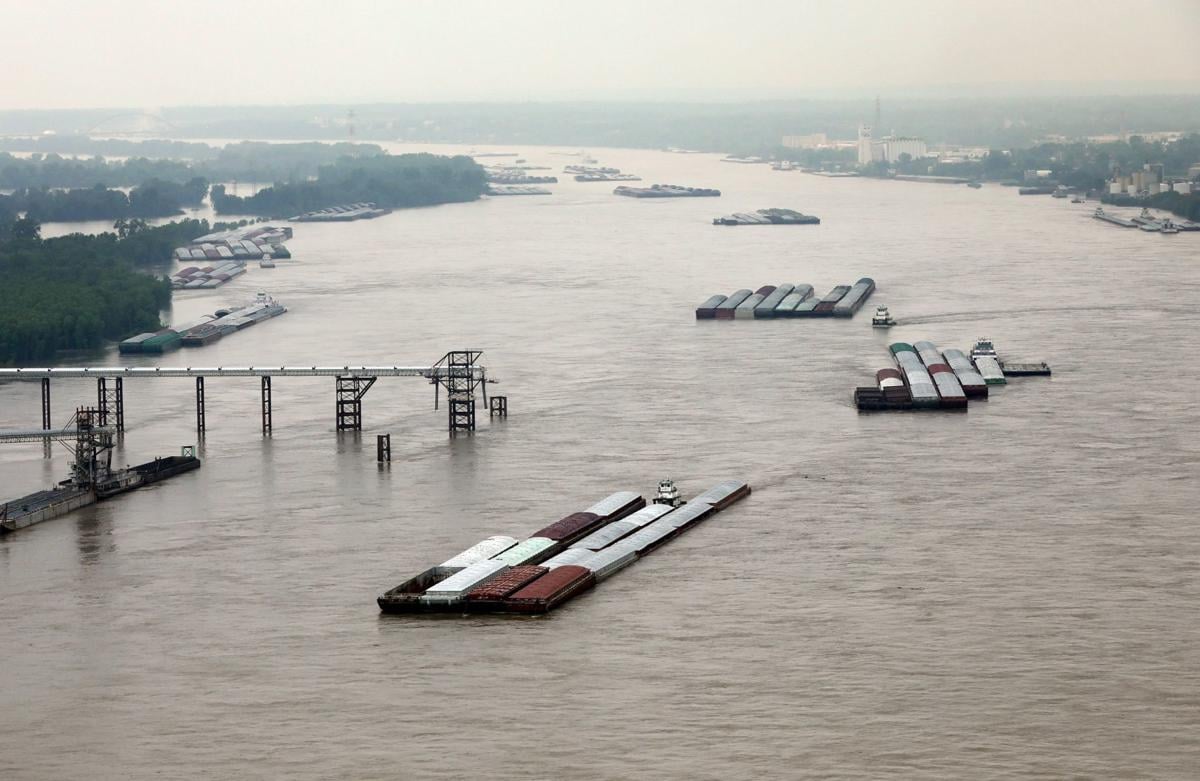 ST. LOUIS — A section of the Mississippi River reversed course on Thursday.
As Hurricane Laura roared ashore in Louisiana, making landfall as one of the most powerful ever to hit the state, its winds tore apart buildings and devastated communities. The storm surge that followed flooded miles of coastline. It even forced the water of the mighty Mississippi to run uphill.
"The whole river gets pushed," said Lisa Parker, the chief of public affairs for the U.S. Army Corps of Engineers' Mississippi Valley Division. "The surge can go 50 miles inland in the river systems."
The storm will cut underneath St. Louis some time Friday afternoon, much of its verve long gone. A cold front, unrelated to the storm, will send the region cooler temperatures, with highs in the low 80s and showers throughout next week. And the Mississippi River corridor's shipping industry — often vulnerable to hurricanes, even 750 miles to the north — was not expected to sustain significant damages or slowdowns in activity.
Such occurrences are not uncommon during and after hurricanes. Barges queue up waiting for safe conditions to return to the river's navigation channels, or for river terminals to reopen.
On Thursday, some here braced for such waits again. But they never arrived, and by day's end, most thought that business on the river would largely continue as usual.
"They dodged a pretty big bullet on the Mississippi. Actually, a very big bullet," said Ken Eriksen, a Memphis-based senior vice president of the agribusiness group at IHS Markit. He explained that that outlook could be very different if the storm had come ashore slightly farther east and tracked along the river near New Orleans, where lots of critical infrastructure is rooted.
Still, there may be some ripple effects felt here.
Tim Power, the CEO and president of St. Louis-based SCF, a river transportation and logistics business, said there could be "a little bit of delay" for shipping operations out of the region. But he said hiccups "shouldn't have any impact" on agricultural exports shipped south, through New Orleans.
Others, like Eriksen, said that operators of southbound barges from St. Louis were "going to keep them moving," given their two-week travel time to New Orleans — a sizable window for the storm to pass through and for business to resume at port terminals downstream where activity might have been paused.
Disruptions were also minimized, he said, by the hurricane's timing. This pre-harvest window represents the annual low period for the downriver shipment of agricultural commodities such as corn and soybeans out of the Midwest.
But fertilizer and salt headed north from Louisiana, more directly in the path of the storm, would likely face some delays, Eriksen said.
"I think for St. Louis there could be a delay on some traffic moving up to arrive," said Eriksen.
Officials with the U.S. Army Corps of Engineers, too, said they did not expect any queues of barge traffic to develop around St. Louis as a result of the storm.
"Some of that may be because we don't know the full extent" of the storm's toll, said Sue Casseau, a public affairs specialist for the corps' St. Louis District. "That doesn't mean we're not concerned, and we're not watching."
Daily updates on the latest news in the St. Louis business community.