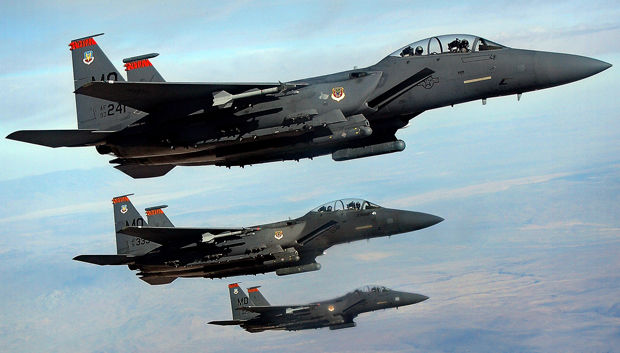 Despite Pentagon budget cuts and the federal government's sequestration, Boeing Co.'s St. Louis County-based defense unit boosted its profits in the first quarter.
Earnings from Boeing Defense, Space and Security grew 12 percent in the three months ending March 31, compared with the same period last year, to $832 million, on $8.1 billion in revenue, the company said Wednesday. Boeing's overall revenue fell 3 percent.
The impact of the sequester was blunted, Boeing chief executive Jim McNerney said, by a vote in Congress that gave the Defense Department more ability to choose how it allocated 8 percent across-the-board spending cuts that were mandated in a 2011 debt ceiling deal.
"We believe this flexibility advantages our portfolio of reliable, proven and affordable systems that are on budget and on schedule," he said in a conference call. "However, we remain cautious regarding the potential for further U.S. defense budget reductions and the mid- to long-term impact of continued sequestration."
Boeing also continued to broaden its defense customer base to other nations as it anticipates a long-term slowdown in U.S. military spending. About 28 percent of defense revenue in the quarter came from abroad, while 42 percent of Boeing's $68 billion defense backlog is for international clients.
Meanwhile Boeing, the world's largest aerospace company, said it planned to resume deliveries of its troubled flagship jet — the 787 Dreamliner — in May, and had been working "around the clock" to fix battery issues that grounded the plane worldwide for three months.
"Our first priority in the days ahead is to fully restore our customers' 787 fleets to service and resume production deliveries," McNerney added. Boeing's fix to the battery problem was approved just days ago, and the company is now starting the process of repairing the planes.
The company still managed better-than-expected earnings of $1.11 billion, or $1.44 per share, thanks in part to ramped-up production of other jets, including the 737. Revenue dipped 3 percent to $18.9 billion because Boeing delivered just one 787 in the quarter. But it continued to build them during the grounding and said it still expected to meet delivery and financial targets for the full year.
The Associated Press contributed to this report.