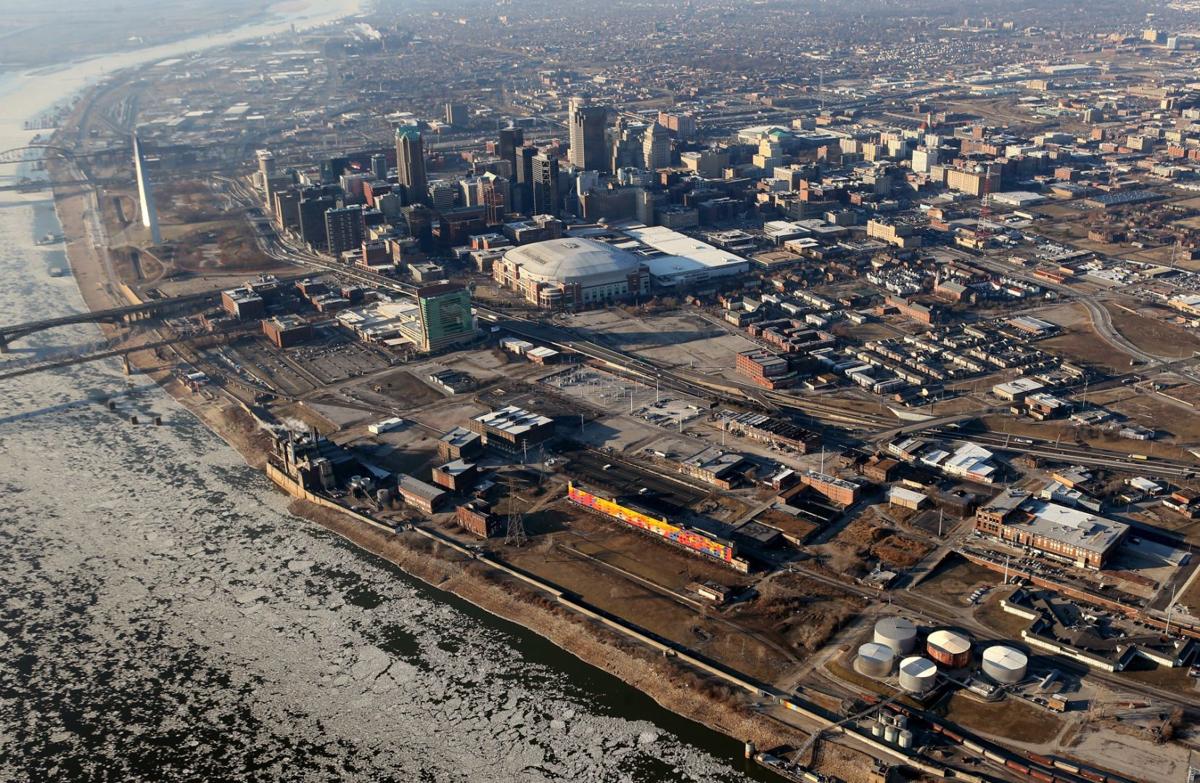 The main downtown St. Louis booster group is considering establishment of a special tax district to pay for streetscape and other infrastructure work.
Plans remain tentative, but a sales tax and property tax that would raise about $3 million annually is possible. Behind the plan is Doug Woodruff, Downtown STL Inc.'s chief executive, who said Thursday the need to improve downtown streetscapes is great.
"We don't have a definite proposal but we know what the needs are," he said.
Downtown STL representatives have spent months talking with major downtown property owners, city officials and others about setting up a transportation development district, or TDD, that would cover downtown and extend west to Compton Avenue, in midtown.
In February, the city's Land Clearance for Redevelopment Authority approved a resolution in support of the TDD.
Under state law, a board would govern the TDD. Woodruff said his organization could manage the district just as it does the existing community improvement district that covers most of downtown. The CID is funded by property taxes that pay for street beautification, street cleaning and the downtown guides.
Woodruff said the TDD could be funded by a "modest" property tax assessment and a sales tax of less than half of 1 percent.
The basic sales tax throughout St. Louis is 8.679 percent, but the rate rises to as high as 10.679 percent in parts of downtown and elsewhere in the city where CIDs and TDDs already exist.
Woodruff said backers of the TDD hoped to have a solid plan by this fall and submit the district's formation to affected voters by this fall or next spring. Establishing the district would require approval of voters living within its boundary.
Projects the TDD might fund include new lighting and streetscape work along Tucker Boulevard and Washington Avenue. In addition, the TDD could pay for work along Seventh or Eighth streets to better connect Washington Avenue and Ballpark Village, Woodruff said.
Other projects could include a better pedestrian connection on Clark Avenue between Busch Stadium and Scottrade Center, plus more security cameras able to read vehicles' license plates.
Woodruff said TDD money also could be used as required local matches for federal transportation grants. Over time, the TDD could pay for lighting and streetscape work on more than 50 downtown blocks, he said.
Eric Thoelke, president of TOKY, a branding and marketing firm at 3001 Locust Street, said he supports the TDD possibility "a billion percent."
Extending the district west from downtown would help redevelop "gaps" between downtown, midtown, Grand Center and Cortex, said the TOKY president, whose office is in the Midtown Alley area.