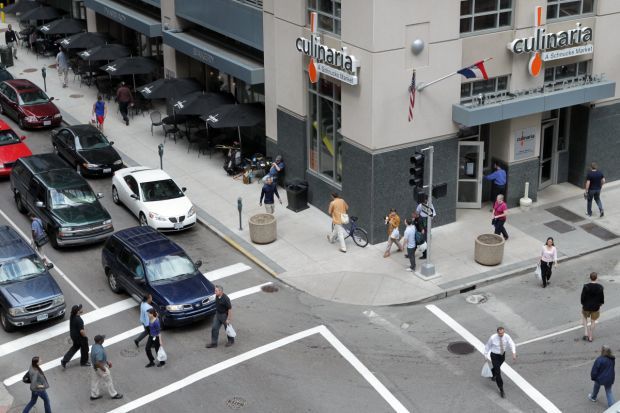 ST. LOUIS — The Schnuck Markets store downtown is getting a new name and a new look — Culinaria is about to become Schnucks Downtown.
Beginning Nov. 30, its new store hours will be 7 a.m. to 7 p.m. each day, which gives shoppers two more hours on Saturdays and Sundays. The new name takes effect Dec. 2, when metro weekly ad pricing will be offered at the store, at 315 North Ninth Street, the grocer said.
The store also will have a new sign and other design changes, including new and expanded meat and seafood cases as well as more grocery items and new produce cases. Self-checkouts are being installed, as is a new self-service Kaldi's Coffee bar.
The store opened in 2009 and was downtown's first full-service grocery in more than 20 years. Fields Foods and GreenLeaf Market opened more recently just outside of the downtown neighborhood.
The Schnucks in the Central West End at 4171 Lindell Boulevard also is getting a revamp. The deli area will offer more hot-food selections including pizza, a new grab-and-go section and a new cheese island with more variety. Fresh sushi will be sold in the seafood department, and additional self-service checkouts are being added, Schnucks said.
To celebrate the completion of the remodels, customers of these two stores will earn two times Schnucks Rewards points for all purchases made Dec. 2 through Dec. 8.
Daily updates on the latest news in the St. Louis business community.