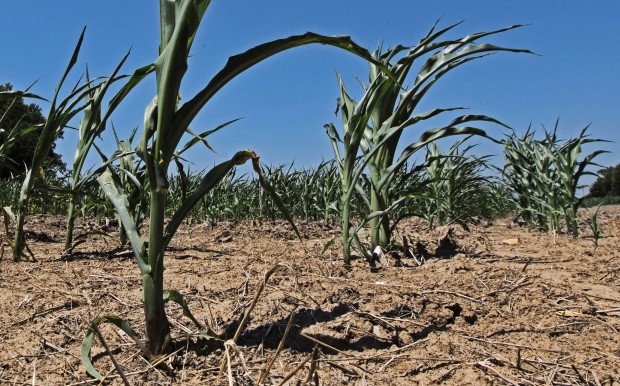 Despite the crop-decimating drought, Midwestern farm incomes rose in the fourth quarter of 2012 thanks to record crop insurance pay-outs, according to a survey released Wednesday by the Federal Reserve Bank of St. Louis.
The figures could stoke debate over crop insurance subsidies in coming months as Congress determines the scope of government supports in a new farm bill.
The survey, dubbed the Agricultural Finance Monitor, was based on responses from agricultural banks in seven Midwestern states, including Illinois and Missouri. On average, lenders across the survey area said that fourth-quarter income and spending were higher than the same quarter in 2011.
In previous surveys lenders in St. Louis said they expected the drought would lower income and capital spending. But farmers received insurance pay-outs that protected them, especially in the hardest-hit areas, the survey shows.
As of last week, the bank said, Missouri and Illinois farmers took in nearly 23 percent of the $13.7 billion, or roughly $3.2 billion, in claims. The U.S. Department of Agriculture expects that total claims will reach a record $21 billion.
"The 2012 drought greatly reduced production, but all of our borrowers carried crop insurance," one surveyed lender told the St. Louis Fed. "Many farmers had higher levels of coverage. This has resulted in good income for most, and most will carry that income into 2013."
The government provides insurance for catastrophic losses, up to 50 percent, free of charge. Farmers can then buy private insurance that indemnifies them up to 100 percent. Crop insurance payments are based on the harvest price.
As lawmakers debated the 2012 farm bill last year, crop insurance was a central focus. Both the Senate and House versions of the bills called for ending $5 billion in controversial direct payments — paid out to farmers regardless of what they grow. Farm groups supported the cuts to direct payments, but only in exchange for more support for crop insurance, including for policies that cover less severe losses.
A Government Accountability Office report found that cost of subsidizing crop insurance policies rose to $7.3 billion in 2011, from about $1 billion in 2001. The cost of subsidizing policies could tally about $40 billion over the next five years, according to an estimate by the Congressional Budget Office.
Farm groups have said that crop insurance is a critical protection, particularly as severe weather events appear to be on the rise.
But critics point out that taxpayers have been paying an increasing share of the premiums. According to an analysis by the Washington-based Environmental Working Group, 62 percent of the cost of growers' premiums is now paid by taxpayers, up from about 30 percent in 2000.
The group, along with some agricultural economists, believe the premium subsidies are encouraging farmers to farm marginal land, vulnerable to drought and flood. Since 2008, farmers have plowed up acreage the size of Indiana, the group says.
The 2012 Farm Bill was never passed, and instead the previous bill was extended to this September. That means controversial direct payments remain in place as Congress renews its debate this year.
Today, the Senate Committee on Agriculture will hold a hearing to take a look at the impact weather disasters have on agriculture. Crop insurance is likely to be among the topics addressed at the hearing.